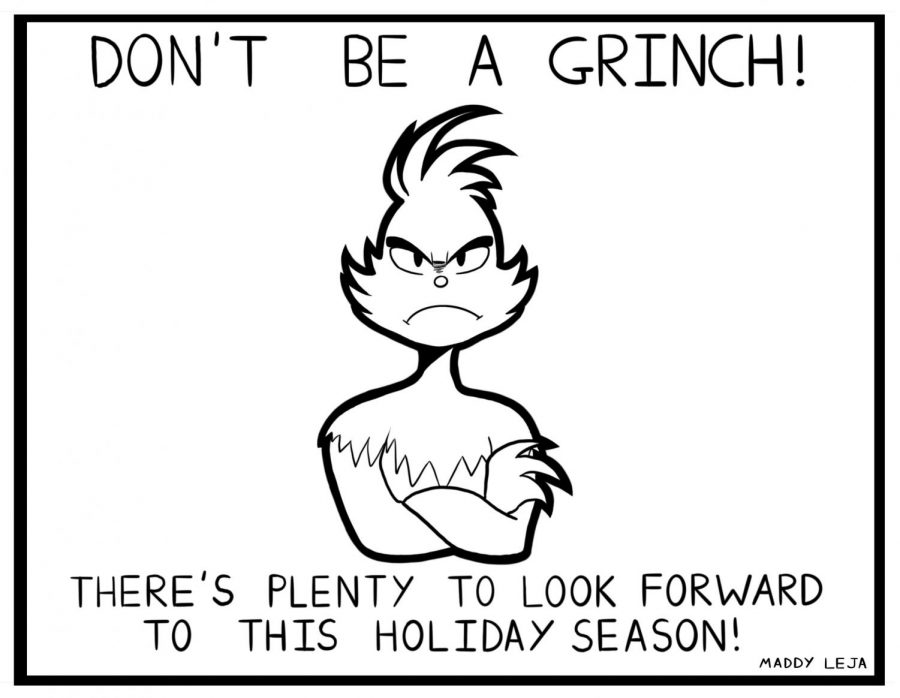 Maddy Leja
On my morning jog last week, I noticed that my neighbor hadn't started decorating his house with wreaths, colorful lights, and the giant inflatable snowman that attracts the entire neighborhood. My Snapchat memories are full of my friend, Aliya, singing holiday songs in the Parker fourth-floor art gallery while we're finishing up our homework. My burgundy and pine sweaters that I usually wear during the holiday season haven't been worn. Lately, I haven't been finding myself in the holiday spirit.
Peppermint, gingerbread, and cinnamon candles aren't on sale. Target holiday commercials aren't popping up as often on TV. It almost feels like the whole world took a pause from the holidays, and isn't unpausing until the COVID-19 pandemic is over. 
Before the coronavirus, I used to get excited about the holidays. I looked forward to ice skating in the Maggie Daley Ice Skating Ribbon with family and friends. I'm a horrible ice skater, but my favorite part about ice skating was seeing the Christmas lights hung at the ends of the rink. It was a tradition in my family to attend the Christmas lightning ceremony, so I'd look forward to it in early November. 
More than anything, I looked forward to seeing my grandparents who traveled from Mexico City to Chicago. Now, the pandemic has changed many aspects of the way I'm celebrating the holidays this year. My grandparents are no longer able to visit since traveling is considered high-risk, so a Zoom call during Christmas and New Year's will be taking place. 
 The Chicago Christmas lightning ceremony took place without any spectators, but I live-streamed it since Mayor Lori Lightfoot set up a virtual holiday program. Recently, The Mayor's office announced that there won't be ice skating at Millennium Park because it's a high-risk activity. 
Despite not being able to fully participate in these holiday traditions, I've decided to keep my holiday spirit alive.
It's easier to be pessimistic about not being able to fully enjoy the holidays this year than to look forward to them. I've come to question what the holidays mean to me, and what I'm grateful for during a pandemic. Sometimes, I forget that the holiday spirit lives within me, and the many traditions that I'm missing out on aren't as relevant when I think about why I'm not doing them.
For example, I won't be able to see my grandparents during the holidays, but I know that they're not visiting for both their safety and my own. The holiday spirit is what I make of it. I can choose to be upset over what I'm missing out on or think about how I can make the holiday's just as special as before. After weeks of questioning whether I should decorate my room for the holidays, I started putting up my Christmas tree and lighting my peppermint candles. 
Furthermore, I've started to spread the holiday joy to friends by giving them holiday Netflix recommendations. Just because there's a global pandemic happening, it doesn't mean that the holidays are canceled. The holiday spirit still lives! 
Whatever holidays you celebrate, I encourage you to stay positive. All of us are missing out on something this holiday season, but it's important to keep our holiday spirit alive. More than anything, it's important to appreciate the people and things we have this holiday season. So, enjoy the holidays safely and to the fullest potential. Watch a holiday movie, create a Spotify playlist, decorate your house, and think about why the holidays are important to you!