Quantum Qualifications
Visiting Engineer Dr. Farah Fahim Speaks to Science Classes Virtually
For over a dozen years Parker has hosted the Annual Robert A. Pritzker Visiting Engineer In Residence — a scientist in a unique field to provide perspective and new information to students. This year's Visiting Engineer, Dr. Farah Fahim, visited the Parker community for the first time, presenting to Upper School science classes.
Fahim spoke to three science classes in two presentations. She presented on her work with quantum computing and scalability to "Modern Physics and Philosophy Topics," and in a joint presentation to "Physical Computing" and "Science and Fiction" Fahim spoke about her work with artificial intelligence.
For the past 12 years, Fahim has worked at Fermilab in Batavia, Illinois. At Fermilab, Fahim's work focuses on artificial intelligence, quantum computing, and more. Prior to Fermilab, Fahim received her master's at the University of Limerick in Ireland, after which she worked as an engineer at Rutherford Appleton Laboratory in the UK.
George Austin, Upper School Science Teacher and Co-Chair of the Science department organized Fahim's visit and attended the two presentations. "Both of them went really well. I appreciated how she was able to make the work a place where the students had a good foothold," Austin said. "But then she stretched, and she got into some of the things that originally, you might have thought, I'm not gonna be able to understand… hopefully you walked away with a little bit of knowledge from the experience."
Matthew Garchik, a senior in the Science and Fiction class, heard Fahim's presentation on neural network machine learning. "I think it was really great to hear from an expert in the field. Especially because she seems to be at the forefront of some emerging technologies, which was very exciting," Garchik said. "I certainly enjoyed the talk, I thought it was a good change of pace from our normal class."
Both Austin and Garchik agree that remote learning has provided new chances for learning. "Being on Zoom has facilitated new discussions and opened up new opportunities for connections with professionals and other people who could be beneficial to class," Garchik said.
According to Austin, each year, the science department researches and selects the visiting scientist, based on a number of criteria. "We tend to want to find areas of science that haven't been represented in the past," Austin said, "as well as different sorts of folks that have not been represented by our past scientists and engineers… She wanted to really try to bring more girls into the science community and into STEM careers. That's so Parker, this is kind of what we try to do."
Additionally, May 4 of this year marks the 100th year anniversary of Albert Einstein's visit to Parker. "That was an amazing opportunity that we had from the past," Austin said. "And we want to combine it with the amazing opportunity we have now…We wanted to think about who is the next Einstein."
Fahim is also involved in outreach activities with students, primarily college-level, in programs such as "Ask an Engineer." "I've also participated in a lot of panel discussions where students normally get to ask questions about, what did you do to get where you are at?" Fahim said. "I haven't, given presentations as much as I've interacted, about explaining something in particular, that has been, you know, asked off of me or something."
Fahim says that while speaking to a high school audience is similar to speaking to a college-age audience, some adjustments do need to be made. "You have to be watchful of the jargon that you're using," Fahim said. "Say somebody is doing electrical engineering, I would talk a lot about 'CMOS' and 'Cryo-CMOS.' But then, when I'm talking to say, high school students, I switched it from Cryo-CMOS to cryo-electronics."
According to Austin, Fahim will be returning for more events including a public lecture on Wednesday, March 24 and visits with clubs, faculty, and classes. 
Fahim encourages students interested in engineering to understand their own interests, and find an area of work they are passionate about, rather than one that feels like the 'right choice.' "If you're fighting yourself all the time… are you enjoying your work?" Fahim said.
For Fahim, the best way to learn and improve is to experience. "Doing is learning….the more I do, the more I learn," Fahim said.
About the Writers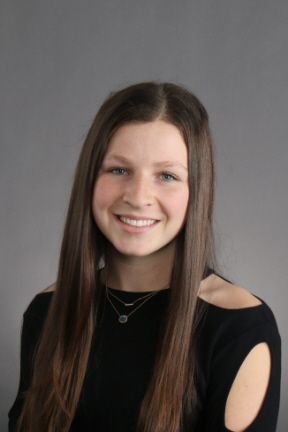 Julia Marks, Editor-in-Chief
Julia Marks is a senior and is thrilled to be serving as Editor-in-Chief for her fourth and final year on the staff of "The Weekly." She has previously...