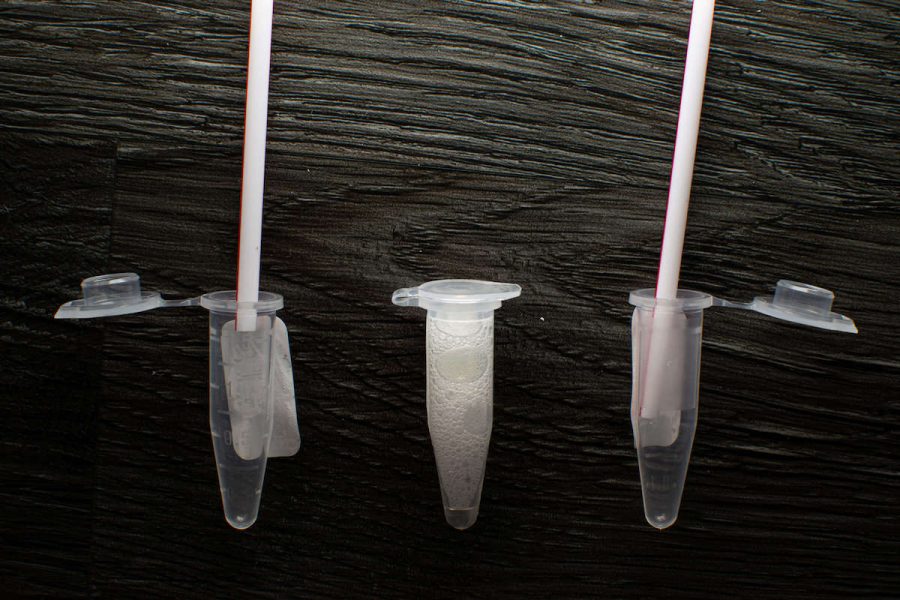 Arjun Kalra
On January 15th, Principal Dan Frank and Head of Upper School Justin Brandon sent an email to the Upper School presenting a detailed plan about Parker's new confidential COVID-19 screening process, brought to Parker via partnership with SafeGuard Surveillance, beginning on February 1st. 
While Parker was thinking of ways to bring the Upper School back in the building, they observed schools such as New Trier and Anshe Emet that were successfully using the same screening program. Members of Parker's Medical Subcommittee brought up the idea of adding the screenings as an extra layer of mitigation, and a community member reached out to SafeGuard Surveillance and asked if Parker could participate in their services.
The screening program requires students to submit saliva samples in tubes that Parker sent out to each Upper School student returning to the building. Each tube has a barcode unique to the student, and students are responsible for bringing the sample to Parker in time for their in-person learning. Students who come to school on Monday must submit their samples to Parker the previous Friday night or Saturday morning, and students who come to school on Thursday must submit their samples Tuesday night or Wednesday morning of that same week.
School Nurse and member of the Medical Subcommittee Anne Nelson oversees the screening results. "This particular test is a screening test, but it correlates really well with a PCR," Nelson said. "If you end up with a positive on your screening test, I would be calling you and saying you need to get a PCR test to find our for sure."
Parker's first experience using these samples was after grades K-8 returned from Winter Break. Each student that was going to school in-person had to submit their sample to Parker and be negative in order to come to school after the break. Parker plans to implement the same process after February break for the entire school, but only students in the Upper School will follow the screening schedule listed above for in-person learning.
Screening is also required for athletics, specifically basketball, which began the week of February 1st. In the first week, all athletes had to submit samples to the school on Friday night or Saturday morning in order to be allowed to practice on Monday. Moving forward, according to Nelson, athletes will need to be screened twice a week to continue to practice because of the sport's high risk. "As far as athletics, it's a big step for our student athletes to come back more in-person…," Athletic Director Bobby Starks said. "We think it's huge. It's not the magic bullet, but the more layers of mitigation that we have the safer we are as a school community."
As of now, many schools across Chicago are unable to have a basketball season due to the inability to provide extra layers of safety, such as a screening program. "I think it's a resource that we're definitely fortunate to have or even rely on," Assistant Athletic Director Amber Scott said. "It definitely helps us to follow the IHSA's guidelines more closely and have that level of comfort."
As of February 3, there have been no positive screening results, either for in-person learning or basketball, according to Nelson. "We're hoping this is an additional layer of mitigation that will allow us to open up even further…" Brandon said. "The saliva screening at this point is working so far. It will allow us a little more flexibility than we had in the fall."
Moving forward, having a successful screening program can allow for more in-person learning or events at Parker, according to Nelson. She and the Medical Subcommittee will be meeting before February break to determine what the program means for the school's future plans. "As we continue with the second round of the vaccine for faculty and staff, and we become more familiar with saliva screening, we hope that we can continue to open up the Upper School and the school as a whole even more," Brandon said. "We just have to plan cautiously."