Tara's Takes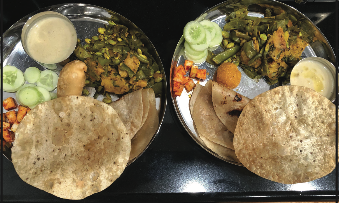 For those of you that heard the Bollywood music during passing periods a couple of weeks ago, and remember Rohan Dhingra's yearly Morning Ex, you may have realized that it was Diwali. Diwali, also known as the Festival of Lights, is a five day holiday that marks the beginning of the new year for many Hindus and celebrates the triumph of good over evil. It's a time to exchange gifts, wear fancy clothes, paint Rangolis (intricate designs traditionally put on table tops), and light Diwas (tealights or small candles) to bring light and blessings to households. 
My favorite part of Diwali, however, is the food. During the holiday, many families cook some of the most delicious and time-consuming treats to impress party guests and, frankly, to gorge themselves. I thought I would introduce some of my favorite Diwali foods not only in the spirit of celebration, but also because I want to poke a hole in the perception that Indian food is just Chicken Makhani and Naan. Don't get me wrong, both of those dishes are amazing, but there is so much more out there. So, without further ado, here are my top three favorite savory and dessert Diwali foods.
Savory Goodies
Pakoras – Any vegetable coated in chickpea flour batter and fried in oil. My personal favorites are potatoes and onions. Pakoras are traditionally an appetizer, but they also make a great meal if you get addicted and stuff yourself on them. 
Puri – A type of flat bread that's fried in ghee and is often infused with spices. Puris are one of the many alternatives to naan and are my favorite bread option. Unfortunately, they are extremely time consuming as each one has to be rolled into a perfect circle or they don't cook properly. 
Mathiya – A fried cracker that's made of lentil flour. They're thin, flaky, and absolutely melt in your mouth. These might be my all-time favorite because it feels like my mom put her entire soul into cooking them. 
Sweet Treats
Barfi – Fudge-like treats made from condensed milk and oftentimes chocolate. Whenever my mom appears with a box of these I have to be stopped from finishing the entire thing. 
Kheer – Sweet rice pudding infused with cardamom, almonds, and sometimes saffron. My family traditionally eats this as a sort of 'you've been blessed' food, but it can be served in a bowl alongside a Diwali meal.
Gulab Jamun – Basically donut holes soaked in syrup. These have been one of my favorite treats ever since I was a toddler. It usually tastes like someone infused their soul into them. If I could be eating them right now, I would.