Moogus Bogus
When I think of my experience at Parker during first, second or third grade, I remember how my day was defined by Learning Resources. I was a frequent visitor, due in part to a speech impediment but mostly because of my inability to read. 
Yet, through countless Bob Books/the Fly Guy series, and thousands of tongue pushups (to improve the "th" sound), I, for the most part, conquered my learning difference. I owe Parker and all of my amazing dedicated teachers for that. 
Yet, if I had experienced those early grades in the current COVID school environment, I don't know if I would have ever gotten past my learning difference. At the very least, I would be severely delayed.
Two years into a pandemic that has transformed into an endemic, we have to start to consider is it worth it to continue? 
To me, it's not. And that's because unlike March of 2020, we have boatloads of scientific data on the virus, a vaccine that means (if you are in good health) you will avoid hospitalization, and many people that are rightfully fed up. Instead, we have to continue to follow the science and look at getting rid of draconic COVID measures like our socially distant auditorium seating, policies that encourage spaced-out or silent lunches, and the fact that masks are required outdoors (literally, something against science). 
With that, Parker should embrace a mask optional policy the moment the state of Illinois drops the school mandate (especially if a vaccine is approved for those 5 and younger). If you disagree with Parker adopting that policy, that's okay. Those who disagree can wear a KN-95 mask (the science is clear one-way KN-95 masking is highly effective). However, it makes little sense to hurt the long-term development of children and to deny a generation the joys of life, all to prevent a virus that 90%+ of students and staff have effectively neutralized by getting vaccinated. 
Just to be clear, a mask optional environment is not rooted in the belief that masks are ineffective. They are effective at preventing illness. Instead, it's a simple calculation that our current version of COVID (especially Omicron) does far less harm to our youth than mandated mask wearing.
And look, I get this is a shift. It might not align with the talking points we've deemed as "acceptable," but if we truly want to "follow the science," our handling of COVID must radically change (go to urgencyofnormal.com for more info). 
This might feel weird, but as we approach year three of this virus dominating our life, we have to remember that when we first stayed home, it was to slow the spread, ease the burden on our hospitals, and wait for a vaccine. We have that vaccine. We have medication and treatment that are beyond effective. 
What are we waiting for now? Zero COVID cases? That day will never come. We've asked enough of the youth of America. Let's get back to living. 
About the Writer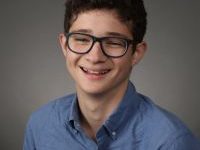 Eli Moog, Columnist
Eli Kraft Moog is a senior in his fourth year with the Weekly. Moog is involved in Student Government, Soccer, Parker Democrats, and Baseball. Most importantly, Moog's favorite word is in fact "bogus"