On September 18, Justice Ruth Bader Ginsburg died of complications from metastatic cancer of the pancreas. Ginsburg was 87, and passed away in her home in Washington, DC, surrounded by her family. She is survived by her two children, Jane and James, four grandchildren, two step-grandchildren, and one great-grandchild. A private service will be held at Arlington National Cemetery.
Ginsburg was the second woman to serve on the Supreme Court of the United States. She was nominated by Bill Clinton to the Supreme Court on June 14, 1993, and was later appointed on August 3.
"Our Nation has lost a jurist of historic stature. We at the Supreme Court have lost a cherished colleague. Today we mourn, but with confidence that future generations will remember Ruth Bader Ginsburg as we knew her — a tireless and resolute champion of justice," Chief Justice John G. Roberts Jr. said, in an announcement from the Supreme Court.
Ginsburg battled liver, colon, and pancreatic cancer, as well as gallstones, other infections, heart surgery, and fractured ribs. She was first hospitalized for colon cancer in September 1999 and battled with cancer on and off since then.
While on the Supreme Court, Ginsburg fought for women's rights, rights of workers, racial justice, and the separation of church and state. While on the Supreme Court, she ruled that the Virginia Military Institute would be required to accept women for admission. In Ledbetter v. Goodyear Tire & Rubber Co., Ginsburg delivered a dissent, accusing the eight other male justices of being indifferent to the gender pay gap. She was considered part of the moderate-liberal bloc and became a cultural icon.
Her dissenting opinions gained attention and earned her the title of "Notorious R.B.G.", named by law student Shana Knizhnik as a play on rapper Notorious B.I.G.'s name. Her large glasses and iconic dissent collar have become designs on mugs, shirts, bumper stickers, even tattoos. Her workout routine has been published as a book and Halloween costumes have been created based on her dissent collar and robe.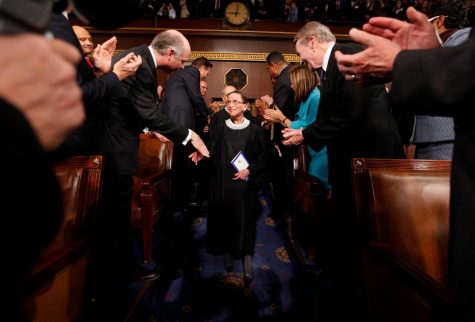 Following Justice Sandra Day O'Connor's retirement from the Supreme Court in January 2006, Ginsburg was the only woman on the Supreme Court. Sonia Sotomayor and Elena Kagan were appointed to the Supreme Court in 2009 and 2010, respectively.
Before serving on the Supreme Court, Ginsburg served as a law clerk in the District Court for the Southern District of New York, as well as a research associate and associate director of the Columbia Law School Project on International Procedure. She was a Professor of Law at Rutgers University School of Law and Columbia Law school. She also served as a fellow at the Center for Advanced Study in Behavioral Sciences in Stanford, California, and as the director of the Women's Rights Project of the American Civil Liberties Union (ACLU). She served on the ACLU's general counsel in the 1970s. In 1980, she was appointed as a judge of the United States Court of Appeals for the District of Columbia Circuit.
Ginsburg, born Ruth Joan Bader, was born on March 15, 1933. She grew up in Brooklyn, New York, in a family of Russian-Jewish immigrants. Her mother worked in a garment factory to support her brother's education and died of cancer the day before Ginsburg's high school graduation. Ginsburg attended Cornell on a full scholarship. She graduated first in her class from Cornell University in 1954.
In her first semester at Cornell, Ginsburg met Martin Ginsburg. She married Martin Ginsburg in June of 1954. They had two children, Jane Carol Ginsburg and James Steven Ginsburg. Martin died of cancer in 2010.
Ginsburg enrolled in Harvard as a law student, as one of nine females in the class of 500. She was the first female member on the Harvard Law Review, an esteemed legal journal. She transferred to Columbia in her third year of law school, where she finished as the top student.
Her story has been told in numerous books, including a collection of her work "My Own Words", "Notorious RBG" by Irin Carmon and Shana Knizhnik, and "Ruth Bader Ginsburg: A Life" by Jane Sherron De Hart. In 2018, the biographical drama movie "On The Basis of Sex" was released, as well as RBG, a documentary about Ginsburg.
Days before her death, Ginsburg told her granddaughter Clara Spera, "My most fervent wish is that I will not be replaced until a new president is installed."