How To Be Happy
Michelle Gielan Speaks at Francine C. Rosenberg Lecture on Happiness During Uncertainty
On October 5, at 7 p.m., several hundred people from around the country opened up their computer screens and logged into Zoom for the 23rd Annual Francine C. Rosenberg Memorial Lecturer, Michelle Gielan. Gielan is a positive psychology researcher and bestselling author who spoke on the topic of "Cultivating Happiness During Uncertainty."
The Francine C. Rosenberg Memorial Lecture series honors Francine C. Rosenberg, and holds lectures with the goal of sharing "innovative views, philosophies and teachings relevant to the education of our children and how we live our lives." The virtual event was free and open to the public and lasted around an hour, with a lecture from Gielan and time for questions from the participants. 
"I was really pleased to be able to put forward this really important topic especially at this time, and it's exciting when there's research based psychology that's so practical and applicable which this topic of positive psychology is," daughter of Francine Rosenberg, Sally Rosenberg ('79) said. "It's such a valuable asset for all of us to have in our lives." Gielan was connected to Parker through her husband who spoke at a retreat with Sally Rosenberg. Rosenberg then reached out to Gielan, discussed ideas, and invited her to be the speaker at this year's Francine C. Rosenberg Lecture.
With the lecture occurring on Zoom, participants were also able to access a Spanish translation, live closed captioning, and an ASL interpreter, added through a collaborative process with Sally Rosenberg and Parker. "I really appreciated that we could leverage the need to be virtual with making the programming available," Rosenberg said. "I'm really committed to making sure that going forward whatever format we are in, virtual or in person, that we continue making sure the program is accessible."
In the lecture, Gielan discussed tools to cope with uncertainty, handle stress, shift one's mindset to focus on gratitude and positivity, and enhance happiness. "The most important thing I feel I've gleaned from this research is how powerful individuals are to not only prime their own brain to be positive but also transmit that positive mindset to people around them," Gielan said.
Specifically, Gielan discussed the "three greatest predictors of long term levels of success," which include: work optimism, positive engagement, and support provision.
"Work optimism is the expectation of good things to happen and the belief that our behavior matters, especially in the face of challenges," Gielan said. With the influx of negative news received during the COVID-19 pandemic, specifically those that propose a problem, brains begin to believe that actions won't make a difference, which can lead to pessimism and depression. 
Positive engagement addresses how the brain reacts to stress. "Does your brain go into fight or flight, or do you look at the stressful event as a challenge," Gielan said. According to Gielan, experimental data shows that shifting the mindset around stress to view it as an advantage showed a 23% drop in stress related symptoms. 
"This basically was trying to test how supportive individuals are of the people around them," Gielan said regarding support provision, the third greatest predictor of "long term levels of success." Supporting family, friends, colleagues, coworkers, or anyone around, small acts of support cause a ripple of  impact. As presented by Gielan, 40% of people who were supportive of those around them were more likely to receive a promotion.
Additionally, Gielan discussed specific tools to fuel happiness and optimism levels. One tool was the "power lead," the method of starting conversations with a positive and meaningful statement. Gielan also discussed fact checking, the method of focusing on the "fueling facts" when thinking about a stressful situation. "You don't want to battle against the original set of facts… instead, you just want to get your brain to start to try to see those other colors changing around you," Gielan said. Additionally, Gielan discussed sending notes of gratitude to people to whom one wants to express thanks. 
Typically, the Francine C. Rosenberg Memorial Lecturer is able to spend time with both students and faculty during their visit to Parker. Prior to the lecture on October 5, Gielan spoke with the faculty, and also created a pre-recorded video for students to watch on October 8 as a virtual Morning Exercise for students. Nearly20 minutes long, the video addressed how our brain functions and how to apply habits to one's life on a regular basis to fuel happiness.
 "I found her lecture to be intellectually stimulating and enjoyable," senior and Morning Exercise Committee Head Rohan Dhingra said, "I think it will help further intrigue students to watch MXs as they are now optional. Her content was very captivating, and I hope many students were able to take advantage of the chance to hear her speak."
Although the Francine C. Rosenberg lecture was planned a year in advance, Rosenberg believed that the lecture was relevant for the current time. "It was completely serendipitous that we had Michelle lined up at this moment in time," Rosenberg said. "I appreciate that the topic was so relevant and useful and people are really yearning for strategies right now to cope with this truly remarkable, stressful time."
Gielan also reflected on the lecture's relevancy. "Never before have we seen such high levels of uncertainty and in so many areas of our lives," Gielan said. "We are looking at when you create a more optimistic mindset, how that fuels resilience which in turn also has a positive effect on your success."
Gielan also presented the "Happiness Challenge," a challenge that members of the Parker community can participate in, as a way to track practicing happiness through positive notes, practicing gratitude, and random acts of kindness. "The Happiness Challenge brings to life all of these ideas," Gielan said. "If anyone feels excited about doing it and leading others in it, just go for it." 
About the Writer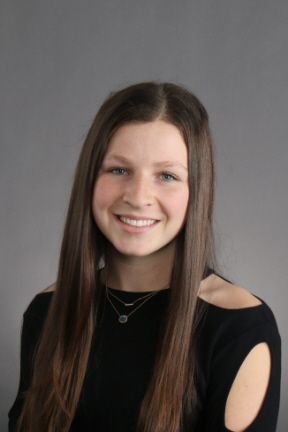 Julia Marks, Editor-in-Chief
Julia Marks is a senior and is thrilled to be serving as Editor-in-Chief for her fourth and final year on the staff of "The Weekly." She has previously...