TikTok at Parker
Anika Gehani and her TikTok account with 31.7k followers
TikTok, the app where people can post videos varying from dancing, to advocating, to making others laugh, has made its way into Parker. Freshman Anika Gehani recently gained 31.7 thousand followers and almost two  million total likes on her account "@itsreallyani." 
"It happened really randomly," Gehani said. "It was like my spam account that nobody followed or knew about with like 20 followers, when six months later in June, one of my videos unexpectedly got 1.8 Million likes and 11.9 Million views."  It was a video without any sound of Gehani waxing parts of her face, and all of a sudden, it covered the "for you page."  It got 7,479 comments and 2,435 shares.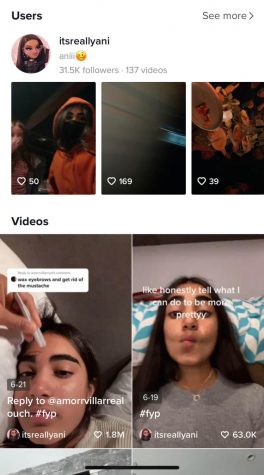 "One of my friends texted me that I went viral, and I was a little scared at first. I  was also really surprised and overwhelmed from all the notifications," Gehani said when asked about her reaction to her new fame. 
Gehani says her favorite part of being "TikTok famous" is there is no pressure to be anything special, but instead it is just to have fun. Her personal life hasn't changed dramatically and her use of the app has stayed relatively the same. "My life hasn't changed itself. It's kinda just fun to have an account like that.  I've still use TikTok the same amount as before," Gehani said.
Kashi Shah, a friend of Gehani and one of her supporters, explained her reaction to Gehani's account beginning to get millions of likes.  "I thought that it was funny to me and I was surprised because of how simple the video was," Shah said. "I didn't actually know about her TikTok account, but Anika called me because she didn't know if she should take the video down or not." 
"
I mean, this girl is famous!"
— Kashi Shah
Shah is surprised but encouraging., "I've been in a couple of her TikToks and they haven't gotten many views or likes, but she does have a lot of followers now, so they've gotten around a couple hundred likes. I mean, this girl is famous!" Shah said.  
Gehani's younger sister, Riana, an 8th grade student at Parker, heard about the viral video from her sister. "She wasn't on my For You page or anything, but she told me while we were cooking and I was kind of surprised because I never knew she was going to be TikTok famous," Gehani said. "I honestly wasn't shocked, but she was pretty surprised, so that made me even more shocked."  Her favorite of Anika's TikToks is all of the dance videos that they are in together.  "Since she has a lot of followers, she takes a lot of retakes so they look good, but she really doesn't care as long as she's having fun."
Gehani's main message to all who hope to gain fame on TikTok is to " have fun with your TikToks and do what makes you happy!"
Have you seen Anika on your For You page?
Yes! (50%, 1 Votes)
Nope (50%, 1 Votes)
Total Voters: 2

Loading ...
About the Writer
Riya Jain, Staff Writer
Riya Jain is a freshman in her first year at Parker and is beyond excited to be a part of the Weekly staff. She loves to write and has published multiple...