2020 Strikes Again
Chicago Faces $1.2 Billion Budget Shortfall in 2021
Editor's note: Mayor Lightfoot announced the City's proposed budget on October 21, after this article went to press.
Walking down the streets of Chicago, residents are met with potholes, construction, and the bustle of public transportation. COVID-19 has now added a new layer to the city-life norm. Not only are a majority of people masked and distanced, but another change lies under the surface in regards to financing.
On August 31, 2020, Mayor Lori Lightfoot announced the 2021 Budget Forecast that projects a $1.2 billion budget gap for the next year, meaning the city is having to spend more than it's bringing in. In addition to the projected $800 million shortfall for 2020, meaning Chicago had to pay that amount more than what was predicted, the city faces a total of $2 billion in debt. These staggering numbers can be traced back to one primary source: the coronavirus. Many government officials are claiming that financial deficits may be the biggest repercussion of the pandemic the city will have to face.
Total expenditures— what the city has to spend to keep the economy running— increased by $421.3 million over the 2020 budget. This includes paying city workers and fixing public infrastructure such as street repairs. The accretion of pension obligations has been a pressing issue concerning rising expenditures. The city doesn't have enough money to pay what they owe retirees, prompting the borrowing of money, which causes debt to accumulate and the deficit to consistently increase.
While spending has increased, revenue has decreased by $783.2 million. Most revenue comes from a variety of local taxes— on transportation, business, recreation, and utilities— all of which have declined as a result of the coronavirus. Furthermore, Mayor Lori Lightfoot is upholding her campaign promise not to raise property taxes. 
The official budget overview listed highly generalized potential solutions, including department efficiencies, workforce reforms, exploring new revenue sources, and financial reforms. The Mayor's Office has been hosting virtual town halls open to the public via Facebook Live. Led by the city budget and financial directors as well as Lightfoot herself, the meetings are meant to inform residents of the budget concerns and brainstorm plans for the future.
The Office of Budget and Management (OBM) also launched a public survey in order to collect feedback "regarding budget priorities and values." Respondents were asked to rank services, with one being the highest priority and ten being the lowest. With nearly 38,000 responses, half coming from northside residents, Public Health and Community Services ranked the highest averages, with rankings of 2.7 and 2.6 respectively. Police Services ranked last with an average ranking of 8.5.
"As we work to build a city government that drives growth and opportunity for all of its residents and neighborhoods, we must ensure we have a roadmap to a sustainable financial future," said Mayor Lightfoot. "With the City facing financial challenges this year, it is crucial that we have an open and honest conversation with residents from across the city, as well as with departments, city leaders and other stakeholders to develop solutions that will make our government stronger and work more efficiently for all of our neighborhoods."
To complicate matters, the federal government has not stepped in with emergency budgetary assistance that would typically arrive during times of crisis. President Trump directed federal officials to find ways to refuse funding to democratic governors and mayors. In reference to protests against systemic racism in policing, Trump wrote in a memo that "Anarchy has recently beset some of our states and cities," and, "my administration will not allow federal tax dollars to fund cities that allow themselves to deteriorate into lawless zones."
One of the key areas where the budget gap is hitting Chicagoans the hardest is in the Chicago Public School (CPS) system which serves nearly 400,000 students. Tracy Barrientos, a CPS science teacher and Chicago Teachers Union (CTU) delegate, as well as a Parker parent, says that teachers' immediate concern is getting kids back to school in-person, which is made difficult by funding shortfalls. While budget shortages are nothing new, the situation has been made worse by the additional needs as a result of the coronavirus. CPS has no choice but to continue remote-learning due to a lack of school nurses and social workers, the need for PPE, costs of retrofitting older buildings with adequate ventilation, and large class sizes which make social distancing more challenging. 
"Funding is always the main fight," Barrientos said, later adding that "as usual, we're trying to get resources to our families where COVID-19 really hit… one of the things that we're really concerned about is basically our class sizes and our students who have special learning needs. And then, reducing our class sizes so we can meet their needs, which of course means hiring more teachers."
It's going to be a challenge to make the budget work and with such shortfalls, many sacrifices will have to be made. Chicagoans now look to October 21, 2020, when the official budget statement will be announced.
About the Writer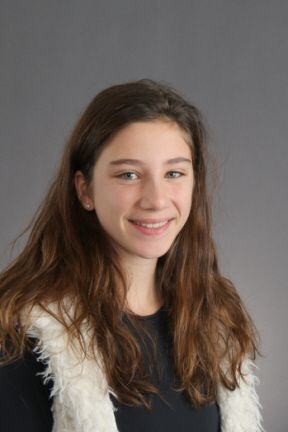 Sofia Brown, Features Editor
Sofia Brown is a junior in her third year on "The Weekly." Currently she is serving as the Features Editor, and has previously been a staff writer...