Pandemic Student Driving
Parker Upper Schoolers Interact With Driving and the Licensing Process Amidst COVID-19
Every year, Parker Upper Schoolers begin the process of learning to drive. The goal is to walk away from the Secretary of State's Office one day with a new form of ID, a driver's license. But that event is the tip of the iceberg. COVID-19 has interfered greatly with this process, and the iceberg has grown even larger. Naturally one would wonder, how are Parker students navigating the driving process during the coronavirus?
Ninety-five point eight percent of Parker Upper Schoolers who responded to a survey sent by "The Weekly" said that they either had their license or planned to have their license by the end of high school. The data proves that the importance of learning to drive is somewhat universal at Parker. About 60.5% of respondents said that the coronavirus had complicated or affected their process of learning to drive and getting a license or permit. What is it affecting?
A major change that came with the coronavirus is online driver's education classes that many Parker students have participated in. Some students are facing the decision between online classes and in-person classes. They will consider convenience but also how it will prepare them for being a driver.
Freshman Zachary Kinnison started taking driver's ed classes on November 9. He said the classes were "boring" but it was helpful that they were online because it would take more "effort" to commute to in-person classes, and he "can't do other things to pass the time."
Sophomore Anya Landolt has experienced both in-person and online driver's ed. She started her classes at the beginning of 2020 and was still completing the class in March when her driving school went online.
"Doing it in person is definitely much better than online," Landolt said. "It is very hard to pay constant attention to the online classes, and it's extremely easy to not pay any attention during class but still pass. I definitely learned much more in person than I did online."
Like Kinnison, freshman Ethan Dennis recently took driver's ed online, and he weighed in on the matter of in-person versus online classes. "I feel like it would have been the same either way," he said, "because it's really just basic textbook learning."
After completing a permit test and getting an instruction permit, driving students typically take behind-the-wheel classes in a car with an instructor. Some students are uneasy about the possible coronavirus risks when being in a car with a driving teacher. However, junior Sammi Coleman, who completed two behind-the-wheel classes during the coronavirus, said that the necessary precautions were taken and she felt safe.
When a student receives their permit too long after turning fifteen, it delays their receiving of a license because students must, in addition to driving for 50 hours, have their permit for nine months before getting their licenses. This presents an added frustration for driving students who were unable to get their permits when they wanted to because of the Secretary of State's Office being closed.
Landolt faced this inconvenience because the Secretary of State's Office closed, and she did not get her permit until June 9, a few months after she became eligible. Her birthday is in early January, but because she needs to have her permit for nine months, she will have to wait until March to get her license.
Once driving students have received their instruction permit, they must complete 50 hours of driving with an experienced driver in order to be eventually eligible for a license. Many students have found it more challenging to complete the 50 hours because of the coronavirus, citing the fact that they had nowhere to go or specifically the loss of the commute to school. Some students are also worried that the infrequent nature of their driving time might prevent them from progressing their driving skills.
The coronavirus also presents aspects that make it less challenging to find the time to drive. "I think that it's easier to get your 50 hours with the coronavirus because people are wanting to get out of the house more," Landolt said.
Coleman described her experience completing the 50 hours during the pandemic, "It was actually really nice because there obviously weren't as many people on the road," Coleman said. She noted that she was able to spend more time driving on major streets and highways because they were less packed. There is also an increased amount of open parking lots that are conducive for driving practice.
Senior Carter Wagner got his permit in his sophomore year, but he never completed his 50 hours of driving until the coronavirus took full form, and he decided to utilize his extra free time and devote the weekends to getting in driving time.
Even though he already has his license, Wagner has been benefitting from the more empty roads of the pandemic, much like the students completing their 50 hours. "I'm a little nervous for when the pandemic stops," he said. "I've never driven by myself in the city not during a pandemic." 
Some students have been discouraged from driving by the pandemic. "There's no real reason to go out and drive, and it feels kind of silly to," an anonymous junior who is currently completing their 50 hours said. "The coronavirus has put things in perspective and it makes me think that driving isn't really worth it."
The Secretary of State's office has been closed since November 17. In early December, the office opened up some locations for new driver services. That decision was partially dependent on the fact that many student drivers had already taken their tests at their school, which of course, does not apply to Parker students. One location that opened for student drivers in December is the Chicago North Illinois Secretary of State's Office, which is about a twenty-minute drive from Parker.
Most of the office's locations reopened on January 5 with plenty of safety measures including a face mask requirement, plexiglass dividers, and limited indoor capacity. The Secretary of State's Offices were expected to be significantly busier upon reopening.
Landolt described the experience of going to the Secretary of State's Office for her permit during the coronavirus as a "pretty sound one." "Everyone wore masks and all the stations were sanitized between each person," she said. "There were many people there in the line and in the building, but I did not feel uncomfortable or unsafe at any point."
"The line for getting my license was ridiculously long," Coleman said. "I waited for like three to four hours there." She also described some disorganization at the Secretary of State's Office, citing a confusion with which lines were for which service.
When getting his permit from the Secretary of State's Office, Ethan Dennis waited in a line outside for three hours. The first word that came to mind for him was "cold." He said his legs had gotten numb. However, Dennis noted that once he was in the building, it was "efficient."
Coleman enjoys driving now that she has her license. She said it made her feel responsible and independent that she could easily get places by herself and she even called the driving experience "cathartic."
"I want to learn to drive so I have the freedom to go where I want when I want, " Landolt said. "The way I see it, getting your license means having a lot of independence."
About the Writer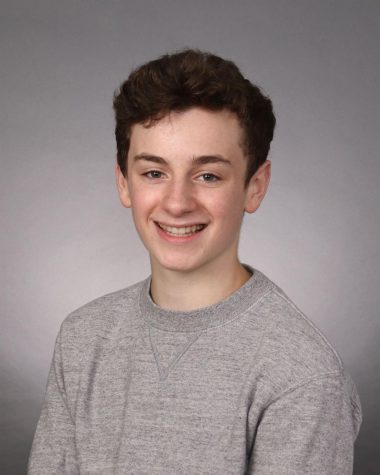 Harry Lowitz, Copy Editor
Harry Lowitz is a sophomore in his second year on the staff of "The Weekly" as a Copy Editor. Harry looks forward to writing informative articles and copy...