A New Layer of Protection
After months of discussing a potential COVID-19 vaccine in her classroom, Upper School Science Teacher Kara Schupp received a call from Parker — she was eligible for the vaccine and could make an appointment. Two days later, she had received her first dose. The mRNA and proteins that were once curriculum are now giving her 50% immunity against the coronavirus.
According to an email sent by School Nurse Anne Nelson on January 24, Parker "partnered" with Innovative Express Care, a private, Chicago-based urgent-care chain, to offer all employees the coronavirus vaccine under Chicago's 1B vaccination phase. According to chicago.gov, phase 1B allows for Chicagoans who are "age 65+" to be vaccinated along with "specific groups of highest-risk and front-line essential workers," such as firefighters, healthcare workers, and teachers.
"We're doing the best we can to prioritize these groups and the city is giving us the vaccines as they get them," CEO and Founder of Innovative Care Rahul Khare, whose son Cameron Khare is an eighth grader at Parker, said in a video posed by WGN TV.
The Innovative Care website directs those in groups 1a and 1b for vaccinations to their general appointments page, with limited availability based on the dosage supplied by the city. Parker teachers received instructions to enter a password, given to them by Nelson, after pressing the "book appointment" page on the site.
The link was due to be sent on the evening of January 26, but instead was provided early on the 24 offering appointments on January 25 or January 26, the first week of the new semester. Upper School faculty returned to school the following Monday.
Nelson is also a member of Parker's Medical Subcommittee. "We've been working real hard on all the protocols for Parker, and we've been working to try and get a vaccine," Nelson said. "Innovative Care was able to get the vaccine, and they were going to offer it to many schools, not just us. We took advantage of it right away and set up the appointments." 
The names of the other schools were not provided to Nelson. 
All Parker employees had a chance to be vaccinated, including Quest and Citywide employees who work at the school, coaching staff, and teachers staying at home for hybrid learning. Employees were instructed to bring a valid Parker ID or a letter of identification from Parker Human Resources to check-in at their appointment, along with proof of insurance. 
Receipts could be submitted to Sarah Butterfield, the Executive Assistant to the Principal, to receive a full reimbursement for the $30 Innovative Care fee for those not covered by eligible insurance.
Employees vaccinated through Parker received the two-dose Moderna vaccine, with their second appointment automatically scheduled through Innovative Care. According to the Center for Disease Control (CDC), the first dose provides 50% immunity, and after 14 days, the second will be 94.1% effective.
Though Nurse Anne did not yet have an exact count of how many of Parker's 200 or so employees had made appointments and received their first dose, both she and Schupp believed the majority opted-in to be vaccinated.
Schupp described her vaccination experience as easy and fast. "It's surreal, because it was a thing, and it just seemed so far off on the horizon yet, all of a sudden, it showed up," Schupp said. "Literally the next day, I went Monday night at 7:15, and I got my shot. It was crazy."
Schupp got in the line designated for vaccination, showed her Parker ID, gave the healthcare worker her arm, and then was done. All those vaccinated were instructed to stay for 15 minutes and not drive home, in case they experienced disorientation or dizziness as a side effect, or suffered an allergic reaction to the shot. She was then handed a card with the date of her second dose, February 22, which she sent to Nelson as a record.
Upper School History Teacher Susan Elliott, a member of Parker's Return to Campus Committee, also received the vaccine though the school's appointment link. "It was really, really easy," Elliott said. "They had so many volunteers directing traffic and everything…They were really nice people. I think I was there a total of 10 minutes waiting in line and showing my stuff."
Both Elliott and Schupp experienced similar side effects, with some soreness in the arm. "At the injection site it's a little tender," Schupp said. "But my whole arm, I couldn't sleep. It woke me up several times if I rolled over on it early on." Schupp anticipates increased side effects with her second dose.
The Moderna vaccine, one of the first mRNA vaccines to be mass produced and distributed, mimics the virus's spike proteins so your body learns to recognize and fight them, sometimes causing post-vaccine symptoms. "It's not because we have the virus, it's simply because our body is mounting such a huge immune response," Schupp said. "The fever is a natural reaction to our body doing what it's supposed to do."
Elliott, who is teaching in-person, helped to draft the Upper School's hybrid learning plan. "We had no idea that we're going to have this access to the vaccine when we were planning," Elliott said. "I think it would have impacted our planning if we had known, but I feel like with all of the mitigation that they're doing, even if we hadn't had the vaccine, we're very safe."
"The vaccine, along with continuing such proven health practices as mask wearing, hand sanitizing and social distancing, will allow our school community to carry on with our work and our mission through the coming months," Principal Dan Frank said in an email to faculty on January 24th.
Both doses of the vaccine do not eliminate all risk for the coronavirus. Studies have not yet shown whether immunized individuals can still transmit the virus to others. Some Upper School students have called for a delay to in-person learning until the second dose has reached full effectiveness, but currently hybrid learning is fully underway.
Schupp expressed faith in the school's safety protocols. "I think I have much more of a settled feeling and more confidence going in, and I wouldn't think that I'd have to wait for a second dose."
Schupp noted that though she was glad to be eligible for and protected by the vaccine, it wasn't all excitement. "I feel so lucky to get it, but am I the right person to be getting it if the doses are so limited? Who else should get this first?" Schupp said. "There's a range of emotions. It's a mixed bag. Certainly most of it is excitement and reassurance and so forth, but there's also a weird piece of guilt."
Elliott agreed. "I feel totally guilty, and my friends were happy for me, but they were just a little bit jealous," Elliott said. "I definitely have friends who really need the vaccine and they're super scared to go out, and if they got the vaccine, their life would be so much better."
The Chicago Sun Times reported that a program to offer shots to teachers at Chicago Public Schools will not begin operation until mid-February, while schools on the North Side and in suburban districts already have vaccination programs underway, mentioning Parker by name.
"A lot of private schools have connections, for one way or the other, but I can also assume that they're just on a smaller scale, able to handle it compared to CPS," Schupp said.
"I wish everyone in the city could be vaccinated. I especially wish all the health care and first responders and people in grocery stores and teachers could all be vaccinated," Nelson said. "But if I'm offered the vaccine, I'm going to take it, and then I'll work on that later."
About the Writer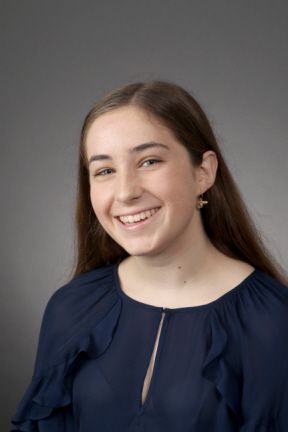 Tess Wayland, Managing Editor
Tess Wayland is a junior in her third year on the staff of "The Weekly." This year, she will be serving as the Managing Editor and has previously served...