Students Staying Home
Students Who Decided Against Going Back to School Share Their Opinions
Throughout the past seven months, Upper School students have had no choice but to cope through school days that require the completion of profuse amounts of work in a virtual setting. Now students that have chosen to do so line up outside campus twice every four weeks to reunite themselves with theIR Model Home. Other students believe that the change in location is misguided.
On January 8 an email was sent by Head of Upper School Justin Brandon about the newly formulated hybrid schedule to return Upper Schoolers to campus. Students had the option to return to school or completely remain on a remote learning platform. Students who decided to return to school enter campus twice every two weeks with half of the students in their grade. Each grade is split into Group A and Group B. The students who are not on campus at a certain time continue to work virtually. The new schedule provided by the administration applies to both students learning in-person and remotely with a few differences. 
Some students within the Parker community have decided that continuing to learn completely virtual is the best option for them due to the ongoing pandemic. The upcoming months are senior Ada Collins' last months at Parker. She has decided to refrain from returning to the building for her own safety. "The situation is just really bad, and I sort of accepted that my senior year isn't going to be great, and that's fine with me," Collins said. "I'd rather be safe than be a risk for other people. I think at the end of the day, health matters more than having that typical senior year."
Senior Grayson Schementi doesn't feel that the new schedule meets his standards for senior year. "I think that the current hybrid system and the way that they've structured it does not match the expectation for my senior year at all," Schementi said. "I feel like I'd be trying to force an optimistic outlook on a situation, and I just don't want to do that. Especially because it is my senior year and I wouldn't have ownership and control over it."
Other students have their own reasons why returning to school is not the best option for them. Freshman Emily Loma suffers from a preexisting condition and has a long commute to get to school. For these reasons, Loma and her family have decided it's best for her to stay home. She has also witnessed how detrimental the virus can be.
"I have family members all over the world, and I've seen one of their friends die of COVID-19," Loma said. "So, that kind of made me put into perspective what should be at the top of my list, which is not getting sick. I think everyone should realize, just because we want to go back to school, that shouldn't be at the top of our list right now."
Sophomore Gabriella Watkins is prioritizing safety for herself and her family. "I think it's better for me to stay at home because I'm in the comfort of my own home. I'm also staying safe for my sake and my family's sake, and I'm not putting anyone in danger," Watkins said.
The new in-person schedule calls for restructured socialization, as it divides grades and places new restrictions that students need to follow throughout the day. Sophomore Litzy Tafolla believes that these restrictions will cause difficulties among teachers and students. 
"I think it [the new schedule] makes it difficult for teachers to have cross-grade classes and it adds a lot of difficulties that could be reduced for not only teachers but students," Tafolla said. "It adds so much just for a few hours to be in school."
Parker teachers are required to return to the building and teach with few exceptions. The administration has promised a vaccination for returning teachers. Teachers additionally have to remain in the building for the entirety of the school day, while students, separated into two groups within their grade, only spend half of their day at school. Tafolla is not returning to campus and believes that the new hybrid system is unreasonable to teachers. "It's really unfair to teachers that are older," Tafolla said. "I think it doesn't really take into consideration their own concerns, and it kind of just pushes for the students that do want to return to school."
Junior Nsaia Pettis agrees and is strongly against the idea of most teachers being required to return to campus. "It's devastating," Pettis said. "It's like, for example, a medical team or police enforcement. You're putting your life on the line for someone else. Honestly, maybe that's what they signed up to do, but putting their whole life in danger in a pandemic is really disheartening."
Tafolla believes that knowledge of technology is an important aspect to take into consideration when thinking about the teaching experience. "Having to balance being online and being in school, I know that some teachers may not be used to having to do that or dealing with technology in that way, and I feel like, in the end, it could hinder the way that students learn and make it harder for everyone to deal with it."
Another concern is the idea that some students will return to campus and then proceed to travel over breaks. Being in a pandemic, traveling can be a big risk. Pettis sees this an issue that needs to be considered. "People might go on a family vacation because they want to, which is totally understandable, but I feel like a lot of kids and specifically the parents are really inconsiderate of the fact that they have to go into school with little kids and other classmates."
Schementi suspects that students will socialize irresponsibly off-campus. "I also think outside of school people are not going to be following social distancing," Schementi said.
"It's essentially like leaving [the building while in school]. You don't have a closed campus because people have to go home at some point, which is one of my issues and one of the reasons I'm not going back."
Tafolla believes that a student's transportation efforts to and from school should also be acknowledged. "I didn't like the inequity issue when it came to the schedule because there are students that live far from the school and don't have that time to commute from the school to their house or vice versa," Tafolla said. "It's just not fair. It accommodates the students that live close to the school, but it's not really taking into consideration the kids that live far away."
When she first received the information about the hybrid schedule, Tafolla described herself as having a lot of "anger" with the administration. She originally wanted to start a movement to try and gather students who disagreed with the new system. On the first day of second semester, Tafolla stated that the gathering would no longer take place.
"I think at the time there was just a lot of anger," Tafolla said. "Of course, today is the first day, but I think if it were to be to the point where I was seriously stressed, I definitely would try to organize something to get people involved. It's really unfair for them to expect us to have school as if it were an actual school day, just for kids to go back in."
Whether it is student behavior or rising cases, there is always the possibility of the Parker community being sent home to learn completely remote once again. Pettis believes that this new hybrid schedule will "not work out."
"I will place a bet, a good maybe month and a half, I hope," Pettis said. "After that, I feel like people will get lazy. People will get relaxed and they will just be like 'okay nothing happened the first time, so let me just break the rules a little bit.' I feel like there will be too many people following the leader and breaking the rules, that it [school] would just shut down again."
Collins predicts differently. "I think it's really in the hands of the students. I've heard from a lot of my classmates that they're really going to start cleaning up their act and really try their best to stay safe outside of school, just so they can go to those in-person classes and have that experience," Collins said. "I'm optimistic that there won't be a lot of cases where a whole grade is shut down."
Although the new hybrid schedule has already begun to run its course, students have suggestions in order to improve it for the better of the Parker community. Tafolla believes that the schedule needs to include later starts, earlier ends to the day. She also suggests that the seven-minute passing period is taken away. She believes that five minutes was "enough" and that the seven-minute passing period "extends the day even more."
"I think the whole coming back to school idea should just be scrapped," Loma said. "Especially because of breaks. A lot of people like to travel outside the city. I think it would be safer for everybody if we were just to stay remote and just go back to our old schedule."
Pettis finds the hybrid schedule taxing. "Having five classes a day is draining, mentally exhausting, stressful, bad for the eyes, and people deal with their own personal lives. So you're [the administration] stripping away their personal lives," Pettis said.
Collins agrees. "I think the schedule makers need to take into account student feedback. Six classes a day is not good for my eyes, it's not good for my mental health. I hope they remake it after February break, but we'll see."
About the Writer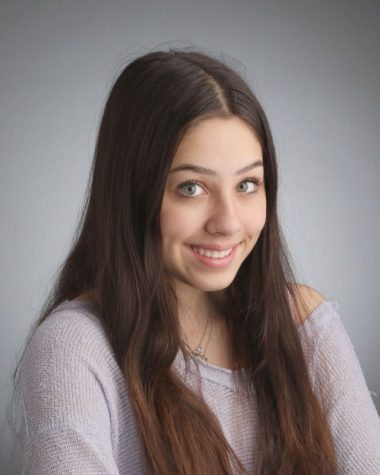 Alya Satchu, Copy Editor
Alya Satchu is a sophomore in her second year on the staff of "The Weekly." She is currently serving as a copy editor and has previously served as...