Teachers' Thoughts?
Faculty Shares Opinions on Required to Return to Campus
There are mixed feelings circulating the Upper School as students and faculty experience their first taste of in-person learning since the beginning of the school year.
Parker teachers are required to return for the in-person periods unless they provide evidence of extenuating medical circumstances. While the concern of contracting COVID-19 is sufficient for students to opt out of in person school, that is not the case for faculty. Some teachers were granted permission by the school to remain teaching online, however the majority would not qualify.
"The process is by no means easy," Science Department Co-Chair George Austin said. He is one of the teachers remaining online at least until after February break. "My impression, which I must admit is purely anecdotal and far from scientific data, is that very few have actually been allowed to do it despite many having asked not to come in for a variety of reasons."
Following the release of the new hybrid schedule on January 8, the Upper School teachers were given until a week into the second semester to plan their lessons accordingly. However even with a written plan, it's impossible to predict exactly how everything will run.
English Department Co-Chair Matt Laufer noted that he hasn't been able to plan for a lot of his classes due to this uncertainty. "I don't really know how it's going to feel," he said. "I don't know if there's going to be, for example, moments or days where I'm with students in the classroom and zooming with students at the same time."
As of Monday, January 25, Chicago is in phase 1B of COVID-19 vaccinations. Because Parker teachers fall into the category of "daycare, K-12 and early education workers," they qualify to receive the vaccine. Many have already gotten their first dose or are planning to in the near future.
"This critical protection will exist along with Parker's other ongoing protocols—mask wearing, social distancing, hand sanitizing and temperature screening," Principal Dan Frank wrote in an email to the Parker community.
Austin, who hasn't seen much excitement among his fellow faculty members about returning to in-person instruction, thinks that all might change "with the school doing a magnificent job procuring vaccines for the faculty." He remains "cautiously optimistic" on the matter. Still, some in the Parker community have raised concerns about whether or not these big changes are worth the risk.
Due to Parker's intense efforts to keep a cap on the total number of bodies in the building at any given time, students that chose to go in-person only attend school for two half days every other week. The majority of class time is still spent on Zoom. 
While Laufer acknowledged his appreciation towards the faculty and staff who created this plan, his "biggest concern is whether it is even worth it." Following the loss of some faculty and the rearrangement to class schedules, he noticed that "there's a lot of stress" both among students and teachers. Laufer isn't alone both in his respect towards the faculty who worked to make this schedule and doubts about what it will entail.
"I know a lot of really bright people, who I respect a great deal, have worked really hard to come up with the hybrid schedule," Austin said. "But, on the eve of rolling it out, it still leaves me with a great deal of doubt about the educational benefit of trying to safely execute such an ambitious plan at this time without sufficient vetting."
History Department co-Chair Andrew Bigelow has a different take on the matter. "I believe it is time to get ready to come back to school in small class settings," he said. "I miss my students terribly… none of this is ideal and I hope that parents, faculty, and students will be patient with all of us as we navigate what so many schools are already doing." Bigelow later noted that while he'd rather wait until after February break to resume in-person learning, he will do his best with the most recent schedule.
He shares the same appreciation for the hard work put in by his colleagues, calling on "patience and optimism" to make it work. Bigelow also expressed his gratitude towards the Lower, Intermediate, and Middle Schools, who "laid the groundwork for the Upper School to be in person."
Parker's K-8 grades started out the year in-person, switching to remote learning when necessary. Getting the Upper School in the building required an entirely different kind of planning, since each student's unique schedule had to be taken into consideration. Some of the faculty and staff in the lower grades resigned midway through the year—a pattern which can be seen in the Upper School as well.
Following the release of the new hybrid plan, there were a couple of cases in different departments of the high school with teachers resigning before the second semester.
"I understand that the school has to staff its positions and it can't be the case that just anybody opts out for no reason at all, but it seems to me that people need to take care of themselves, and I do worry that it's perhaps too rigorous if we end up losing some great teachers," Laufer said, referring to the situation as "kind of a crisis."
During the initial planning stages of the back-to-school schedule, sessions were held for the teachers to provide their thoughts and suggestions. With many different opinions involved, the decision making process was a balancing act. 
"The question is whether they should be trying to please all constituencies—parents, teachers, students—equally," Laufer said, "and if they've prioritized certain needs, is it the right prioritization?"
According to Austin, few changes were made after the feedback was shared, but that "as the dedicated group of educators and professionals that we are, we are all planning to roll up our sleeves and give this experiment a go and try to be nimble, creative, and responsive in the face of the inevitable challenges that we will all face."
The hybrid model can only work if the entire Upper School student body follows the guidelines set out by the social contract and sets an example for the lower grades.
"We ask that students adhere to the safety protocols both inside and outside the school that are essential to make this plan result in keeping everyone safe," Austin said, reflecting the sentiments shared by a majority of faculty members. "Safety of the entire JK-12 Parker community should still remain the primary goal for everyone."
About the Writer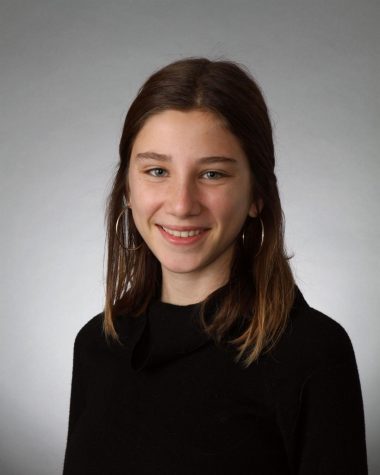 Sofia Brown, Managing Editor
Sofia Brown is a senior in her fourth year of bering on "The Weekly" staff. This year, she is serving as the Managing Editor and has previously served...