Welcome, Ms. Rupani
Parker Welcomes Priyanka Rupani as New Assistant Principal
Starting Thursday, July 1, 2021, Priyanka Rupani will officially join the Parker community and begin her work as the new Assistant Principal, a position left empty since the end of the 2019-2020 school year. 
"What draws me to working at Parker is so many pieces, particularly around the progressive identity," Rupani said. "Parker feels like a school, and I said this throughout my interview process, that feels like a place that truly leans into what it means to be a progressive school. And not just in name or in history or tradition, but in responding to the current needs of society and really being progressive today."
Rupani was informed of this job opening through an email from Parker administrators, and when she first read the job description, she was immediately drawn to the position."It talked about someone who's in a position like mine, a director of diversity position, that's looking for their next career move," Rupani said. "I love thinking about the things that make a school's identity come alive in all the different parts of the school. When it comes to education, I love supporting people in figuring out curriculum and being really innovative and strategic and thinking about the future of schools. So the position seemed perfect."
Principal Dr. Dan Frank was first introduced to Rupani through her resume and instantly had a positive impression of her. "She seemed warm, personable, easy to get a conversation going with, very approachable," Frank said. "And really thoughtful, really well grounded, experienced, and had the ability to understand and navigate the nuances of human experience across differences."
The hiring process began with 46 resumes, and prior to the ultimate selection of Rupani, three finalists came to Parker for interviews in person, some with members of the Student Interview and Recommendation Board (SIRB), a committee that organizes student interviews with prospective faculty members. According to senior and SIRB head Olivia Hanley, after interviewing the candidates, the committee members gave feedback through a form.
"She was definitely my favorite," Hanley said regarding Rupani in the interview process. "She's involved in a lot of DEI work, which I think is something that is valuable, coming into the position, and she was super honest throughout the interview." At the end of Rupani's interview, she was given the opportunity to ask questions to the students, and asked about @fwpanonymous — an Instagram account created over the summer which posted anonymously submitted stories and experiences of discrimination at Parker, specifically racism, sexism, classism, harassment, homophobia, and xenophobia. 
"It wasn't what I was expecting," Hanley said. "They usually ask 'what's your favorite thing about Parker,' but I admired that she was willing to ask those questions that normally aren't asked." Hanley also noted the specificity of Rupani's answers to questions that normally receive general and broad replies.
"The hiring process was wonderful," Rupani said. "It felt purposeful, it felt efficient, but not too fast." Through Rupani's hiring process, she was able to gain insight on the school. "I felt like I got a really good sense of the diversity work that happens to Parker, the curricular work, the whole 360 view of the school," Rupani said. "I remember walking around during my interview process on a tour, and just feeling a sense of home already."
According to Frank, Rupani's role in the school "touches all different kind of groups," and some of her responsibilities will be joining the Corinthian Council, Educational Council, the Teaching and Learning Council, working with DEI facilitators, as well as working with Frank, the chairs of the parents association, and the faculty association.
"We feel extremely fortunate that her personal dispositions and her intellectual and professional interests, and training and education, are all coming to Parker, and in a role that will allow her to have an expanded reach across all grade levels," Frank said. 
Among her many responsibilities, Rupani hopes to continue her DEI work at Parker, building on her previous experiences. "No matter what role I have, I will be a diversity practitioner," Rupani said. "I hope to just continue to support and build upon the diversity work that's happening and to be thinking about how some of the things that I was able to steward at Lab I can transfer over to Parker in ways that feel authentic to Parker as a community."
Hanley also noted Rupani's previous experience in DEI and how that will aid her work at Parker. "I think her background in DEI is going to be huge for Parker," Hanley said. "I think she's going to place a big emphasis on highlighting voices that might be underrepresented… I'm excited to see what she does."
Prior to being hired by Parker, Rupani previously served as the Director of Diversity, Equity, and Inclusion at the University of Chicago Laboratory Schools since 2018. Rupani attended the University of Chicago Laboratory's High School and believed that her "career path was really instilled" in her while in high school.
In high school, she attended the National Association of Independent School's Student Diversity Leadership Conference that was influential on her discovering her career goals. "That was one of the most impactful experiences I've ever had," Rupani said. "It was a conference that allowed me to better understand myself and my own identity and really got me on the path of thinking about doing diversity work in schools." 
Rupani received her B.A. from Northwestern University, and as a sophomore in college, Rupani reconnected with the Student Diversity Leadership Conference and joined the faculty in 2007. 
She then moved to Philadelphia and joined Teach for America Philadelphia Corps, teaching mathematics at Mastery Charter Thomas Campus, while simultaneously earning her M.S.Ed from the University of Pennsylvania. She then taught African-American History at the same school.
From there, Rupani served as the Director of Diversity, Equity and Social Justice at the Friends School of Baltimore, in her first administration position.
"That was super powerful, too," Rupani said. "It was my first administrative position getting to do what I'd wanted to do full time. And at a school that had a deep connection to social justice."
At Parker, another goal of Rupani is to get to know and connect with the students. "The reason I work in schools is to work with students," Rupani said. "I know this role might be more adult facing, and I'm excited about that too. But definitely excited to support young people…student voice can be really prioritized in everything."
Rupani's desire to connect with the community was evident to both Hanley and Frank. "It's always great to have someone who's eager and enthusiastic to do that," Frank said. "So I really look forward to that. That kind of Parker spirit." 
"I'm ready for the next professional experience, ready to be at Parker," Rupani said. "I'm ready for the next professional career move and to influence schools from this role."
About the Writer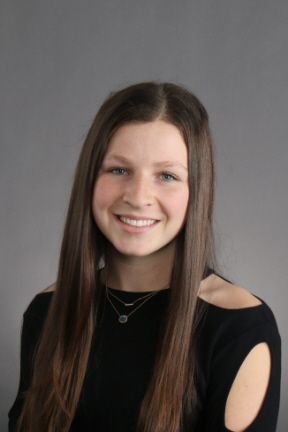 Julia Marks, Editor-in-Chief
Julia Marks is a senior and is thrilled to be serving as Editor-in-Chief for her fourth and final year on the staff of "The Weekly." She has previously...