A Community Celebration of Poetry
Parker Writers Gather to Acclaim Poetry in the Parker Community
Poetry plays an emphatic role in the Parker community — integrated into clubs, Morning Ex's, and community-wide celebrations. On March 8, Parker community members gathered virtually to recognize and honor the work of Parker poets. Those enrolled logged on Zoom at 7:00 p.m., to read and listen to poems written entirely by those of the Parker community. 
English department co-chair and poetry club faculty advisor Matt Laufer worked alongside English Department Co-Chair Kate Tabor, and administrators Sarah Butterfield and Dan Frank to arrange the community-wide celebration. Laufer delineated Parker's focus on poetry as "admirable and wonderful." He encourages others to share work they are passionate about, regardless of adept poetry expertise. "You don't have to be a published poet, you don't even have to be someone who identifies as a poet to take this opportunity to maybe discover something about yourself," Laufer said. 
Forty-three members of the Parker community registered to join the Zoom festivity, either to read original work or listen to the work of others. In preceding years, this celebration took place as an in-person occasion, accompanied by refreshments and face to face acclamation for the hard working poets. Now virtual, those listening snap their fingers while muted and send short messages in the chat to bestow their praise.
Senior Julia Polsky opened the event with her original poem, "Weather Meltdown."
"It was about how I feel when it snows and specifically how it was very snowy at the end of January," Polsky said. "Also, the anxiety of enjoying the weather but then anticipating how ugly it gets when the snow melts."
Being a senior, Polsky only has a definite number of months before she leaves the Parker community. Having the majority of her final year at Parker take place in a remote setting implements a feeling of detachment. "I think especially this year it's felt so disconnected, and I personally have felt a little isolated from the community," Polsky said. "Sharing poetry which I think is one of the more personal ways of writing and getting to hear other people's poetry helped me feel like I was still part of the community even though I'm on my way out."
A vast variety of age groups exhibited their work at the event. Third grader Emma Heyman shared an original poem titled "Our Future." "It was about America's future and what I envision it being and what it is now," Heyman said. "It was describing what I think it should be: a safer place, a more respectful community. Now, it's not the best place where you would necessarily want to have your kids grow up in." Heyman was inspired after her class studied National Youth Poet Laureate, Amanda Gordon. 
Heyman became especially familiar with poetry during second grade while studying the art of haikus. "I would always figure out my own way to write them," Heyman said. "I wouldn't always do it the exact same way the teacher would do it."
Also sharing at the event was sixth grader Julia McDade. McDade shared a poem entitled "A Greater Purpose" that utilized a boating metaphor.  "It was about how anyone can steer their ship through any way of life," McDade said. "You don't necessarily serve anyone in what your purpose is, but you have your own ship through your own sea."
Sophomore Leena Mehta likewise participated at the event, reading her original work titled "And You Called Her Crazy." The poem reflected upon the story of a young girl and her relationship with an older figure who made a lasting negative impact on her life. "The story of a friend inspired my poem," Mehta said. "She has been treated horribly in the past, but I trust her soul and spirit to rise above her past and, if she chooses, wreak vengeance on the one that hurt her most."
 Although lacking direct contact, online events grant certain forms of connection that would otherwise be difficult to arrange in-person. 2021 is the first year of the annual poetry celebration in which alumni from across the world are able to attend and contribute. "The silver lining about the Zoom event is that we might have alumni participation," Laufer said. "Typically alumni are often away living their lives in college or working, and now they can Zoom-in across the world and read a poem."
Polsky noted that in the future she could see herself attending the event as an alumnus, but not so much participating in reading her original work. "I'm not sure I would share again, there's something special about hearing students share," Polsky said. "I personally think it's a great way to share students' work."
Parker alumna, parent, and Co-Chair of the Parent's Association Cat Bentivegna Adami shared her original poem entitled, "Donald Sutherland Reminded Me." 
"Celebrity and art references, they always inspire my writing," Adami said. The poem is set in New York City in the 1970s, specifically centered around the 1971 thriller, "Klute." "The poem was really about imagination and being inspired about something you see or hear. In this case, inspired by an actor in a movie," Adami said.
The Community Celebration of Poetry is an occasion not directed towards a specific age group. All members of the Parker community were welcome, which makes it vital for participants to recognize the need for censorship within their work. "I definitely felt like I should share something more friendly to the entire community," Polsky said. "I think the event being open to the entire community affected what I was choosing to share. But, I don't think that's necessarily a bad thing."
Adami enjoyed the wide variance in age and poetry writing experience. "It ran the gamut of ages and backgrounds, from amateurs to more seasoned poets," Adami said. "It was a really nice mix, and everyone brought great work."
 "I enjoyed the event. There was a vast variety of people in attendance and the readers ranged from lower schoolers to frequently published writers," Mehta said. "I loved to hear the different perspectives and to measure the similarities between them."
Laufer conveyed his appreciation for the poetry writing style, "I think that these days, especially, it's hard to find time to smile and to explore one's imagination, humor, and empathy in ways that aren't crushingly nerve wracking. I think it's a chance to kind of slow down and enjoy each other's company, enjoy our own playfulness for a change, and to connect," Laufer said. "Parker's done a pretty good job of bringing us together in creative ways and this is another chance for that."
About the Writer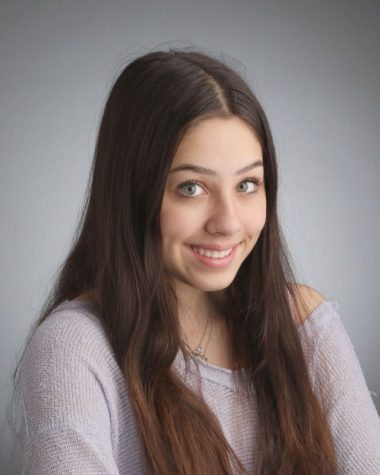 Alya Satchu, Copy Editor
Alya Satchu is a sophomore in her second year on the staff of "The Weekly." She is currently serving as a copy editor and has previously served as...