A Fresh Perspective
Freshman Gabby Druger Ratified As New Pride Committee Head
On January 27, right after first semester finals were done and Upper School students were easing into the pace of their second semester courses, senior and Student Government President Carter Wagner made an announcement in Plenary that a spot had recently been vacated on the Pride committee, and there would be a special election to replace said seat. The opportunity to serve as a Pride head for a semester was open to anyone in the Upper School, so Wagner asked any and all interested parties to stay back on the Zoom call to gauge involvement.
Only one participant stayed back: freshman Gabby Druger, who expressed her interest in running for Pride head this year. Two weeks later, Druger was ratified as Pride head for the rest of the year, and became one of the few freshmen serving on Cabinet for the 2020-2021 school year.
Because the current Student Government constitution bars incoming freshmen from running for Student Government positions in the spring, only a few freshmen were allowed to hold positions that were reserved specifically for their grade and are appointed in the fall to guarantee all members of the 9th grade class a chance to get involved. Druger was not one of these students, but was still interested in getting involved more besides participating in Plenary. "I just think I was interested in Student Government," Druger said. "I was really involved in the Pride group in eighth grade and I decided that I wanted to get back into that."
Despite never running for a committee before, Druger was not worried about the general process of running for a committee head by herself. "I think that it was a bit stressful in that there was a bit of a time crunch," Druger said. "So it wasn't so much as running by myself was stressful but just writing it and getting all the signatures."
The special election came about due to the SG constitution and the vacancy of a Pride seat. "Pride had mentioned, the three members who are still on the committee, mentioned that there would be a vacancy, starting in September," Wagner said. "The standard procedure for that, for someone to resign, is that they have to let their fellow members know, let the DCA know, and then write an official letter announcing their resignation to the president. That doesn't have to be sent to anyone else, but it's just so that way, if you say to someone 'I'm resigning,' it can't happen. You need to write a letter, that way it's official."
Once Cabinet received the resignation letter, they announced the vacancy to the rest of the student body. "Once that happened we talked in Cabinet, and we had been planning the special election for a little while, but we got back from winter break and started talking about, 'how are we going to do the special election? How are we going to plan it,'" Wagner said. "I gave my first announcement in Plenary, and was like, 'if you have any questions, please feel free to stay back.' And then Gabby stayed back and she was like 'I would like to run,' and we were like, 'fantastic!'"
After informing Cabinet that she intended to run, Druger began writing her platform and speech, with minimal help from any experienced member of Student Government. "She really took it from there, and I'm really impressed with the way that she really jumped at the opportunity," Wagner said. "I gave her my platforms when I ran for Pride a couple of years ago and I also forwarded her the Pride platform from last year in case she didn't have it, and then she wrote her entire platform on her own, which was so impressive, but she was also super responsive if she had any questions."
Since Druger was running unopposed, as she later learned upon turning in her signature sheet, she would have to give a speech during Plenary and would then be ratified by the student body. "It was actually super simple. Because we only got one applicant, we just had her do a speech and everyone ratified her as they should because Gabby is a great candidate!" Executive Advisor and senior Ava Ori said. Druger was elected to the role of Pride committee head with 97% of the vote on February 7, shortly after she gave her speech to the Student Body.
From a technical standpoint, this special election was a bit different than previous years thanks to the online format that Plenary is held on. "It was actually really nice over Zoom. Gabby was able to privately chat us questions and stay after in SG to get more info about the role," Ori said. "The communication aspect of online learning made help super accessible for those interested. Just a private chat away! No more gaining up the courage to stop a senior in the hallways in front of everyone or anything like that."
Since Druger has been ratified by the student body, she is already working with her fellow heads to run Pride committee for the remainder of second semester. "We are working a little bit on having more people speak," Druger said. "One of the really big things I was trying to get introduced was getting more speakers and hosting speaker events. I also think, coming forward from COVID, maybe getting some in-person events might be nice."
Members of Cabinet were delighted when Druger ran for Pride head, especially since she was a freshman brand new to the Student Government system. "I as well as the rest of Cabinet feel it's important and amazing when freshmen get involved, although getting involved doesn't mean having a position, but at this point in the year, having a freshman run, we were all just thrilled and excited," Wagner said. "I would always stress the fact that being involved in Student Government doesn't mean having a position, but also that positions can mean stuff if it's inequitable."
Ori hopes that Druger's ratification will also encourage members of the freshman class to try to get involved in Student Government in the future. "I hope her initiative and confidence sets precedent for all other freshmen who want to pursue the leadership roles they are excited about," Ori said.
Now that the special election is over, Druger is excited to serve in her new role as Pride head. "I definitely think this has been a really cool and positive experience and I would be interested in running again in the spring as a Pride head," Druger said. "I definitely think that when you see an opportunity in Student Government, whether that be applying for non-elected positions as a freshman, you should take that experience because you can learn so much from it."
About the Writer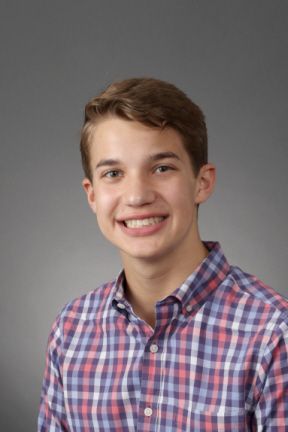 Zach Joseph, Editor-in-Chief
Zach Joseph is a senior in his fourth year on the staff of "The Weekly," and is ecstatic to be serving as an Editor-in-Chief for the 110th year of "The...