Recreating a Lost Summer
Parker Students describe their sleepaway camp experiences after missing one year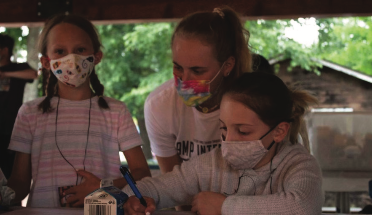 Receiving an email about something being moved to a virtual format was not an unusual experience during the pandemic. However, sleepaway camps did not have the opportunity to move virtually as easily as other events, as camp is often active and outdoors. As more information was received, testing was more accessible, and vaccines were distributed, sleepaway camps had a few options, one of which was to recreate a lost summer.   
Some students returned to camps as campers, some as counselors, some as C.I.T.'s (counselors in training), and some did not return at all. 
Junior Mollie Gross returned to Camp Chi in Wisconsin as an S.I.T. (staff in training) this summer. Gross was a camper at Camp Chi before becoming an S.I.T.  Gross explained how some people did not return at all this summer. "There were around 15 people who decided not to come back," Gross said. 
An S.I.T. is part of the overall staff at Camp Chi. Gross explained the difference from years as a camper and this pandemic year. "I had a lot more responsibility and did less of the stereotypical camp activities," Gross said. 
Gross also mentioned how COVID-19 changed the format of several camp elements, adding "podding periods" and mask requirements in certain areas. "There was podding period for everyone the first week of first session and then podding for everyone besides the SITS first week of second session," Gross said. 
Age was also an important factor in the COVID-19 precautions that took place at Camp Chi. "If you were mixing age groups, you had to have two of the three: outdoors, masked, distanced," Gross said. 
Many people returned to camp this year in a variety of ways. Junior Lily Moss returned to camp as a camper, after waiting an extra year due to the pandemic. " I went to a sleep away camp, the same one I have gone to for the past three years. Last summer my friend and I were so convinced that we would be able to go," Moss said. Like many camps last year, as COVID-19 numbers rose, camps decided to close. Moss attended a camp in California that sent an email to participants describing how the numbers would not allow the camp to open for the summer of 2020. 
Like Camp Chi, there were COVID-19 protocols in place for the camper's safety. "There were no masks. You had to either have proof of vaccination sent to camp ahead of time or a negative Covid test like 24 hours before arrival," Moss said. 
Every sleepaway camp is different, and Moss explained how most time was spent outdoors, including the activities and sleeping in tents, which eliminated some risks. 
"My camp is completely outdoors, so there was definitely minimal risk. We spent most of the day surfing out in the ocean anyways," Moss said. There were also other protocols such as having counselors serve food and adding more hand sanitizer dispensers. Given the outdoor element of the camp, another sink was added. Previously Moss's camp had, "One outdoor sink and no warm water," Moss said. 
Sophomore Natalie Drake's camp closed last year as well, and it was the last summer Drake could attend as a camper. With different options people had  for returning to camps, Drake had choices. "My camp is Phantom Lake and I was a counselor," Drake said.  
Like Moss and Gross's camps, COVID-19 precautions were in place for the campers. 
"We stayed in bubble groups and wore masks only in common areas with the whole camp," Drake said.   
Camp reopening could not turn back time. Many students' final years of camp could not be recreated, "Last year I felt like I missed out on my last year of camp as a camper," Drake said.  
Senior Minnie Dennis returned to Camp Interlaken JCC in Eagle River, WI as an "Ozo" which is equivalent to a counselor in training. After the first session, Ozo's eventually move to cabins for the second session to be counselors. 
"This year was very different from other years. As an Ozo, I came to camp with the expectation that things would be different, however, with the added Covid precautions, it was more different than I expected, and it was much more tiring than other years. Although camp was more exhausting than other years, it was still extremely fun, and most campers enjoyed themselves just as much as any other year," Dennis said. 
Dennis's camp required testing before arriving at camp, then one to two times per week.  Another COVID-19 protocol was podding by cabin, and according to Dennis, pods traveled together and then eventually expanded as the sessions continued. Some camps had unique models for COVID-19 protocols, some of which were being masked, outdoors, or distanced at certain times.
 Unfortunately there was a case of COVID-19 in Dennis's camp during the second session. "This did not change much for the grades that were not affected, however, it drastically impacted the exposed grade. The person who had Covid was required to quarantine for 14 days in the 'quarantine cabin,' away from the rest of the camp," Dennis said. 
The camp also planned for the exposed campers to continue camp activities isolated from the rest of the camp, called "shadowcamp" that lasted ten days. "Shadowcamp" meant that the cabin still did all normal camp activities, however, they were not interacting with anybody else in the camp while they did the activities, so the counselors ran them. "Food was also brought to their cabins for them to eat outside," Dennis said. 
Like others, Dennis reflected on the overall experience of camp this year. "Overall, camp was run well this summer, and I had a great time," Dennis said. 
  Whether as a counselor, Ozo/S.I.T./C.I.T., or a camper, the shared reaction to camp reopening for the summer of 2021 was, "This summer I finally got to go again," Moss said.