Starting Fresh in Second Grade
Brittney Washington Joins the Second Grade Team
The second grade classrooms at Parker are filled with desks, pencils, and a deep love for learning. This year the second grade will have a new smiling face joining them. Brittney Washington will teach second grade replacing Sarah Willett who will teach third grade. 
Washington was born in Cleveland, Ohio and received her dual bachelor's in sociology and women's studies from Toledo University. Originally unsure of what career she wanted to pursue, she attended Park University where she earned her master's degree in education. 
Before coming to Parker, Washington  taught first grade at Bennett Day School in Chicago, and she has taught a variety of elementary school grades. 
"I am most looking forward to the excitement of learning," Washington said, "and to teaching the new grade, and extending that learning that I have from that experience of first graders to really see second graders explore and learn."
Washington plans to use her previous teaching experiences to help to foster a supportive, inclusive community for Parker students, families, and teachers. "One thing that I really pride myself on is making sure that I create a space for students to be able to ask questions and to be able to explore and create and play and learn more about themselves and others," Washington said. 
At Parker, Washington will be joining Second Grade Teacher Cathy Davidson and Second Grade Teacher Kathryn Wild who have been teaching side by side for over 16 years. "It's nice to have a new person," Davidson said. "She brings kind of fresh, new ideas and fresh ways with the same things."
According to Wild, she has had great, meaningful conversations with Washington about school, society, and more. "Mrs. Washington is a beautiful human being," Wild said. "She is cheerful, positive, passionate, hardworking, and just a lovely strong teacher." 
Wild also believes that Washington will help the second grade to develop their curriculum. "To have a new person on our team to help us develop those social studies structures and the central topics, it will be really nice to have a young, new, fresh set of eyes on our curriculum as we develop it these next few years," Wild said. "She is not attached at all to what we have done before."
Davidson has appreciated Washington's willingness to teach her about new technological savvy aspects such as Canva. However, what she admires most about her is who she is as a person. "Her energy, her kindness is really a breath of fresh air," Davidson said. 
Inside the classroom, Washington is passionate about her love for learning which is evident through her desire to always read new children's books among other things. "I am very passionate about creating," Washington said. "Whether it's with arts and crafts, I'm really into making things look very nice and exciting and fun."
Outside of the classroom, Washington enjoys painting, planting, music, and continuing to be creative in a variety of ways. She has also recently begun a podcast called "The Black Teacher Voice" which amplifies the voice of black teachers in education. 
"My podcast focuses on providing that space for teachers to come on who are of color, and who are Black, to be able to share their insight and their experiences with others in the world," Washington said, "I've gotten the chance to hear so much from others where I share some similarities but also share some differences too, and being able to have community within teachers who are Black is very important to me."
Washington is the first teacher of color tobe a member of the second grade team. "Research has shown that kids learn best from teachers who look like them," Wild said. "More and more as a Lower School, we are looking for ways to provide mirrors and windows for students, so they are not only seeing their own experience, which at Parker, may be in a bubble."
Wild believes that Washington's past experiences working with diversity, equity, and inclusion will be beneficial to students and teachers alike at Parker. "She is extremely passionate about DEI work," Wild said, "not just from a white teacher who has maybe done a lot of that identity work, but as someone who has those lived experiences." 
"Parker stuck out to me because it seems to be a very historical school and to know that the school is growing and changing and evolving," Washington said. "I think every school goes through these phases where there is some type of shift that continues to be able to draw in more, and there's more creativity, and more development of so many different ideas and perspectives."
According to Wild, Washington will have a lasting, positive impact on the school community as a whole because of who she is as a person. "She is devoted. She is passionate, a lifelong learner, and she is, as a teacher, really strong with a set of ideas, principles, and values that align with Parker," Wild said. 
Washington believes that every year she is faced with some sort of challenge, but she is confident that she will be able to persevere through it which leaves her feeling excited for the new year ahead. 
About the Writer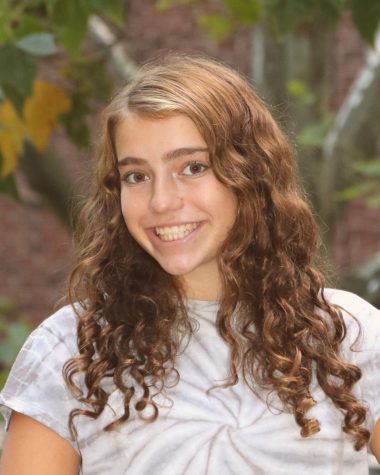 Samantha Graines, News Editor
Samantha Graines is a junior on her third year on the staff of "The Weekly." She is thrilled to be serving as the news editor and a staff writer for the...