The Colonel Turkey Drive
Thanksgiving Food Drive Returns After COVID-19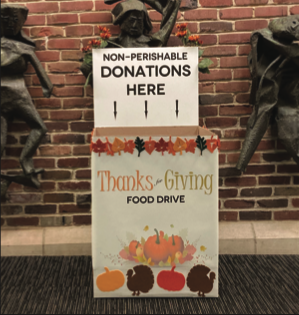 Families are getting into the spirit of the month by returning the favor to our community as the holidays approach. Our Parker community members are giving back in 2021 like they do every year, with an annual Parker Colonel Turkey Drive. It's an opportunity where students, parents, and teachers can come together and feed families that need it and brighten up their Thanksgiving meal. However, this year is different… With the virus affecting everything, what will the Colonel Turkey Drive look like?
With remote learning and social isolation rules in place last year, the 2021 drive will be more logistically challenging than the previous one. Furthermore, rising immunization rates open up new possibilities for this year's Turkey Drive, which will attempt to follow in the footsteps of past years. Due to COVID-19, the Turkey Drive last year was socially distanced, which was a safe and secure way where families could bring in non-perishable food and frozen turkeys through the safety of the school. With boxes for collecting the items accessible in a variety of places, it was easy to drop off a donation, and volunteers would pick them up and sort them though, but COVID-19 didn't make it an easy task. The target audience for this drive was students and their families. While collecting the food items, volunteers practiced social distancing and were able to donate to the Midwest Workers Association (MWA) with few issues and many smiles. 
"With the Midwest Workers, they organize food by the neighborhoods and they create a connection with communities," Upper School history teacher Kevin Conlon, who has been running the program for over twenty years, said. "The MWA creates opportunities for families all over Chicago." And that's what they've been doing for decades. Parker has partnered with them since the dawn of the Thanksgiving Food Drive, and they've provided meals for families in need during the holiday season. 
Nicole Charfoos, a Parker parent and Parker Parent Association co-chair said the drive is a way families can contribute and donate to families in need. "It is also a great way to get parents involved," Charfoos said. "And it's easier to have the parent drop off the food in Jo Anderson Drive than it is for a student to come in with a turkey and not know where to go." After last year's pandemic drive the Parker Parent Association decided to switch to drop-off bins for food, which they felt worked better than boxes in the hallways of the building. 
The Thanksgiving Food Drive persevered through the COVID-19 pandemic and has helped many families across Chicago. According to Conlon, more than 50 turkeys were donated this year in addition to non-perishable food.