Paschen's Passion
Elise Paschen '77 Reads as Parker's 8th Annual Hansell Poet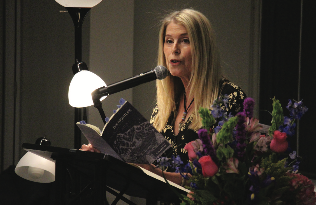 In the Osage County of Fairfax, Oklahoma, stands a home. Lavender and larkspur bushes scatter the outskirts. Surrounding the home, a "lattice work swing-set" and a fresh garden is enclosed by a "wood-pile fence." In this rural setting, the mother and aunt of poet Elise Paschen '77 grew up. The location is featured in Paschen's poem entitled, "Oklahoma Home."
Paschen is an American poet with four published poetry collections: "Houses: Coasts" (1985), "Infidelities" (1996), "Bestiary" (2009), and "The Nightlife" (2017). Paschen currently works as an Adjunct Assistant Professor at the School of the Art Institute of Chicago and edits poetry anthologies. She is also the former Executive Director of the Poetry Society of America. 
Paschen, an alumna, was invited to read at Parker as the 8th Annual Jeanne Harris Hansell Endowed Poet. Every year, Parker invites an established poet to read their work, for the purpose of education and inspiration. The event was hosted on December 8 at 7:00 p.m. in Parker's Kovler Family Library. It was a free event, open to the public. Parker students, faculty, staff, and families attended, eager to listen and engage. 
Upper School English teacher Alicia Abood, who leads the Poetry elective, introduced Paschen to the crowd. In her introduction, Abood described Paschen's work as "a constellation of images for a daydream."
"You can tell that she really puts a lot of time and thought into every word and line," Abood said. "I was trying to honor how she's kind of a multi-faceted and talented poet, and also, to honor how students were enjoying her work too."
Paschen read several poems from her recently published collection, "The Nightlife." This collection explores themes of imagination, dreams, and reality. She read "Division Street," specifically about Chicago city streets and rioting. She also read "My Mother Descends," a poem about Paschen's attempt to come to terms with her mother's dementia. 
"She is weary and observes silence with the living," Paschen writes.  
Paschen also read poems "The Middle Seat," "The Marriage Bed," "Hedrows," and "The Tree Agreement," all included in "The Nightlife."
"One thing that I loved most about her poetry and her work was how descriptive it was and how it can vividly paint a picture," junior Yazmin Velazquez said. 
To conclude her reading, Paschen shared a part of her unfinished manuscript–specifically a sequence poem entitled "Heritage of the Blood Wolf Moon." A sequence poem is several poems, with the last line of the first poem being the first line of the next poem. 
"You create a kind of a bracelet of poems," Paschen said. "I really enjoy writing this work because normally I write very formal poetry, and this one is spread across the page in these hanging indented stanzas. It's a different kind of spacing I'm exploring."
Paschen is enrolled in the Osage Nation, a federally recognized Native American tribe with headquarters in Pawhuska, Oklahoma. "Heritage of the Blood Wolf Moon" is about Paschen's Osage background. It was inspired by several events happening in Paschen's life—one of them being her visit to her family's gravestones in Fairfax, Oklahoma.
"It's a very inspiring place for me, this place where my mother and my aunt were born and raised on the Osage reservation," Paschen said. "My family still owns the land there and it's just very potent and I'm very lucky to have this place of inspiration."
Paschen studied poetry at Harvard University and later got her masters degree in 20th Century Literature at Oxford University. Paschen wrote her doctorate on William Butler Yeats, a widely celebrated Irish poet. 
"My thoughts were that to become a writer, it would be best to read the work of my literary predecessors and really absorb those writers," Paschen said. "My focus in graduate school was the modernist poets, the 20th century poets."
While attending Oxford University, Paschen studied at Magdalen College with professor John Fuller. Fuller recognized Paschen's potential and asked if he could publish her first book, "Houses: Coasts." 
"It was such an honor to be published by John Fuller, to be a part of his poetry community," Paschen said.
After graduating from Oxford, Paschen moved to New York City to become the Executive Director of the Poetry Society of America. To continue her career in poetry, Paschen submitted her next collection to several contests, hoping it would get recognized. Her second book "Infidelities" won the Nicholas Roerich Poetry Prize.
"One important thing is, as a writer, you just need to read as much as possible, and really absorb the work of contemporary writers, and of poets from the past," Paschen said. "That's why I love being an anthologist."
When writing poetry, Paschen is sure to "interrogate every line," and make sure no other word would fit better in a particular spot. 
"It's important to be very attuned to the musicality of the poem, and to be attuned to 
all the possibilities that language has to offer us as writers," Paschen said.
About the Writer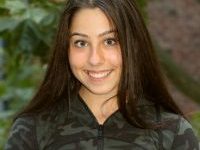 Alya Satchu, Opinions Editor
Alya Satchu is a junior in her third year on the staff of "The Weekly". Currently, she is the Opinions Editor and has previously served as a Copy Editor and Staff Writer. Outside of the newspaper, Alya is a student athlete and takes part in several clubs.