Deck the Halls With Window Paintings
Freshman Families Gather For an Annual Parker Tradition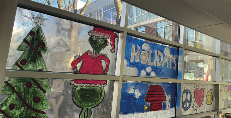 To kick off the month of December each year, the halls of Parker undergo a transformation. The windows are covered by festive colors, designs, and messages wishing the community a happy holiday season. From polar bears decorating a Christmas tree to decked-out menorahs, the diverse array of paintings light up the school.
On the evening of November 30, ninth grade families arrived at their assigned windows one by one, greeted by Grape Jam's cheerful carols filling the alcove. Last year, the long-standing tradition was put on hold until the spring, when freshmen painted appreciation notes for healthcare workers. Now, the holiday spirit is back in full swing.
Freshman gradehead and PE teacher Tyler Heidtke experienced the joy of window painting for the first time during the upper school's hybrid schooling period. This year, after hearing students talk about their design plans in Graderoom, he was "super excited" to see their ideas come to fruition.
The ninth graders heard about window painting during orientation in August but didn't know whether it would take place in the winter or spring. Their preparation began in Graderoom two weeks prior to the event, which involved prepping their windows with soap and tape and thinking up designs. Some students have been looking forward to partaking in the tradition for many years.
"When I was a kid, I remember always being so happy when the windows were painted," freshman Annoshae Mirza said. "It was just like magic. I hope that we as freshmen managed to recreate it for the younger kids this year."
Freshman gradehead and English teacher Cory Zeller also expressed excitement to host the window painting event during this winter season, noting that the biggest change from pre-pandemic years would be the lack of food. Quest provided families with individually-wrapped snowflake cookies for students to take home to replace the typical pizza provisions.
"Not having food is a really small sacrifice for being able to run the event," Heidtke said, agreeing with Zeller.
The location of windows was also different from previous years due to the sun tinting material applied to the northern second-floor hallway windows. Instead, the library hallway windows were put to use, and students were broken into "pockets" of students based on their assigned area.
Freshman Judah Solomon was excited about window painting despite the minor changes. "I think it's really good that they got it done even amidst COVID," he said. "It was set up really well, they gave us enough time to prepare, and it was actually really fun to do with friends."
Students had the option of painting an individual or group window. If doing the latter, they were given multiple windows to design a collective, themed piece on. Those who couldn't make it to the main event were given times to complete their window in the following days. 
With a paint station on each floor of decorating, families had plenty of colors to choose from. Paint brushes were also provided. Faculty and parent grade chairs coated the floors surrounding the paint tables in plastic wrap. It was successful in keeping most of the floors clean, though splattering of black paint did manage to make it onto the walls at some point during the night.
Zeller was grateful for the parent chairs because "they're really the ones that organize the event, buy all the supplies we need, and set up." She also noted just how social this tradition can be for all who are involved. With 24 new students in the ninth grade, many families also joined the Parker community. Window painting provides a space for parents and guardians  to socialize with fellow adults. "It is such a beautiful community event that we do where families get to be there and meet each other," Zeller said.
One of the parent chairs shared a similar sentiment. "It's fun to be with other families, especially after COVID," she said. "Everyone is together, the kids seem to have a good time, and it's great to see everyone's artistic side come out." 
Not only do parents and family members get to socialize with each other, but window painting alumnus students with freshman siblings can attend as well. Senior Aidan Young said it was "nice to come back and paint windows as a sibling," and that it's a tradition that he "was lucky to do once, and now [he] could do it twice." Young looks forward to hearing about next year's paintings from his sister.
About the Writer
Sofia Brown, Features Editor
Sofia Brown is a junior in her third year on "The Weekly." Currently she is serving as the Features Editor, and has previously been a staff writer and a photographer. Outside of "The Weekly," Sofia participates in many sports and clubs.