Fan Favorite: Keisha Henderson
Henderson Registers Her Impact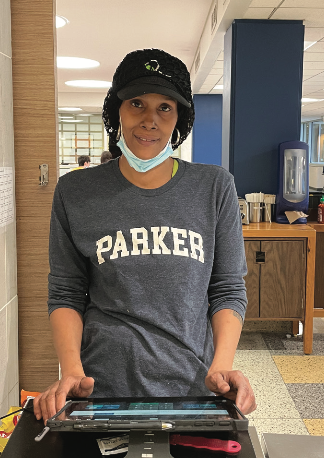 As I approached the cafeteria for my third attempt at an interview, I was interrupted by a delighted shriek. "Keisha!" a lower school student yelled, a yellow bag of Lays in hand. Throughout the morning, day, and early evening, Lead Cashier Keisha Henderson can be often found conversing with Parker students and colleagues. Henderson's positive energy while she logs student lunch codes and restocks the drink fridge full of juices is contagious. She proves it difficult not to leave the cafeteria happier than you entered. 
Given the constant banter I've shared with Henderson, I found myself surprised to learn how much I didn't know about her. Sure, I knew about her pin code memorization talent, and I know that her favorite cafeteria dessert is a blondie, but there was so much more to uncover. 
For starters, Henderson has eight siblings. Being a part of such a large family has made her very family-oriented, and she has always been very close with her siblings. As the third oldest child, she learned the weight of responsibility from a young age. "I was more of the second disciplinarian in the home. It was like I was the second mom. So when Mom's gone, I'm the mom," Henderson said. 
Henderson and her large family grew up on the west side in Chicago. She went on to work as a hairdresser but decided to stop pursuing it professionally and turn it into a hobby. Another hobby she has is arts and crafts. "I can draw. I make things, too. Really, just a little bit of everything," said Henderson.
After turning her hairdressing career into a hobby, she was ready to take on something new. She was tired of the salon after doing it for so long, so she turned to other options. Henderson has an associate's degree and a type 04 teacher's degree, and wanted to work in a school. The next thing she knows, Quest calls, who oh-so-perfectly works with schools…and food. It was a perfect opportunity. In 2019, Henderson took this opportunity and ran with it, and is glad she did. 
Now, three years later, Keisha is thriving in Parker's environment. Henderson's favorite cafeteria meal is the pasta, but also can't say no to the bacon. Looking past food, another favorite part of the school is its diversity. "I've worked at two other private schools, and diversity isn't as big there as it is here, and I love that," said Henderson. 
The best part of Henderson's day, without hesitation, is contact with students and teachers. She loves seeing the kids laughing, and talking with the faculty. Henderson values the constant interactions of people at Parker which won't come as a surprise to anyone who has spent any sort of time with her. 
When asked if she has a message for the student body, Henderson had just one thing to say. "Tell them I love them all. Aw, I love you all."
About the Writer
Lucy Wrubel, Food Critic
Lucy Wrubel is so sad it's her last year on "The Weekly"💔💔💔. Previously, Lucy served as a staff writer, copy editor, and culture critic. When not working on the Weekly, Lucy can be found at basketball practice, leading debates, or crying about graduating. Lucy looks forward to putting her infatuation with food towards a good cause.