Grapes and Grace
Grape Jam Performs at the Fourth Presbyterian Church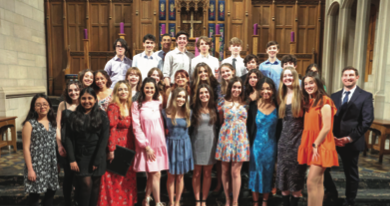 On Tuesday, April 5, Grape Jam performed in concert at the Fourth Presbyterian Church and showed their talent as well as the hard work they have put in over the last year. Grape Jam, one of the choir groups in the Upper School, requires an audition to join. 
Upper School choir teacher Emma Castaldi directs Grape Jam and has been with them the whole way leading up to this concert. "Grape Jam is amazing because we are able to do different songs that a large group wouldn't be able to do," Castaldi said. The ensemble focuses on music that works better for smaller and more advanced groups.
Grape Jam previewed the concert at MX on April 4, where they sang both whole group and small ensemble pieces. In the MX, they performed selections from the concert which took place after school the next day at the Fourth Presbyterian Church. The Middle School Pop Vocal Ensemble also performed at this concert.
The year that Castaldi came to Parker, Grape Jam performed Fourth Presbyterian, but they haven't been able to do the same thing since then. This was partially due to COVID-19 which forced the singers to have to sing outdoors last year.
Brooke Marsico, a sophomore, went to watch and cheer on her peers. She said that the church was the perfect place to have this concert. "The church really enhanced the group's singing capabilities," she said.
"The concert itself was an amazing experience," Naomi Geller, a sophomore in Grape Jam said, "and the setting was gorgeous." 
"It's so much better to perform outside in a space for friends and family," Castaldi said. Castaldi says that bringing their work to a place outside of Parker is better because the singers have so much that they have accomplished. She feels that they deserve to experience a different setting.
"The soloists were so brave, and it must have been very hard for them to put themselves out there," Marsico said.
The singers had to prepare for months, often in small groups. To practice in small groups, the individual groups would each meet with Mrs. Castaldi to run through the songs during lunch. "We started preparing after finals in February," Castaldi said, "We took so much time because the whole show was just a small group of people."
"For the weeks leading up to the concert, Grape Jam was practicing extremely hard," Geller said.
About the Writer
Deven Gupta, Online Editor
Deven Gupta is a junior entering his second year on the "Weekly" staff. He is a member of the Parker Varsity Golf Team and of many other clubs at the school. He is very excited to run the website this year!