You Win Some, You Lose Some
Parker reacts to the "Wall of Rejection"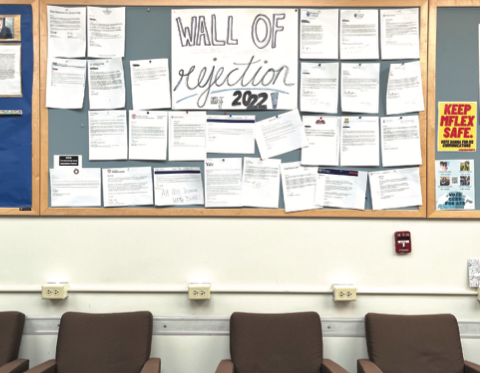 "I heard Yale is Parker's second most attended college," my friend said to me as we sat around a table in the library. Two months later, I found myself face-to-face with a bulletin board cluttered with papers. One sheet, stamped with a large navy Y at the top, read: "The Yale Committee has completed its evaluation of this year's candidates, and I am genuinely sorry that we are not able to offer you a place in the Class of 2026."
The papers were rejection letters from an assortment of colleges and universities to which this year's seniors have been denied admission. One of three letters from Vanderbilt is annotated with a note – "I didn't wanna go to the South anyway" – while another blue letter reads in pink pen, "All my homies hate Duke." Most of the letters on the wall are from top-ranked and so-called 'elite' schools like Northwestern, UPenn, Dartmouth, Cornell, Amherst, Swarthmore, Berkeley, and Princeton.
As is the culture at many high schools, the conversation surrounding college at Parker is high stress, occasionally high tension, non-stop, and filled with myths. Fabricated rumors about who applies where, who's getting into where, and the impact of Parker's connections with colleges fills the air incessantly. The rejection wall found on the fourth floor serves as an outlet for students to admit to their defeats publicly and voluntarily.
According to data from the Common App, college applications are up nationwide this year, especially at highly selective schools like the Ivy League. Test optional policies and an increase in the number of applications submitted per student are inflating the amount of applications schools receive. 
While the entirety of Parker's seniors have by now made some form of plan for the upcoming fall, they have still experienced a fall, winter, and spring filled with anxiety about the future. Senior Alex Ostrom has been committed to George Washington University since precisely December 17 and was never denied admission at a college, but believes the rejection wall should be seen positively. "I actually think it's super positive because for the most part, there's barely anyone who doesn't get rejected from somewhere, and it's a common experience," Ostrom said. 
Senior Mason Gardner, who is going to Colorado College next fall, thinks the dominance of top colleges on the wall is annoying. To Gardner, it feels like students who received an offer of admission from Ivy League schools are saying, "I'm just like the rest of you guys – I got rejected from Stanford." 
Upper School science teacher Ryan Zaremba sees pros and cons to the "Rejection Wall". "Rejection and setbacks are part of life. You need to learn how to kind of handle that and move forward and learn from it," Zaremba said. "The cons I think can be that the wall increases competitiveness amongst students—which already exists within the culture of the school—but I think it makes it worse."
Upper School history teacher Jeanne Barr sees the issues the wall presents as stemming from the location rather than its mere existence. "I had no problem at all with the wall of rejection when it was inside the senior locker room and an inside joke with the class where they could express themselves and work through rejection in a positive and amusing way," Barr said. "What I don't love is having it front and center in the hallway. I think it invites more and more and more tension to the ever-growing college obsession of the twelfth grade class." 
This year, for the first time, each locker bay is organized by advisory instead of by grade. This means students of all four grades can be found in each bay.
Sophomores Audrey Fuder and Riya Jain alternatively see the wall as a de-stresser. Even as underclassmen, they're already well informed about the college pressures and rumors that circulate the school. "I don't feel intimidated by [the wall]. I think it's a light-hearted way for the seniors to kind of deal with it, I guess because rejection is very hard," Fuder said. "But I think from what I've seen in the hallways, they kind of turn it into something more lighthearted so they can deal."
"Everyone gets rejected," Jain said. "I think I might feel like I was probably the only one getting rejected, but when you see everyone else getting rejected from similar schools, then you feel more comfortable."
Rather than comforting the underclassman, Barr sees the wall as potentially intimidating. "Because the wall is so publicly displayed, it's bringing other classes into it," Barr said. "The fourth floor is not just an upperclassmen space, not that it ever was, but now more than ever. It's a way of putting it out there and including those who might not have all the context of what that wall means, but knowing rejection is a scary thing that people worry about."
Upper School learning resources teacher Bridget Walsh has a more neutral stance on the "Wall of Rejection. "I'm not sure if the wall elicits such a polarizing effect," Walsh said. "All in all I think it creates conversation, so I don't know if it's necessarily a stresser or a de-stresser."
Along with Jain and Fuder, sophomore Charlotte Harris finds the rejection wall comforting. "If anything, it's reassuring that everyone gets rejected, even these people move on to really good schools. It's ok, it happens to everyone," Harris said.
About the Writer
Eden Stranahan, Editor-in-Chief
Eden Stranahan is so honored to serve as Editor-in-Chief for her last year on "The Weekly" that it might come off as a little concerning. After humble beginnings as a staff writer who gave up on her first article about how Parker students spend their summers (specific, right?) because she couldn't muster up the courage to call an upperclassman, she has worked her way up through serving as a Copy Editor and Features Editor--and found the courage to talk to and somehow become an upperclassman herself. When stripped away from The Parker Weekly finals doc you can find her on both the field hockey and softball bench, engaging in riveting discussion about her weekend plans in the math wing, or alternatively walking out of Calculus with a look of extreme confusion on her face.