Going for Gold
Sophomore Kai Uemura Excels on Junior Team USA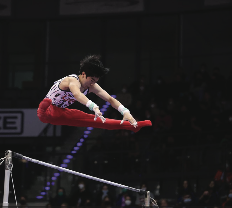 On Friday, March 18, 2022, instead of attending classes, sophomore Kai Uemura and the rest of the Men's Junior Olympic team won a gold medal at the 2022 DTB Pokal Team Challenge and Mixed Cup at Porsche-Arena in Stuttgart, Germany. 
Uemura trains six days a week at Lakeshore Academy of Art Gymnastics. On weekdays, Uemura trains from 5 p.m. to 9 p.m. He trains from 11 a.m. to 3 p.m. every Saturday, and he has Sunday off. In total, Uemura trains 24 hours a week.
A pommel horse, a rubber-covered metal frame with plastic handles on top, is used in gymnastics by holding onto the plastic handles (pommels) and swinging the legs and body. Despite being regarded as one of the hardest events, the pommel-horse is Uemura's favorite event. In Germany, Uemura participated in five events: horizontal bar, pommel horse, vault, floor exercise, and parallel bars. 
 The 2022 DTB Pokal Team Challenge and Mixed Cup at Porsche-Arena marked Uemura's first time competing internationally. Although the USA Gymnastics team had a strict schedule of eating and training, they were able to visit other areas in Germany. The USA Junior Gymnastics Team and the USA Senior Gymnastics Team both competed in this competition, so they had a large delegation which Uemura believed added to the experience. 
"​​The best part was just being in a place and actually competing for Team USA – it was really cool," Uemura said. "The food was pretty good. The hotel was pretty nice, and we went shopping which was fun." 
On the day of the competition, the Porsche Arena was filled with gymnastics fans. "Gymnastics in Germany is much more popular than it is in the US, so it was really nice to see an actual crowd," Uemura said, "When I compete in the US, no one is watching other than parents, but it was cool that there's students and other people that just filled the stands."
Sophomore Harry Lowitz, a friend of Uemura's, believes that gymnastics has shaped Kai as a person. "I think the idea of sports helping you have a different mindset about life is definitely present in Kai," Lowitz said. 
The seven-hour time difference between Germany and the United States made it difficult for Uemura to do his work. "The teachers were really accommodating," Uemura said, "But I guess it was pretty hard to manage schoolwork, and when I came back, I had to take a bunch of retakes."
Uemura's in-school support system, to help him balance school and gymnastics, is made up of his teachers, his advisors, and his friends. "My friends keep me in touch with what's happening, manage my stress, and be someone to talk to," Uemura said. Outside of school, Uemura's coaches and teammates are supportive of his endeavors.
Lowitz believes that Uemura does not need much support but tries to support in any way he can. "I think he's gotten incredibly good at talking to teachers about what he needs," Lowitz said. "He's also just incredibly on top of it. I'm assuming he's doing it on planes and doing it in the car."
Lowitz believes that Uemura is humble and always striving to be better. "He doesn't talk about all of the things he's accomplished," Lowitz said, "but the one thing that happens is he will come back with all this USA equipment, and I always like to joke about it because wearing Team USA shirts is something cool that people do. But when he wears a Team USA shirt, it's actually from Team USA."
Sophomore Sam Forst, another friend of Uemura's, shares Lowitz's sentiments. "He is the most humble, hardworking guy I know," Forst said. "You would not know he's at the top of his sport which shows true class and character, and I aspire to be like him."
Uemura has been on the USA Junior National Team for the past three years, but every year you have to re-qualify. "There was a competition over the summer last year where I tied for first in the nation and got my spot from there," Uemura said. 
Uemura stays in touch with Lowitz and Forst while he is competing. "I am always texting Kai, checking in on him, and making sure he's doing well in his competition," Forst said. 
"He's known how to do a flip since like, first grade, but he's never done one for us," Lowitz said, "and it's super frustrating because I know he could do one, but he just won't do it."
About the Writer
Samantha Graines, News Editor
Samantha Graines is a junior on her third year on the staff of "The Weekly." She is thrilled to be serving as the news editor and a staff writer for the 2021-22 school year. When she is not writing or editing, she is hanging out with her friends, leading the Senate, or in Model UN. She is so thrilled to see what this year has in store!