Recover and Recount
Senior Ashley Golden Speaks on Experience With Eating Disorder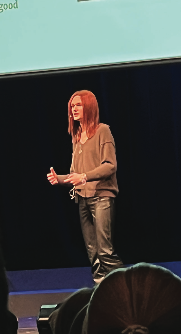 On her first day at the Eating Recovery Center, senior Ashley Golden, diagnosed with anorexia nervosa, entered an open room. She found 25 other patients and an adult woman that held herself  "cruelly indifferent" to those surrounding her. In a new environment, Golden described feeling "ambushed" by every patient and nurse nearby. Golden studied the other patients, wondering what their stories were. She was discharged in September of 2020. Now ready to tell her own story, Golden has fully recovered and recounted her experience as part of her two-semester independent study.
On March 28, Golden received a standing ovation for her presentation of her independent study and her experience with anorexia. Golden began by providing background to her personal experience with anorexia. She then moved into the causes, symptoms, and effects of the disorder. Later, she covered the history of anorexia before reading passages of her personal writing.  
"I really was terrifically proud of Ashley," Upper School counselor Winnie Kearns said. "I thought the presentation was incredibly well-considered, really thoughtful, and a pretty artful balance between providing education and context, but also really humanizing the experience through her own examples."
 Golden wrote the entire presentation in one day in January. Following this, she edited her script and slideshow through the beginning of March. She rehearsed endlessly, especially the weekend before her presentation date. 
"If I have this platform to talk to some people who are the most susceptible to it—people who, theoretically, I could help not make the same mistakes I did––then I should take advantage of my platform," Golden said.
While crafting her presentation, Golden had to be sensitive to the audience, especially when relaying a message that could be triggering. Golden had to carefully omit certain words and topics such as calorie counting and weight numbers. 
"All it does is trigger people, it's really unnecessary, and it detracts from the message you're trying to portray," Golden said. "The key to it was touching on the things but not ripping them open. Because you can get the message across without showing everyone the insides."
Kearns mentioned that Golden's ability to avoid potential triggers was a reason why she was so "successful" in her study and presentation.
 "Because she was so close to it, she was really aware of steering clear from imagery, the language around strategy and calorie counting and things that tend to be really problematic for people with disordered eating," Kearns said.
Golden's independent study spanned two semesters of her senior year. During first semester, Golden read books of various genres, ranging from a graphic anime novel to a nonfiction personal memoir. During second semester, Golden crafted a memoir of 90 pages, documenting her experience with anorexia. 
"She wrote scores and scores of pages," her independent study faculty advisor Matt Laufer said. "We're talking about a good chunk of a memoir that focuses on her anorexia and on her treatment and all of the related experiences, thoughts, and research that connect."
Golden's memoir is inspired by the autobiography "Wasted: A Memoir of Anorexia and Bulimia" by Marya Hornbacher, and Hornbacher's 14-year battle with an eating disorder. Golden read the memoir during first semester, and decided second semester to mimic the author's writing style to convey her personal story.
"'Wasted' was really hard for me to read, but reading it also showed me that there is a path forward," Golden said. "There is this woman who it seemed truly like there was nothing left to be done. She had been sick for so long, and she was on death's door, but she did it, and she got better. Something like that really showed me that I could do that, too."
Golden described her plans for a future career: helping those who are suffering from a similar experience. 
"I want to become an eating disorder therapist because I want to help people that are like me," Golden said. "I think if I [completed the] memoir, I would be able to help people like me from afar."
Kearns mentioned that Golden, a student at Parker, has a unique position when presenting her experience. 
"Being a student, she has a much needed pulse on what's really happening within the student body—who's talking about this, who might be struggling with this, what are the social and cultural dynamics within the school population," Kearns said.
Kearns also noted that Golden's presentation had "tremendous power" —more so than an instructional workshop or a presentation by an outside professional.
"It had a much more personal and meaningful impact, particularly because Ashley has moved through her treatment and recovery process and can serve as an example for stepping forward and having the courage to speak of this, get help, and recover," Kearns said.
Kearns suggested that Parker should consider inviting alumni  and other students to discuss delicate issues. Kearns said, "Bringing folks who really have a personally felt sense of the community as the spokesperson is just really powerful."
Kearns mentioned that as a counselor, eating disorders are difficult to address because of a student's hesitance in discussing a personal issue.
"Eating disorders in particular are tricky in terms of direct conversation and linkage to resources," Kearns said. "People are very hesitant to speak openly about it. There is a level of often shame and secrecy that goes along with it. So, it may be that people are struggling to control their eating in a variety of ways that are not transparent to our community."
Kearns mentioned that at Parker, there is a student stigma around using counseling and reaching out for help that prevents students from accessing available resources.
"It would be helpful for us to have a conversation about how Parker manages the communication and open door policy of counseling," Kearns said, "We should really try to think about and work on the culture around health-seeking at the school: what does that look like? How can we really open that up and destigmatize reaching out?"
Golden recalled that Parker was "helpful" when she returned to school during the pandemic and after missing almost two months of her junior year. The counseling department set her up with regular meetings. 
"They were very helpful during that time, once they had been made aware of a very serious problem," Golden said. "But when there was still a very serious problem going on, before I was [hospitalized], it wasn't noticed by the school at all. I think that tends to be one of the biggest problems with adults at Parker, that they're very helpful after something happens, and they're not super helpful preventing stuff from happening."
Golden suggests Parker can do more in educating students about eating disorders. She researched that in affluent schools like Parker, the incidence of eating disorders is considerably higher than the average population. 
"We don't teach kids about it. We seem to be so ashamed by it that we're letting it run wild. This is a thing that kills people," Golden said. "It's so irresponsible of us to only address the problem when someone's coming home from treatment and not address the problem when we go down to the cafeteria and you see everyone checking the calorie labels before buying food."
If eating disorders are discussed with Parker students, it's usually in the form of assemblies, outside speakers, or freshman year health class. 
"I don't hear many teachers mention it and in health class I don't remember covering it or at least getting to it," an anonymous freshman girl said.
An anonymous junior girl believes the discussion around eating disorders at Parker "hasn't been opened."
"Education-wise, we have counselors that are able to talk to people about it, but I think that it's still a very taboo topic," the student said. "Not a lot of people are really open about it because there's a stigma around eating disorders."
Golden aimed to open that discussion. Laufer mentioned that he's "grateful" to both Golden, for "giving this gift to the community," and to Parker for hosting the presentation.
"I can imagine there would be some schools that would shut it down out of fear, and I think it was one of those moments where I could feel very proud of Parker and the folks who came and realized that it mattered and there could be a way to do it responsibly," Laufer said.
About the Writer
Alya Satchu, Editor-in-Chief
For her senior year, Alya is beyond excited to serve as Editor-in-Chief of "The Weekly."  Previously, she served as Opinions Editor in her junior year, as a Copy Editor in her sophomore year, and as a Staff Writer in her freshman year. Outside of "The Weekly," Alya plays for Parker's tennis team and partakes in various clubs.