Schrödinger's cat(boxes)
Beloved Third Floor Seating Returns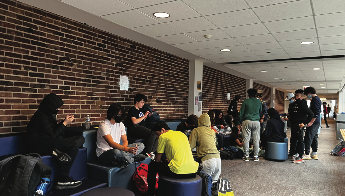 They were there, then they were not, and now they're back. The popular student seating on the third floor has returned in a new and improved form.
Students returned to school for hybrid learning in April of 2021 where they found an empty space where the blue-carpet covered boxes once inhabited. In April of this year the empty space was filled with a new set of catboxes designed by School Speciality, a Wisconsin-based furniture company.
"Just before COVID hit, the plan was to rip out the catboxes and replace that whole area with something kind of simi- lar to outside the third floor school office," sophomore co-gradehead and Upper School history teacher Andy Bigelow said. "When COVID hit, the money and energy really had to go elsewhere."
Upon returning to school, Bigelow and sophomore co-gradehead Upper School math teacher Victoria Lee realized that they were lacking a sufficient meeting space for their grade and needed the catboxes back.
Bigelow and Lee wrote a proposal to Principal Dan Frank, Chief Financial Officer Bob Haugh, and Upper School Dean Joe Bruno expressing the need for new catboxes. With permission from administrators, Bigelow and Lee began exploring ideas and companies.
Inspired by the stacked-cubes design of the library's Story Studio and the old catboxes, they worked with School Speciality to design a comfortable, durable, and modular space.
The design of the catboxes was also influenced by plans for the future Belden building — according to Bigelow the catboxes reflect the furniture the new building will have. 
They came out and measured the place and talked to Victoria and me about what we were looking for. Like, what is graderoom? How many kids are we talking about?" Bigelow said. In addition to being a comfortable space for all-grade meetings, Bigelow and Lee wanted a comfortable space to relax and do work.
Sophomore Audrey Hunter likes the catboxes for "just hanging out after school or doing your homework." But in large group settings such as graderoom, "there's not enough room for everyone in the grade." According to Hunter, almost half of the students have to sit on the ground.
The catboxes are not just the designated meeting place for sophomore grade-room. In poor weather the Upper School Track and Field team starts practice at the new furniture. With the athletes sitting on the catboxes, coaches review workouts and team details from the wooden bench on the opposing side of the hallway. This year, there are over 30 students on the team, ranging across all four grades.
Hunter is a member of the Track and Field team. She says the catboxes are "totally good for the track meetings… there's a lot of people on the team and it's big enough to fit everyone."
Senior and former sophomore grade-head Talia Holceker believes that while the space serves its purpose, the space could have been better utilized. "It's cool to have new catboxes…but it could be nice to utilize that space for something else like new tables," Holceker said. "The school is lacking spaces for students to sit … if there were long tables, or chairs, students would have more spaces to hang out and do homework."