2022 Softball Season A Hit
A Look Into The Growing Athletic Program
On May 16, the Francis W. Parker girls softball team reached the semi-finals of the IHSA playoffs after winning against Noble Street Charter in the quarterfinals. Less than a week earlier, the team won against Latin. These wins marked a historic moment for the team. 
The softball team, which is only eight years old, has faced struggles with building the program through the coronavirus pandemic as well as gaining the attention that other older teams at Parker have. This year, however, they are a program that has grown massively, and they have really made a name for themselves. Part of this growth came from PE teacher Madeline Maldonado, who came to Parker this year to teach and coach.  
"I'm super proud of the team. Hearing about the history and coming in as the new head coach, we had a lot of work to do," Maldonado said "I am proud of them because they all worked hard at the beginning of the season and dedicated their work to their goals throughout the season." 
Softball co-captain junior Samantha Graines credits this year's success to Maldonado. "The biggest difference was coach Maldonado. She shared her experience and knowledge to help us succeed." Maldonado played Division Three softball for four years while at Kenyon College.
Graines has been a member of the softball team for three years. As an experienced member of the team, Graines has advice for younger classmen: "Work hard and results will come. Trust in the other teammates and the coaches. You can play different positions so you can find ways you are good at."
Maldonado noticed that the team spirit was really there this year. "We started to get into advanced knowledge of the game. The team has grown in that way," Maldonado said. "The way we have structured the team in practice and stayed serious. The captains did a good job to bring the team together. They learned how to get along with the team."
Maldonado was welcomed in by assistant coach David Fuder. Fuder has been the assistant coach for six years and has witnessed the struggles in previous years.  "Yes, we have had some tough years. This year, however, is different. It has been one of the best teams I have coached."
Fuder said he was very pleased with the performances of the team, especially against Latin. "It wasn't so much that we beat Latin. It was that we played a really great game," Fuder said. "We were down early and came back. We played great defensively and offensively. We should play like this all of the time. Let's not make it an unusual thing, let's make it normal."
Team member sophomore Kyra Mathew was also excited about the win and the team's performance over the season. "It was nice to win a game people would recognize. It is overlooked over the history. I think a lot of people on the team are naturally positive. The only thing I'm worried about is losing our star players. But we have other well-skilled players," Mathew said.
This spring saw the inaugural "Spring Showcase," a homecoming-like sports day for spring athletics. There has been some speculation that the spring athletes don't get the credit they deserve since winter sports have White Out and Blue Out games and fall sports have homecoming.
Athletic Director Bobby Starks says he is dedicated to making sure all student-athletes are recognized equally. "Yes, I'm all for the highest recognition for my student-athletes. We want to make sure we have a signature event that is consistent, so we always want to highlight and showcase all of our teams. I want them to get as much recognition as possible and as many fans as possible to come support them and come out."
   The softball team's journey was cut short after a playoff loss to Depaul College Prep.
Maldonado only wants the team to improve and get ready for next season. "I'm all in. We have work to do. I think it's important for them to recognize that we have five people who are graduating. We need the people to step up next year. To show up and also get better so they can have an opportunity to play because there are a lot of positions to fill. It's up to them."
About the Writer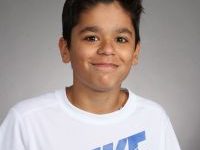 Mikhail Satchu, Staff Writer
 is a freshman serving in his first year in the Parker Weekly.  He will be a staff writer for this upcoming school year. He enjoys writing about sports, especially soccer and basketball, and is looking forward to his first year in the Weekly.