Fall Play Reimagined
Preparations for "26 Pebbles" begin
On Monday, October 24, the Parker community will shuffle into the auditorium expecting a regular old fall play preview. They will imagine a collection of regular scenes and regular stories. But instead, they will be met with quite a different kind of production: a play called, "26 Pebbles."
This year's fall play will be directed and coordinated by new Upper School drama teacher Cassie Slater in cooperation with Theater and Auditorium Manager Tom Moster and Upper School Woodshop teacher and Theater Coordinator Nick Rupard. The play will feature several unconventional elements, including film segments and two professional actors working as mentors.
Auditions occurred the week of September 19 and the cast met on Saturday October 1 to receive the casting assignments and begin rehearsals. Performances will be on October 26 to October 29 in the auditorium. The play will have a very small cast and will likely have a fair amount of audience involvement and engagement.
"26 Pebbles" was written by Eric Ulloa and it debuted at the Human Race Theater in Dayton, Ohio in February 2017. The play is in response to the Sandy Hook Elementary School shooting on December 14, 2012 in Newtown Connecticut, a massacre that took 26 lives, many of which were children. The event continues to warrant news coverage, and it is just one of many recent examples of school shootings.
During her job interview process, Slater heard from students that there is a lack of student interest in the fall play because it "doesn't seem relevant." Those students, however, responded well to her suggestion about incorporating a social justice matter.
"Using art as activism and art for social justice has always been a big part of what I believe is my mission as an artist," Slater said.
After the July 4 shooting in Highland Park, IL, a suburb with strong connections and geographic agency to Parker, Slater was hoping to find a play that would deal with the issue of gun violence.
Slater soon came across "26 Pebbles" and thought it would be an appropriate production to confront gun violence. She noted that the play is very hopeful and it focuses on the aftermath of the traumatic event under the lens of community healing.
Slater also thought the play brought up questions that would be very relevant to the Parker community. "How do we, as community members, support other community members in a real and not performative way?" she said. "It was kind of a no-brainer with what Parker stands for."
"The Sandy Hook shooting is something that is very deep to talk about, especially this year with the shooting in Texas," senior and cast member Kymari Hart said. "I feel like when we do this, it's going to be something that brings people together."
Hart will be in the fall play for her fourth time. After arriving at Parker in 9th grade, she was in "The Water Engine" and has participated in each play since then, including a play that was performed over zoom in the midst of the COVID-19 pandemic. Hart says that she has done the plays because she loves acting and has enjoyed practicing those skills at Parker.
This year, the Fall Play is introducing two new ways for students to get involved, the first of which is the dramaturg/researcher. These students will learn about the history of gun violence and related political movements, and will create a presentation of some sort to go with the play and add context for the audience.
The other group will be student activists who will be working on creating some community impact related to this play. This group will be filled by the heads of Students Against Destructive Decisions (SADD), which is a Student Government Committee.
Juniors Julia Peet, Charlotte Harris and sophomores Julia Josephson and Sloane Demetriou are the SADD heads, and they reached out to Slater about the play after hearing about its subject matter. Peet said that the SADD heads will be trying to visit rehearsals and help develop plans for the social impact of the fall play.
The SADD heads had previously decided to have gun violence prevention be their main goal and main focus for their term as committee heads, and they were excited upon hearing that the fall play would be focusing on the same thing.
Peet said that annual lockdown drills are the only consistent manifestation of this major societal element at Parker and that "no one takes them very seriously, but it's a serious conversation, and it's important that Ms. Slater is making it important at Parker."
Slater is very excited that SADD is getting involved in the play, and she has been inviting many different parts of the school to join the conversation. "It's like the whole school is really coming together to tell this story and to come up with creative ways to make some kind of change," she said.
Slater has met with the Parker counseling department, the administration, and the Performing Arts Committee heads who will be working on promoting the fall play via social media and other initiatives.
"I'm excited about reinvigorating the theatre department," Slater said. She hopes to engage as many students as possible and hopes that students will take her up on this opportunity to be part of an ensemble that will have a real impact on the community. 
"I think there's something about coming together as an ensemble to make something that makes other people feel things and drives people to action that is unlike any other thing you will experience at Parker," Slater said.
About the Writer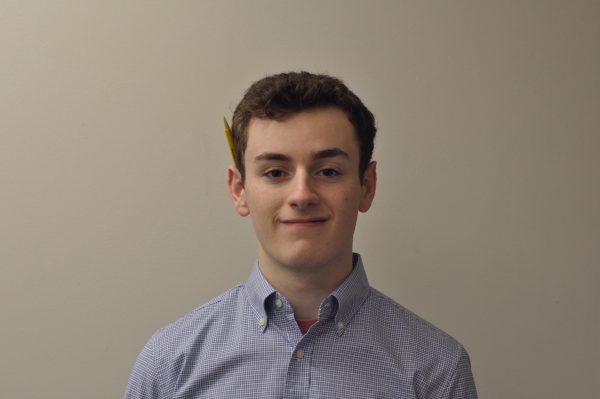 Harry Lowitz, Editor-in-Chief
Harry Lowitz is a senior who is animated to be in his second year as Editor-in-Chief, and fourth year on "The Weekly." Outside of the "The Weekly," he is the DCA in Student Government and a member of the Second City Teen Ensemble. Harry's favorite journalism movie is "All The President's Men." Inspired by the film, he hopes to break into the college counseling office to hide listening devices. Perhaps, after that, he will swing by the Parker Democrats.