Investing In Investment Club?
Max Keller and Reid Albert Lead Parker's Most Talked About Club Into a New Era
Investment Club sends an email each Friday to high school students remind- ing them that they have a meeting during lunch. During these meetings, however, do they learn about investing? Do they teach about investing? Do they analyze investing? Or do they invest? The answer is, all of the above.
According to the Business Office, a Parker Family donated $5,000 in February of 2014 to start the club. The goal of the club, according to senior and current club Co-President Max Keller, is to "teach people about the stock market, not always being in the green."
The faculty advisor is Upper School History Teacher Kevin Conlon. "I'm not sure if anybody knows that we are actually investing real money and the purpose of the money really is to build it so that whenever it's liquidated one day will go towards a scholarship fund," Conlon said.
Conlon has been the faculty advisor for the Parker Investment Club since it was created. Conlon is the Economics teacher and is interested in the markets. He was happy to help advise the club. As a faculty advisor, Conlon attends meetings and provides any additional information. There are 20 members total in the club, and 10 to 15 show up for the meetings each week. Conlon highlighted that the club has a strong male presence, something he also saw in his Economics class. "There used to be very few young women in Investment Club, and I know historically and traditionally that it is a very male dominated area of industry, and that's really changing a lot. More and more young women have been showing up each week, so that has been gratifying to see," Conlon said.
Their Friday lunch meetings are used to discuss announcements and updates for the club and present potential stocks to invest in. The process of investing starts with a student who is an analyst for the club presenting a pitch to the group about a potential stock to buy. After the presentation, the club members have a question and answer period, and eventually they vote on whether or not they will buy that stock. If 50% of the members present agree to buy the stock, they decide how many shares and then oversee it as the stock market changes.
The club has different leadership roles. There are three heads this semester, seniors Max Keller and Reid Albert, and junior Benjamin Kagan. Albert explained that the reason he wanted to lead this club was that, "As a kid, I always was interested in investing, and so, freshman year, I was told about investment club. I went a couple times," Albert said. Albert highlighted that during COVID, more meetings took place, which led him to apply to be an analyst.
The club also has a media manager who runs the Investment Club Instagram account in order to inform the Parker community about current activity. Junior Ale Ozbek is the media manager, and she emphasized that they welcome new faces. "I think that the Parker Community should know that no matter at what point of the year it is, everyone should stop in and contribute. Everybody can get something out of it, and it is a very welcoming community," Ozbek said.
"I never was very well versed in any investment terms or the stock market in general but after coming to meetings all of last year and the beginning of this year, I have learned a lot, and I just think it is a really good experience that everybody should do," Ozbek said.
The club is also starting a financial literacy program to teach middle schoolers in charter schools about finance. "I know that the leadership of investment club right now is in contact with numerous middle schools on the South Side of Chicago," Conlon said. Throughout the summer and into the school year, Albert and Keller crafted a 3-day curriculum for students. The curriculum uses M&M's to model money, and uses games to simulate life-like scenarios, such as buying a house. The two investment club heads then established connections with middle schools by meeting with principals across the Chicagoland area. "We'll be going into schools in the upcoming weeks," said Albert, "I can't wait." Keller and Albert are currently scheduled to teach their first lesson on November 10 at Gary Comer Middle School.
About the Writer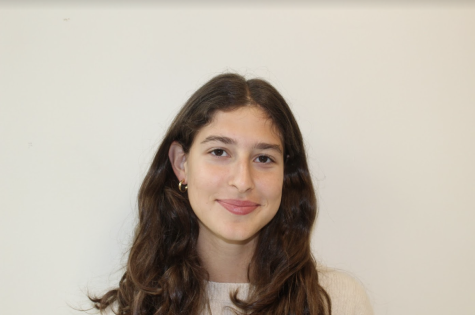 Sophia Rosenkranz, News Editor
Sophia Rosenkranz is a senior who is excited to enter her third year on the staff of The Parker Weekly as News Editor. She has previously served as a Brief Writer and Online Editor. Apart from The Weekly, Sophia is one of the captains for Model UN, enjoys playing tennis and soccer, and loves sour candy.