A Grateful Ask
Why Thanksgiving Break Should Be a Week Long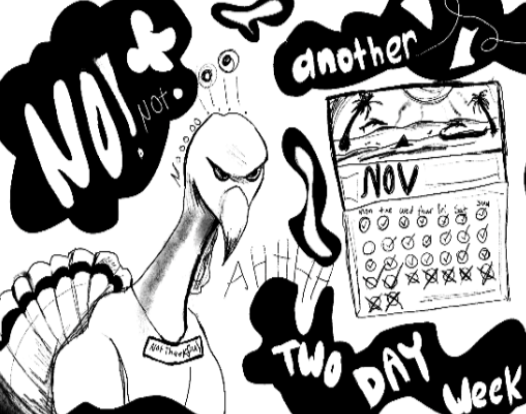 Thanksgiving break needs to be extended to last the whole week. Currently, Francis W. Parker takes school off on Wednesday, Thursday, and Friday, leaving only two days when students need to come to school. Before the COVID-19 Pandemic, Wednesday wasn't a part of the break; there used to be an MX in the morning. 
It seems to be a "Parker thing" to start your vacation early by escaping the cold weather and stress of school by leaving on the weekend before Thanksgiving. Teachers can't control what families will do, making it difficult to plan out classes for those two days because teachers know that students will miss school. 
Upper School English teacher Mike Mahany has had experience with students missing school on Monday and Tuesday. "If you're going to travel on Tuesday, you might as well just leave on Monday, or the weekend," said Mahany.
Typically before breaks, teachers assign tests or projects. When students miss school on the days before Thanksgiving break, they have to make up their tests or projects, which could be pretty stressful. With a two-day school week, students could take that test on time or be up-to-date with that project.
There were conferences in the Lower, Intermediate, and Middle Schools this Monday and Tuesday, meaning Upper Schoolers were the only students in classes for those two days. If the rest of the students already have those two days off, why can't the Upper School students? 
Let's say you are a Parker parent and have one student in the Upper School and one younger student. If the younger student doesn't have to go to school on those two days, they will probably travel on that weekend, taking the Upper School student with them. Since Parker isn't just a high school, it ranges from K-12, this situation could happen a lot.
Other schools in Chicago, including Chicago Public Schools, have the whole week off, and they avoid these problems. 
More days off also come with some drawbacks. In the fall, the Parker Upper School experiences a lot of days off for events such as Junior Civic Lab or full-grade retreats. "These frequent days off cause a lack of momentum," Mahany said. Just before Thanksgiving break there is about a month of straight weeks without interruptions in the schedule, and having a week-long break could halt the momentum that classes are building.
Overall, more points help argue that having a week-long break is good. Students are tired and deserve a break where they can travel instead of skipping school. Other schools do the same thing, and it would help counter the Parker tendency to miss those days by leaving early.
About the Writer
Deven Gupta, Online Editor
Deven Gupta is a junior entering his second year on the "Weekly" staff. He is a member of the Parker Varsity Golf Team and of many other clubs at the school. He is very excited to run the website this year!