Finding and Fostering Community
Parker Students Travel to the SDLC Conference in San Antonio
Jumping in a mosh pit, voguing, smiling ear-to-ear, and engaging in difficult conversations could be seen in affinity group spaces during the 2022 National Association of Independent Schools (NAIS) Student Diversity Leadership Conference (SDLC). 
On November 29, senior Samara Boyd, senior Nariya Cooke, senior Isabel Rodriguez, senior Gabriella Watkins, senior Kiran Mathew, and junior Zachary Kinnison, along with many members of Parker's faculty,  traveled to San Antonio, Texas to spend three days at conferences that were run through the NAIS. 
The students attended the Student Diversity Leadership Conference (SDLC). According to the NAIS website, "The NAIS Student Diversity Leadership Conference is a multiracial, multicultural gathering of upper school student leaders (grades 9-12) from across the U.S. and abroad. SDLC focuses on self-reflecting, forming allies, and building community." The sessions were led by a diverse team of trained adults including Assistant Principal Priyanka Rupani, Senior Kindergarten Teacher Kirkland La Rue, and Lower School Dean of Student Life Ashleigh St. Peters. 
The conference took place from 8 a.m. to 10 p.m on Thursday and Friday, and ended Saturday morning. "I'm still on a high from just being in that space. I was always so energetic and happy," Cooke said. "We ended at 10 p.m. and while we were kind of tired, we were still energized and wanted to talk and hang out with people, so having that was just refreshing."
Boyd believes that the SDLC sessions were the most diverse rooms she had ever been in. "There were so many students, but, for some reason, it felt like a family because we all have shared experiences with each other and through going to the affinity groups," Boyd said. 
The affinity groups were a powerful moment of community for the conference attendees. During the SDLC, there was a talent show where conference attendees could also showcase their singing, dancing, and more. "It was a lot of fun to see a lot of people embracing their culture and everyone else celebrating them for it," Boyd said. 
When the students were not in affinity groups or large group sessions, they were either in SDLC family groups or SDLC home groups. Cooke compared family groups to be the size of a Parker graderoom and home groups to be the size of a Parker advisory. 
"Within the family groups was when you talk the most about what kind of change you want to bring to your school, and like how that could be possible," Cooke said.
The conference was for students who go to predominantly white high schools. In the family groups, the students bonded, talked about shared lived experiences, and reflected on themselves. "Being a person of color at a private school, when you're a minority, I realized that I put on a persona–or kind of shy away from my true self– just because I feel like I don't relate to a lot of people or a lot of people don't get me or whatever," Cooke said. "This conference was about finding your voice and being comfortable in yourself, knowing there is no one like you and there's nothing wrong with that."
During the SDLC conference, attendees had the opportunity to form bonds with each other. "I've never been to college, but I feel like it was what I imagined college to be like because everybody is just brand new, and it is a fresh slate for everybody. Everybody's really willing to talk to people and make friends," Rodriguez said. "It was also really nice to hear deep and meaningful thoughts from people who really want to make a change and bring the lessons they learned to their own school."
When the conference  closed for the day, the Parker conference-attendees would sit around with a chaperone and Upper School Dean of Student Life Joe Bruno, have a snack, do highs and lows of the day, debrief their meaningful day of experiences, and discuss what could be brought back to Parker. 
"We all agreed that we wanted to share the experience of what it is like to be a minority because something that really hit me was listening to everybody's experiences and how they all felt the same way," Rodriguez said. " I don't remember who said it, but somebody said, we walk the same walk as you, and that just really stuck with me because they understand what it was like to be in a space where it is not built for you. That is something we really wanted to implement."
The Parker student conference-attendees want to replicate much of what they experienced at SDLC in Parker's Diversity, Equity, Inclusion, and Belonging (DEIB) program. Parker students would be split up into groups of 10, like the family groups, and be separated from close friends. 
"Not being allowed to be in the same room as somebody you are close to allows you to have deep conversations– the same way we did there– because you are forced to be vulnerable and express how you actually feel without being influenced," Rodriguez said. 
"Instead of surface level emotional things, we should start with self awareness," Cooke said. "I feel like that leads to more conversations and more awareness of why people act the way they do and how they can change."
DEIB work is not only for people of color. Boyd believes that in order for the DEIB program to be successful Parker students bear some of that responsibility. "You get out of something what you put into it," Boyd said. "I feel like part of the problem with the DEIB stuff at Parker is that nobody has that mindset."
On the last day of the conference, the six Parker students who attended SDLC facilitated a closing activity for the Parker adults. Each school did this individually. 
The students were in the center of a larger circle, and adults surrounded the outside and facilitated discussion. They gave various prompts about ways students can feel supported after returning to Parker. Faculty described the activity as "emotional", "powerful", "wonderful", and "uncomfortable–a supportive environment.
"One of the things I was saying on the last day with the teachers is that I've been at Parker, but like, it just became normal to be the minority and be with few people that are similar to how you are. So, being in that space made me realize how it just feels like to have nobody be a minority, and to have everybody just seem like people. Just like to look around the room and see everybody that looks like you, but also doesn't look like you and people who are very similar to you, but also very different," Rodriguez said. "It was one of the few places where I could be 100% myself. I felt so accepted."
Physical Education Teacher Madi Maldonado is one of the Parker faculty members who attended the NAIS People of Color Conference (PoCC). Maldonado felt empowered being in a space made up of POC faculty from all over the country. She also is leaving the conference feeling lucky that Parker has a DEIB program better than most, but is also filled with many suggestions to bolster Parker's DEIB program. 
"My biggest takeaway, as someone who is in the space of faculty and being an educator, is providing that safe space, for our students of color, and also, our LGBTQ plus community within the student body. It is more important, now more than ever, for students to feel like they have someone or someplace that they can go to," Malonado said. "For me, I'm thinking, how can I, at Parker, become that space for students? Because I think in a place like Parker, even though there's a lot of great parts of it, sometimes there are students of color, especially, and of course, the LGBTQ community, that don't feel safe everywhere." 
After PoCC sessions and being inspired by other educators, Maldonado would like affinity groups to offer more cross-divisional events. She also believes Parker should host an event where they bring together their community of color.  
"Community is one of our [Parker's] biggest core values and being a community is what we do: connecting across differences, and all of that stuff, which we do really well. But I find that our students of color, our faculty of color, and our parents of color are all really separate," Maldonado said. "If we can have one moment to say here's an event that is just for faculty of color to connect with parents, I think that would be a great moment, and would bring the community together." 
The SDLC provided Boyd with a space where she felt that she could authentically be herself. "When I was in the gay affinity group, they would say, 'if you're this identity, then go over here.' And then you'll vogue down the line and people will cheer for you, and then we did a debrief afterwards, and anyone who wanted to could talk into a mic. People were saying it was the most free that they had ever felt," Boyd said. "Seeing that was really empowering, and if we could create those spaces at Parker, where people feel the same way, it would be like a way more loving community."
About the Writer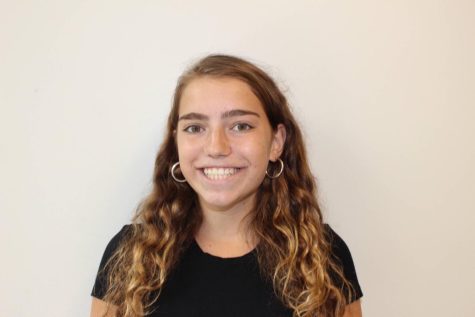 Samantha Graines, Features Editor
Samantha Graines is beyond excited to be serving as a features editor for her final year on "The Weekly." Although when Samantha started her "Weekly" career, she did not understand that could not make up quotes; she has come a long way. Samantha is very sad that this will be her last year, but is looking forward to all of the year has to offer! When not transcribing interviews or grinding out her articles, Samantha can either be found in the Math Wing or the Math Wing (that is pretty much the only place she spends her time).