A Look Inside the Little Shop
Preparations for the Upper School musical begin
At the start of the year, an assortment of musical logos were cut out and taped onto the wall of the choir room. They represented the possibilities for the 2023 Upper School musical. Every day during choir, one logo would be taken down, narrowing the options. As the papers came down, anticipation grew. Students sat at the edge of their seats as the second to last logo was peeled off the wall. Finally, there was only one musical left standing: "Little Shop of Horrors."
The "Little Shop of Horrors" musical is roughly based on the "Little Shop of Horrors"movie, released in 1960. The plot revolves around Seymour, a florist, who encounters a strange plant that feeds only on human flesh. The music in this production is inspired by 1960's rock and roll and Motown styles.
The first audition workshop took place on Monday, November 29 after school. In this audition, students learned the choreography for "Skid Row," one of the show's main musical numbers. The following week, audition workshops for singing and acting took place. During the auditions, Auditorium Manager Tom Moster reminded the cast that they have months to prepare the show. "We're not looking for perfect choreography and perfect steps. We're looking at how much effort you put in and if you're trying and if you're being respectful and encouraging," Moster said.
Many people are involved in the production of this musical, including a cast of about 25 people, a stage crew, and various teachers. Moster is the production manager and Upper School Drama Teacher Cassie Slater is the director of the production. Upper School Dance Teacher Flo Walker-Harris will work on choreography and Upper School Choir Director Justin de la Cruz will be helping the cast with their music, as well as conducting the musicians in the pit. Art Teacher Nick Rupard teaches a Stagecraft class whose students form the stage crew for the production. There are still others who come from outside of Parker to assist with the musical, such as a costume designer and assistant choreographer. "It really takes a village," Moster said.
The stage crew controls and contributes to various aspects of the production, such as set design, lighting, and sound. "They're very important because without them, it would just be a bare stage of people singing and dancing in the dark without sound," Rupard said. This show in particular has a very important element for the stage crew – the puppets. Throughout the show, Seymour's talking plant, which will be operated by a student, continues to grow until it is the size of a large table. These puppets will be constructed by members of the stage crew and Rupard, as he has experience in puppetry.
Moster had been thinking about putting on "Little Shop of Horrors" in the Upper School for a few years. He explained that there are a few things that he considers when helping to select the musical, such as the amount of people who he thinks will audition and who he thinks will fit the roles. "We want really good quality with the students we have and we think that a show like "Little Shop" can really produce that. We can take the time to do really nice sets, really fun costumes, really great props, and also have the ability to showcase students in vocal ranges that fit," Moster said. Senior Kymari Hart is a member of the cast of "Little Shop of Horrors" and thinks that choosing this musical was a good decision. "'Little Shop of Horrors' is something that's fun, funny, fantastical, and I feel like it's something that will make everybody laugh and enjoy their time," Hart said.
This year is Hart's third time participating in the Upper School musical. Previously, she has been in the cast of "Urinetown" and a member of the stage crew for "Mamma Mia!" Hart joined the cast of "Little Shop of Horrors," and, as a senior, is excited to mentor cast members in other grades. "If it's their first time doing the musical, I want to show them how to do it, have fun, not get nervous, and all of that stuff," Hart said.
Rupard explained that during the cold and bleak days of winter, the musical provides an opportunity to participate in a fun activity. "It's a lot of hard work, but when you see it in the opening and you see the response from the audience and our community about these shows, it's very rewarding," Rupard said.
About the Writer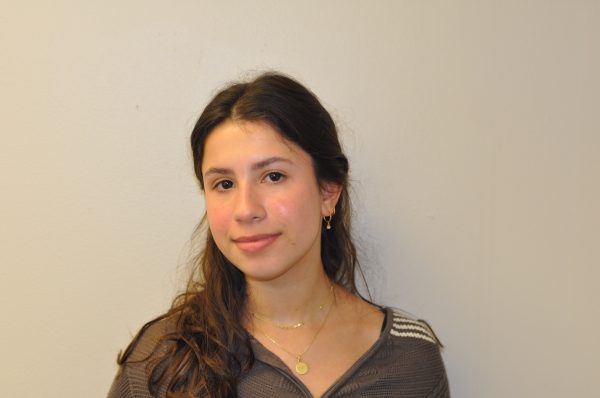 Uma Morris, Features Editor
For her Junior year, Uma Morris is thrilled to be this year's Features Editor on "The Weekly." After publishing her first article at the start of her sophomore year, she fell in love with pitching, interviewing, and writing for "The Weekly," and she looks forward to being a part of the editorial process! When she isn't grinding out articles at 1:00 in the morning, you can find Uma reciting her poetry (on stage as well as in front of her bathroom mirror), singing in grape jam, or sitting on the soccer bench :)