Take Me Back To Taft
Current Seniors Return to Lorado Taft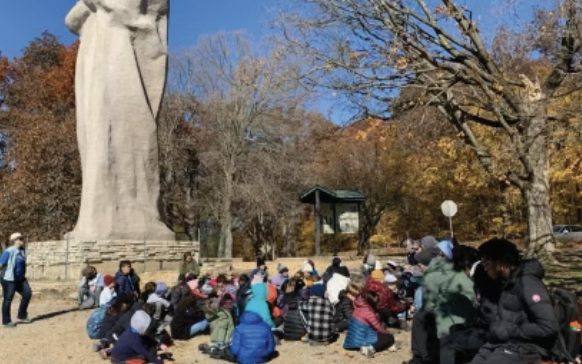 If you were at Parker in 5th grade, you might remember the Lorado Taft trip. The first overnight stay, a few hours away from the city you call home, with fellow Parker classmates for  learning, bonding, and fun explorational activities. Seven years later, due to Big Brothers and Sisters, there is an opportunity for seniors to relive this experience. 
When asked if the trip was any different than seven years ago, Senior Jack Kahan stated that "Going back to Taft after seven years away was an all-around great experience." He was happy to say that "so much of the trip still exists exactly as I remembered it, and it was a blast to be able to relive those fond memories." Hearing that the green mossy grounds and that all the trees and activities haven't changed is very in tune with Parker's goals for these trips. In regards to the climate of the world today, the change in generations is inevitable. 
While interacting with the fifth graders, Kahan noticed similarities between the grade and his classmates seven years ago. 
"The kids were all great, and they reminded me a lot of myself and my classmates when we were in fifth grade," Kahan said. "The only difference was the fact that they were constantly quoting the latest memes and internet terms." 
Social media has a large impact on student discussion, despite the rule prohibiting phones on the trip.
"Hearing a fifth grader tell the same joke you just sent to your friend two days ago was kind of jarring, considering the fact that I don't even think my fifth-grade class knew what a meme was by the time we got to Taft," Kahan said.
 In the seven-year timeline, the differences in going back to Taft seem little to nothing. This first big overnight trip invokes a universally fun experience that doesn't age with time.
 Senior Evan Sato said "the teachers gave me a lot of trust" which, he said, completely changed his experience this second time around. The whole point of Lorado Taft is to go into the experience knowing nothing about it besides rumors of how fun it is. From the perspective of someone with authority, and being treated like an adult on this trip, Sato did say he saw differences in the behavior of this class versus his own.
 "It's obvious how much COVID-19 impacted them," Sato said. "They have certain troubles with skills like listening to explicit instructions, and working together in a group". However, Sato did mention that just like his own grade seven years ago, "they are still outgoing, noisy, and fun to be around."
Senior Payton Pitts also went on this trip after seven years away from Taft. All three young men loved going back to Taft with a different mindset and experience. 
"It was great to relive past experiences and guide the current fifth graders through [the same] activities," Pitts said.
 Once you go back on the trip, there's an opportunity to appreciate the experiences all over again, and take new lessons from them. Pitts also commented on the differences between the class of 2023 and the class of 2030. "I don't think we talked about YouTube, Instagram, or even political issues nearly as much as them," Pitts said. 
While all fifth-grade classes at Francis W. Parker are filled with different personalities, dynamics, and external impacts, it's nice to see that the Lorado Taft has the same experiences planned, even though people will experience them differently. The wood lodges, warm cinnamon rolls, field activities, and compass hiking all haven't changed even though the students have. The seniors who go on this trip get to make new memories while also re-living them.
About the Writer
Madeleine Deutsch, Music Editor
Maddie Deutsch is a senior entering her first year on the staff of "The Weekly." She currently serves as the Music Editor. She also participates in the tennis team and is one of the captains of Parker's combined figure skating team. Maddie looks forward to coming up with music playlists for the Parker community to enjoy.