A New Ingredient In Student Life
Juniors bring back the Parker baking club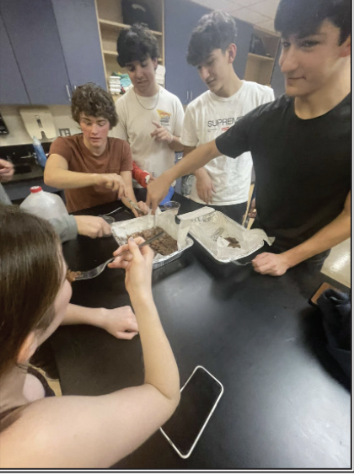 Occasionally, when walking through Parker's science wing, the enticing aroma of fresh baked goods fills the air. Brought back to life this year, Parker's Baking Club does good for our school's community while providing a space for Upper Schoolers to have fun after class. Participating students are able to come together and engage in a restorative activity with a very sweet outcome. The Baking Club was brought back to Parker by juniors Arjun Kalra and Sarah Matthews. Conscious of the stress put on upper school students, they "revamped the club because we know how stressful and academically intense school can be, and we wanted to find ways to bring happiness back into the atmosphere," according to Matthews.
Parker's Baking Club had been a club for years but had unfortunately died out with the past senior class, likely due to Covid restrictions. The process of setting up a club meeting includes the heads checking in with the faculty advisor, Upper School science teacher Leslie Webster, to ensure the science room is free. Kalra and Matthews then research recipes that will be doable with the time and space they have. This is followed by an email sent out to the Upper School, informing them of the next meeting. In between sending out the email and holding the meeting, the club heads go out to purchase ingredients.
Members of the club show their appreciation for the reimplementation of the Baking Club after their classes saying, "It's just a fun after school activity. I feel like the community is growing, we've only had one meeting so far- this is the second one, but I definitely feel the community growing," junior Massimo Franco said.
"Though baking may not be everyone's way of destressing and socializing," Matthews said, "it creates a space where anyone can enjoy themselves and do a fun activity, get a treat out of it, and be with friends." The newly revived Baking Club has met twice this year, both times having great turnout. Webster even mentioned that there were so many students at the first meeting, she took a picture instead of counting.
The first meeting took place on December 8. During Webster 4, students got together to bake cookies in support of Upper School Dean of Student Life Joe Bruno, offering reassurance and comfort to students, faculty, staff, and especially to Bruno. Students remarked how fun it was, and how bringing close friends of theirs provided a place to hang out and show their support for Bruno. Club members were happy to help provide solace in any way they could, uniting to create something almost everyone can enjoy. "It was a really collective experience, we got to work with everyone, and like, share who did what, take turns, but also make something that you can give away", said freshman Penny Wood. 
"Our favorite activity was baking cookies for Bruno to support him. After we baked plenty of cookies, students also came in to grab a sweet treat for themselves!" said Matthews. "It was nice to see that our club was able to support one of our community members when they needed it most, even if it was just a small gesture."
Webster mentioned how she feels as though people bake rather infrequently now, especially teenagers. She discusses her love for baking and why it influenced her agreement to become the faculty sponsor for the club. "I've always kind of been a grandmother at heart, so even when I was your age I was baking bread and making fruit leather and doing things my peers were not doing, perhaps," Webster said. The group environment provides a place for students interested in baking to get together and try something new, or sharpen pre-existing skills. She added, "I think it's a nice opportunity for folks who don't cook at home with their parents and guardians, and those who already know how to, can share it with friends. I mean, there's nothing like feeding people."
About the Contributor
Sejal Ahuja, Staff Writer
Sejal Ahuja is a sophomore and is enjoying her first year as a staff writer for "The Weekly." She loves reading and writing, plays soccer, and is a Mock Trial club head.