Teaching With Stories
How the Lower School Teaches Young Students About Race
Teaching race has challenged the Upper School this year. The controversial November 6 MX on "whiteness" offended many, and the subsequent resignation of Director of Diversity, Equity, and Inclusion Dena Levi left programming related to those topics in a lurch. However, in the Lower School, the attention given to teaching race has continued to increase.
"I think in the past if something came up, we would talk about it, and if it didn't, we wouldn't," Head of the Lower School Kimeri Swanson-Beck said.  "I think now we have embedded it in parts of our curriculum so that it's part of the curriculum, and it will come up."
Each Lower School classroom at Parker is filled with books on historical movements and stories about race. The students listen to stories about children from all over the world — many such stories have been suggested by the parent body of Lower School, especially parents of kindergarten students. Stories are the ways in which the lower school teaches race to students.
"Stories are how we bring things up," Swanson-Beck said.
Teaching what race is and means to students wasn't a part of the Lower School curriculum just ten years ago. According to Swanson-Beck, the Lower School is trying to make sure the subject isn't lost in their classrooms.
Junior Kindergarten teacher Priscilla Taylor intentionally relates lessons to topics of equality, inclusion, and diversity. "Especially in the youngest grade, we want to think about how we all get along with each other," Taylor said.  It doesn't matter if someone is wearing glasses or has different color skin. I talk about where I'm from, Japan, and how I look different from them and yet we are all the same.  We use several books regarding differences in people."
Embedding topics of race and equality into an elementary school classroom's curriculum has not always been part of the agenda. "Especially in the last ten years, there's been an emphasis on research and teachers figuring out at what age and what is appropriate for what kids," Swanson-Beck said. "The question about how to address it in a school setting is fairly new."
One of the reasons teaching race to Lower School students is challenging is a lack of voices, especially in children's books, that focus on different racial groups.
"A lot of our stories don't have perspectives from African Americans, Native Americans, Asian Americans," Swanson-Beck said. "That hasn't been the story that's been told so we're trying to change the narrative."
Third grade teacher Ashleigh St. Peters also uses storytelling with her students. St. Peters uses read aloud as a tool with which students can relate and think about race in a more familiar way. For me the goal is to give the students a breadth of experiences in understanding different experiences and perspectives," St. Peters said. "Rather than focusing on a value judgment and discussing the ways in which people are 'good' or 'bad,' it is important for me to help children understand where people are coming from and why they have found themselves in that particular place."
With the Lower School working on trying to change the variety of narratives in the stories they read, the faculty and classrooms try to keep the parents updated. "Because a lot of the parents haven't heard those either," Swanson-Beck said, "we're doing a lot of parent education."
This practice involves writing letters to parents describing certain books or conversations they could be reading and having with their children. The letter also explains why their children may be asking the parents certain questions about race and identity that they haven't before.
"We're having to change the way people are thinking," Swanson-Beck said, "and we're trying to be as strategic as we can."
Along with these letters, parent dialogues are held throughout the school year.
Swanson-Beck said, "Parents want to know what to do and how to help." These parent dialogues are times for the Lower School faculty to go in depth into how they're teaching students about race.  
Throughout much of the Lower School, especially kindergarten, teachers use a "mirrors and windows" approach to teaching race. This method asks students both to look into the mirror and reflect on themselves, and to look through the window and see their peers.
"When you stop and really truly listen to what kindergarten children are saying, it's very apparent that they notice, and they see differences among people," St. Peters said. "And they're curious about that. It's such a special time because there's often not a value judgement attached to that observation."
Teaching race takes a less advanced route if the students are younger. ""We want them to think about getting along and building a community while feeling safe at school," Taylor said.   
In the third grade, where the mirror and windows method is not directly applied to the classroom, students use books to reflect on both themselves and the people around them. "Children should feel that the many ways they identify are reflected in the materials presented in class," St. Peters said, "and therefore, I intentionally expose children to a variety of racial backgrounds as a way to address that one piece of identity. "
Throughout the Lower School, teaching race is more about working with peers than it is about understanding the complicated history of race. Taylor said,"For me, in this grade, we try intentionally to teach rights and responsibility along with inclusion and how equity plays into our lives."
About the Writer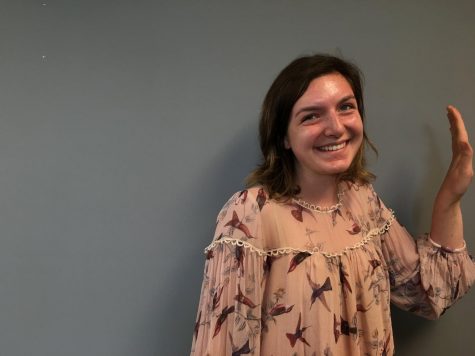 Grace Buono, Editor in Chief
This year, Grace is one of the Editors-in-Chief for The Weekly. Previously, Grace has held positions as Features Editor, Copy Editor, and Staff Writer....