Instrumental Achievement
A View into Junior Wells Gjerlow's Violin Success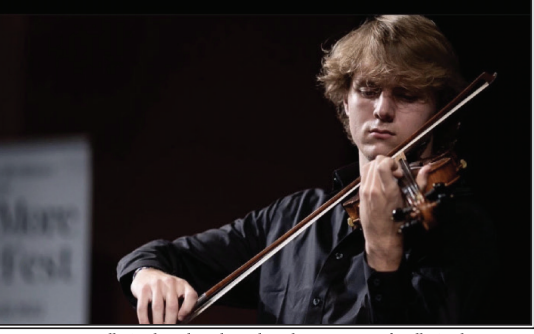 Music is one of art's most powerful forms of expression, and performing is a skill that few obtain because to do it well requires great dedication and passion. "I have always enjoyed it (music) since I was a kid. I like working towards things that are difficult," junior and musician Wells Gjerlow said. 
Gjerlow has been playing the violin since he was six years old in senior kindergarten. Now, eleven years later, he is preparing to audition for college. Gjerlow says he will be playing the "Tchaikovsky concerto" for college auditions. 
"I want to double major and continue music for college," Gjerlow said. "I'm not going to do it for a career, but I want to pursue it for as long as I can." 
Music is a huge part of his life, and his skill is a product of his passion and dedication. Gjerlow describes the time commitment for seriously playing the violin. "It takes up a lot of time. I always have to cut out a chunk of time out of my day to practice. Studio classes. Group lessons for performances, " Gjerlow said.
Gjerlow, being a junior at Parker, described how his workload affects his ability to practice. 
"It gets really stressful because I'm a junior," Gjerlow said. "Homework, SAT prep, all my violin things. I get home really late because I have lessons with a professor at Northwestern. I get home at 10 p.m. and it's really stressful." However, this doesn't impede his passion for music. He said, "Music is important for everyone. I feel like for the kids who enjoy music a lot, it's a huge part of their life."
Parker has a new teacher for the high school orchestra this year, Michael Hining. "I think Mr. Hining has really stepped up the level of teaching of music education at Parker," Gjerlow said. "He's so passionate about it and cares so much to see us all succeed. It drives us all to come to rehearsal and be prepared." 
First semester, the high school orchestra did not perform at an MX. However, Mr. Hining and the rest of the orchestra were adamant about being able to perform for the school. "Orchestra MX first step forward in showing the rest of Parker that it's a big step from what orchestra was before," Gjerlow says. He also believes that showcasing music to lower school and middle school is really important. "MX is good for younger middle schoolers to say, 'Oh yeah, I wanna do that too' because their playing is so good." Senior Jack Kahan and a cellist in the Parker Upper School Orchestra said. "All our music is definitely still in progress, and if people come to the May 9th concert, they'll hear a much more polished version of everything (plus more music)!"
In addition to the high school orchestra, Hining also teaches students in the lower school. Gjerlow says, "What he's doing to teach the little kids is good to build the orchestra program in a couple years." Hining states, "Kingsley, Meghan, and I started the Suzuki Ensembles this year to have a feeder program to move string players into the middle and upper school ensembles. These young violinists from SK to 2nd grade have started an amazing journey, both individually and with each other." 
Hining is passionate about teaching all grade levels and hopes that these young aspiring musicians will join the orchestra once they are of age. "Over the next decade, the feeder effect will take place, and hopefully we will have a full symphony orchestra complete with permanent winds, brass, and percussion. I want something of which the students and the school can be proud of," Hining said. 
"I feel that in recent years, Parker focuses on other aspects of the curriculum and not music," Gjerlow said. Only band and choir are offered as classes for the middle school. The MX will help the orchestra gain visibility and hopefully the school can offer orchestra before high school. "It could be something they really love and they don't even know it," Gjerlow said
"While I'm not going to be here next year, I don't doubt that the orchestra will reach new heights on its path to becoming a bigger part of the Parker landscape," says Kahan.
The Upper School Orchestra will be performing on May 9. "I challenged Wells to add a very difficult and highly professional task to play and conduct Vivaldi's Summer," Hining said. 
"Wells has taken on a lot of roles in the orchestra this year, but the most interesting thing Mr. Mike has had to have been "conducting" our rendition of Vivaldi's Summer," Kahan said.
Both the students and teachers praise Gjerlow's talent. "I'd say that most of the orchestra would agree that Wells is our most dedicated and talented member, and that he's definitely taken on a leadership role this year," Kahan said. Hining agrees. "He is absolutely the backbone of the US orchestra. His quiet confidence and technical mastery is exactly what a great concertmaster must possess. The first chair of the first violins needs to advise the other principals on bowings, give technical suggestions to his own section, all the while mastering his own part. Wells does this to perfection," Hining said. 
According to his mentors and peers, Wells is talented in all aspects of music, from playing the violin to conducting the entire orchestra. Hining said, "Wells Gjerlow embodies the best of Parker and best qualities of a musician."