The 14 Year Experience
How to Get a 36 on the ACT: The Senior Year Test Prep
People have told me that I've lost it. I've been ostracized, pushed away, made fun of, and stricken of my motivation. In the late hours of the night, I hear their voices telling me my wit is gone and my jokes are drier than the robotics MX. They've said, 'The 14 Year Experience isn't what it used to be,' 'Oh, I don't read your article anymore,' and 'If you had one shot or one opportunity, to seize everything you ever wanted; one moment. Would you capture it or just let it slip?'
So, in light of the recent controversy. I've decided to step back into the closet and return to my roots. This article won't have the past two articles' mambo jumbo and dilly dillys. Today, I will be writing about the Senior Experience. The entire year. Everything a prospective senior needs to know going into the senior year. This article will cover events and aspects of the year ranging from the transition into senior year, the college process, and how it feels to be a senior. Also, in this article, I will talk about Ben Israel and whether or not he is my assistant. 
The first topic I will tackle is when does the junior class become seniors? Though it is controversial (hence the theme of this article), I believe that juniors transition into seniors at prom. It is the last time most of the senior class and the junior class are together. While some juniors may be happy that the seniors are leaving, try to relish the moment. It is both your first prom and last time with the senior class. 
At prom, when you board the trolleys, the junior class is officially the senior class. They are now the eldest and the role models of Parker. The seniors are done with their senior duties. All they have left is to have a good time at prom and graduate. So, the juniors are the new seniors. That moment is when you officially become a senior. It won't hit you, but if you are reading this, look out for that moment; it is the start of a long, tiresome, and exciting year. 
Remember when you were little and got to wake up to the birds chirping outside and then go out and throw up in the yard after having one too many freeze pops? Well, hate to break it to you but your junior summer is full of research, personal decisions, writing, learning, and throwing up but not from freeze pops. The college process starts at different times for everyone. Some people in your class will have already visited 15 campuses, have an outside college counselor, and already have memorabilia from their top college. Others in your class will have no idea what college is, still be stressing about the ACT, and still be happy. Whoever you are, don't worry, you are in a great spot. 
Now, I am no one to give college advice, but I got waitlisted more than I got rejected, so if you wanna listen to my advice, it's up to you. 
During summer, it is wise to fill out your Common Application. The most important parts of the application are the personal statement and the activity lists. For the PS, write about something that will stand out to an admissions committee. Write about a singular, unique story and connect it to who you are and who you want to be. For the activities list, write about what you are proud of. You have 10 slots in the application. Fill those slots with activities you are actually proud of and would consider doing again. 
During your Common App stage, you should be researching schools you want to attend. Every school on your list should be a college you absolutely love and want to attend. And I hate to break it to you, it's gonna be a long ride. If you go out saying, "I'm going to only apply to Ivy League schools " you are not going to find happiness. The statistics to get into a singular Ivy League school – or any lottery school for that matter – is unbelievably small. Think about that before you go crazy. 
Now comes one of my biggest regrets in life: not going ED. If you can only take away one thing from my column (or "The Weekly") it is please ED. Your chances of getting into a school drastically increase. ED 1. ED 2. If there is an ED 3, do it. Your chances increase drastically. The best part is, if you get into an ED school, you don't have to go through hell months (I'll get into that later in the article). 
But that is what your summer is going to look like. Writing, researching, writing more, crying, making some heavy decisions, crying more, and then having fun. In truth, it is summer. While a lot of aspects of it suck, it will be fun. Try things you haven't done or ever thought you would do. Go travel with your family. Go stargazing on a Tuesday night. 
Now it is time for school. If you are just reading this for college, senior year is so much more than college. Senior year is full of fun and amazing aspects. As a senior, you really get to immerse yourself in Parker traditions. I remember sitting in Corinthians thinking to myself, "Wow. This is the last time I will be at a Corinthians MX." At the County Fair MX, when we sang "Hi Ho Come to the Fair" for the last time, it was pretty emotional. The most emotional MX so far has been the Big Siblings MX. Personally. I have seen 13 of those MXs: watching the seniors walk around with the bagpipes and then seeing them get chosen for different classes. It was so strange walking around the gym in the Big Siblings shirts with the bagpipes. Now I was the one walking. It was the first real sign that my time at Parker was coming to a close. 
Now, there has been a lot of speculation on whether or not I have a freshman assistant. Every single Weekly pitch meeting I see the same pitch idea come up: Ben Rachel's Assistant.  To that question, I am required to say no I do not have an assistant. He is just a helper. 
I met Ben Israel during Cross Country. Being one of the captains of the team, it was my responsibility to bond with the freshmen and be a mentor and role model. While all of the freshmen on that team were equally great, Ben caught my eye since he is almost an exact replica of who I was as a freshman: motivated, bright, and named Ben. After a deeply reflective state, I realized that I needed to mentor Ben Israel and show him how high school works and give him the advice that I so desperately wanted for when I was in his shoes. So, I asked him if he wanted to be my mentoree, and with a sparkle in his eye and a skip in his step, he agreed. 
The agreement only brought positivity to both himself and me. Little Ben was able to learn the ins and outs of high school while I was able to mentor a young freshman. However, this is when we started to get into hot water. One day, I was called into my advisor's room who told me that she had received an email in regards to Little Ben. She told me that my mentorship with Little Ben was hazing and needed to be stopped immediately. I agreed as I didn't want to taint my relationship with the administration, but Little Ben was devastated. This disruption tore our mentorship apart for a few weeks. But then I had an epiphany: it was my eternal and divine duty to mentor this freshman. So I said "screw this" and decided to go get Little Ben back. After that, we were back in our mentorship agreement. 
To this day, Little Ben and I have kept our mentorship strong. I can leave Parker knowing that I've done my duty to the future of this community. Hopefully, Ben can say he learned something from me and is prepared for whatever the next three years throw at him. So to answer the question is Little Ben my assistant: no. He is not my assistant, but rather my mentoree, friend, and son. 
Not every senior will have a Little Ben. And that's okay. I was lucky enough to have a 'helper' and a mentoree. But that didn't help the fact that first-semester senior year is filled with fire. Before my senior year, I heard a rumor that first-semester senior year was harder than junior year. At first, I didn't believe it. However, as I look back, I truly believe that rumor. First-semester senior year is hard because one, you have all of your college applications, and two, you still need to get exceptional grades. I remember sitting in my room calculating how much time to spend on certain applications and essays while still being able to finish my chemistry homework. It didn't help that I decided to take some of the hardest classes for seniors. It was quite the challenge to try and juggle college and school. 
For all you prospective seniors, before you go charging into senior year, take a second to understand who you are. Look into your soul and think about what you want. First-semester is going to suck no matter what. It is up to you to figure out how much it is going to suck. You can be like me and take six classes and try to complete 23 college applications. Or, you can take an easier route. Whichever way you choose, make sure it is what you want. My soul wouldn't have allowed me to stop caring and ditch my classes. But that is just who I am. If you want to let go and immerse yourself in senioritis, it is your prerogative. But please, don't be rash in your decision-making. Whether it is for classes or colleges or even where to go for lunch, think about it for a second longer. Some of your decisions will impact the rest of your life. 
EDs and REAs (restrictive early actions) come out on December 15th or somewhere around there. Since I didn't ED anywhere, I didn't have the holiday stress. But I know that the majority of my class was doused in anxiety and stress leading up to 12 Days which didn't help the show. For those who got into their EDs, their process was done. On December 15th, many seniors across the country could say that their college process was done and they knew where they were going to college. Very lucky and it sounds like that would be one of the most relieving moments of one's life. 
Moving forward, the next big date will land towards the end of January. On a singular Friday, the majority of EA (early action) decisions come out. That includes Parker pipelines such as UofM and Wisconsin Madison. We called it Black Friday for Seniors. However, unlike the real Black Friday, many people didn't walk out with a once-in-a-lifetime deal. 
The next – and final stage – of decisions is the month of March. Starting somewhere in the middle of March and ending on April 1, all the rest of your decisions come out. Some seniors had around 18 decisions come out and others just had five. No matter how many decisions you have, March will be a stressful and hellish month. All the seniors are just sitting around soaking wet from sweat. Anytime college is mentioned the senior class would cringe. It doesn't help that everyone marked Ivy Day on their calendars. It is a hell month. It's almost indescribable. It truly is an experience that is necessary, but I hope I never have to go through it again. 
College Decisions are terrible. There is no way around it. The rush of blood through your body whenever you received an email titled, "A Status Update" is painful. Every single decision takes years off of your life. It is such a weakening experience. 
Unfortunately, there are only two types of people who walk out of the college decision phase: happy or sad. Those who are happy will celebrate with their friends and family. They will have balloons, champagne, and immense relief. Those who are sad will try to cope with the fact that their dreams were crushed. They will sit in their dark rooms alone, have hard conversations with their families and college counselors, and just be downright sad. But no matter what, both of those people will merge back together by the end of senior year. Sure it's great that you got into your dream college and sure it's terrible that you didn't. However, by the time April break passes on the end-of-school celebration is in full swing, and everyone in the senior class will be celebrating and enjoying the community. 
Just remember that the college process is horrible. So much effort and work. People will be happy and others will be sad. There is no way around that. Make sure that if you are one of the happy ones, you don't prance around school dancing yelling about your triumph because there will always be someone who just came out of the locker after crying. But be happy if you succeed and be sad if you didn't because (I know it's cheesy but it's true) no matter where you end up, it is where you were meant to end up. 
Wow, another long article. This time, I did not try to be long. However, I hope that this one has more of a "core message." For those of you who are inept, the core message of this article is that senior year is like alcohol (I do not drink nor do I condone underage drinking). It'll sting. It'll burn your throat. When you drink it, you'll cringe and cough. But, wait a while, and you're having the time of your life. You feel free, liberated, and cheerful. You bond with friends and make unforgettable memories. Afterward, after you make it to bed and go to sleep, you will wake up sad, anxious, and depressed. But, there will always be next weekend. Senior year is going to be tough. There is a lot of stress and anxiety. But it will also be the best year of high school.
My one piece of advice for prospective seniors is to enjoy it. Enjoy the lows and definitely enjoy the highs. Every time you think to yourself, "damn I hate this class" remember that your time at Parker is quickly ending. Every time you walk into the school remember it. Every time you eat at the cafeteria remember it. Every unexpected conversation with a teacher, every 20 on 20 basketball game in the Draft Gym, every joke, every class, every second; cherish and remember it. Enjoy every moment of your Senior year. The good, the bad, and the terrible. Enjoy it. 
Cherishingly, 
Ben Rachel
About the Writer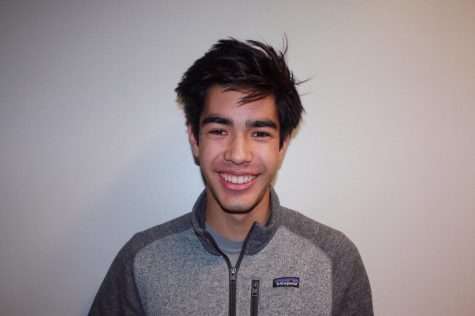 Ben Rachel, Columnist
Ben Rachel is a senior going in his third year writing for "The Weekly." After coming off a stint as a brief writer, he plans to expand his writing portfolio with his column, "The 14 Year Experience." Outside of "The Weekly," Ben is the captain of Parker's Cross Country and Baseball teams and is an engaged academic. He is excited for another year writing for "The Weekly!"