Basketball Season Wrap-Up
Colonels 2015-2016 Season Propelled by Junior Captains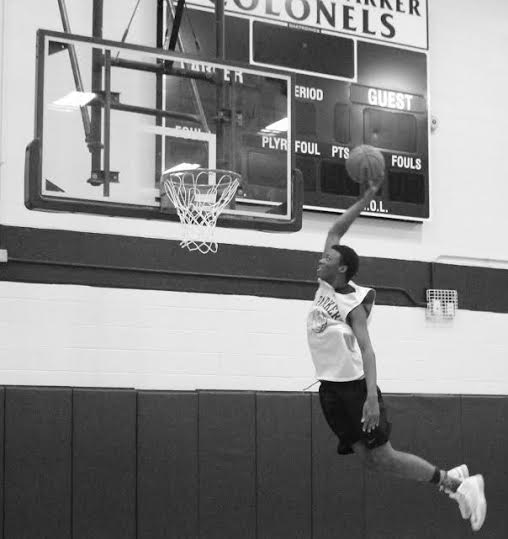 In the moments when junior captain Marc Taylor levitates for a split-second in the air before emphatically throwing down one of his trademark slam dunks, some spectators, whether in support of the Francis W. Parker boy's basketball team or not, are caught dumbfounded, eyes and mouths wide open. Such moments of raw appreciation have not been uncommon for Taylor this season.  His career-high averages of 25.1 points and 12.0 rebounds per game have propelled the Colonels to a (4-2) record in the Independent School League (ISL) and an (8-6) record overall.
University High (6-2) has taken control of the ISL and looks set to secure a number one playoff seed for the first time in three years. Last year, Latin was atop the standings at the end of the season, although not before being dethroned in the regional semi-finals by the Colonels by a margin of twelve points. Parker currently sits at second place behind University High.
"I really think that we can finish this year out strong and bring a plaque or two back home," Taylor said. "Although it might take an alley oop or two, we can do it. I believe in the team."
The team has been fighting since November. "You know, nothing that I've accomplished this year would have been possible without my teammates," Taylor said. "I have plenty of guys to thank for my achievements, starting with our new Coach Holmes."
Kevin Holmes, one of two new additions to the boys' program personnel this year, alongside Assistant Coach Alan "Ferg" Ferguson, has a wealth of experience with the game of basketball. His career started in 1986, when he was chosen in the fifth round by the Philadelphia 76ers in the NBA Draft. Holmes's stateside career was complemented by 12 seasons of basketball in Europe, Asia, and South America. As a seven time All-Star overseas, he won four championships and four national cups in Switzerland, Belgium, and Cyprus.
"We've done great so far this year," Holmes said. "I really look forward to the playoffs and think our Varsity team can go very far."
Coach Ferguson, a graduate of the Latin School of Chicago, comes to Parker from the boys' junior varsity team at Muchin College Prep in Chicago.
In a recent win at Payton College Prep, Taylor recorded a resounding double-double, scoring a season-high 42 points while securing 13 rebounds. With Parker retaining a healthy lead throughout the third quarter, junior Casey Barr took the ball up the court with seven minutes left and bounced the ball through defenders into an awaiting Taylor's arms for an unexpected alley-oop dunk.
"I wasn't really thinking about it," Barr said. "I bounced the ball up because I had a feeling that he was right behind me."  The highlight was one of Parker's most impressive plays of the season. Barr said, "I'd definitely say that it was one of the better assists that I've been credited for."
So far, the Colonels have only suffered one loss in conference, on January 13 to University High School, a game they lost by a margin of only eight points.
"That was a really tight game, and we played as hard as we could right until the end," junior Nick Kupferberg said. "Hopefully, we'll be able to see U-High again in the playoff circuit and prove that we can beat them."