Shine's Farwell
A farewell to the restaurant I love most (and to "The Parker Weekly"… Goodbye.)
If you know me, you know the one thing I love most: Shine. Most commonly on Mondays, Wednesdays, or any day for that matter, you will find me sitting around a table (typically towards the back of the restaurant) surrounded by my friends. I prefer a seat on the bench side, but if my friends beat me to it, I'm happy to sit anywhere as long as I'm at Shine.
We usually don't need a reservation, but when we do call to make one, our voices are recognized by the hostess. She is a 20 year old DePaul student, and we have seen quite a lot of each other over the past year. Once I arrive with my friends, we greet each other and exchange laughs, then head to our regular table. 
Once seated, we each get a cup of water, and our favorite waitress, Cherry, brings us all of our favorite drinks which she knows by heart. We catch up and tell her where we've been over the past week, and then she ditches us for her real customers. Once settled, Cherry comes back and asks us if we want our normal starters today. She knows I always want a side of sushi rice, and she knows which of my friends love cucumber salad vs. seaweed salad. 
Once I have my warm bowl of sushi rice, all is right in the world. The rice is perfectly flavored and always has the perfect consistency. Occasionally, it comes out lukewarm, but I don't blame the kitchen- I blame ourselves for having so much fun chatting with Cherry and keeping her busy. After a couple bites of the plain rice, I add in my gluten free soy sauce and finish the bowl from there. Then, we order our usual shareables- one crab rangoon, one gluten free General Tso chicken, one regular sesame chicken, and one gluten free chicken fried rice. I know what you may be thinking: "That sounds like a lot." Nono. Don't fret. It's the perfect amount for the number of people there, and never goes unfinished. 
While I can't eat the crab rangoon or the sesame chicken, I can assure you that my friends rave about these things. I can, however, vouch for the General Tso chicken and chicken fried rice which we always get made gluten free. I appreciate that there is no extra charge for the gluten free modifications unlike some restaurants which make me pay more for any small change. These two dishes always come out piping hot and never disappoint. The sauce on the General Tso chicken is delectable, and the fried rice is a classic dish that will always be able to comfort me. If I had to choose a favorite between the two, I would tell you that they are my children, and I can not pick a favorite. Next topic. 
When I go to Shine, my meal would of course be incomplete without sushi. I go through big phases regarding what sushi roll I order. Last year, I would always get the yuzu maki which is spicy tuna and avocado, topped with lime zest, salmon and homemade yuzu sauce. I loved this roll for a long time, then little by little, I outgrew it. I began to pick the salmon off the top and wish for more yuzu sauce. Now, and for the past few months, I have been ordering the red dragon maki. This is a salmon and avocado roll, topped with spicy mayo and tuna. Cherry knows that this is my favorite and always brings extra yuzu sauce on the side for an added punch of flavor. 
Finally, Cherry sits down on the bench next to us as we split the bill. We exchange more laughs, which mostly means us laughing because Cherry is hilarious, and then we get our fortune cookies. Each person trades their cookie a few times, then we go around the table, reading out our fortunes.
Eating at Shine is an experience that has become routine to me and my favorite people. It is a time where we come together at one constant place and talk about everything, without holding back. The restaurant is special to me not just because of the food but because of the people that I spend time with while I'm there whether that means my friends or the workers. I won't say the food is the absolute best Asian food I've ever had, but rather that it's the nostalgia and experiences in association that make it special. I will miss Shine while I am at college, but know it will always be there for me to come back to, as will the people that make it so great.
About the Writer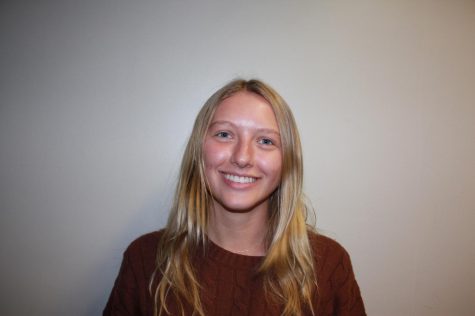 Lucy Wrubel, Food Critic
Lucy Wrubel is so sad it's her last year on "The Weekly"💔💔💔. Previously, Lucy served as a staff writer, copy editor, and culture critic. When not working on the Weekly, Lucy can be found at basketball practice, leading debates, or crying about graduating. Lucy looks forward to putting her infatuation with food towards a good cause.