The Last, Longest Column
We Will Survive: A 12 Days Reference
Wow. We are really at the end. The 14 Year Experience is almost done. Both "The Weekly" column and my 14 years here at Parker. It's truly indescribable. And, for my devoted readers, you know that most things in my life can be described using an unprecedented array of words from my peculiar lexicon. 
My time at Parker is ending. There is no denying that. Moments of that realization keep haunting me as well. I was in Spanish class when the music went off for the last time (well, for seniors). The song started playing from the speakers and that was it. My last ever academic class at Parker was over. I pushed my chair in extra slowly that time. It was actually pretty emotional. Knowing that I'll never be in another Parker class is pretty saddening. 
As we near the end of the year, people are starting to talk about the senior class in the past tense and calling us "graduates." Every time I hear a teacher say, "I can't believe you are graduating!" it makes my neck hairs prickle. I haven't even accepted the fact that I won't be at Parker next year. I'll be the one walking with the bagpipes and being given a key to the house. I won't see another homecoming soccer game or another County Fair. All of the teachers I've grown close with won't be a hallway away. The table where my friends and I sit will be empty. I won't be able to 'wait' in the inert cafeteria line. No more spontaneous conversations at the math wing urinals. The feeling of walking up the Parker steps will become a rarity rather than a commonality. The moment when I go from a Parker student to a Parker alum is speeding towards me. The time when the question goes from "Where do you go to high school?" switches to "Where did you go to high school" is upon me. My Parker career is ending.  
Now, I know that anyone who is actually old reading this is like "psst, this kid doesn't know anything about getting old and leaving what they know behind." To those old people, I say that this finish line is different because it's my first finish line. It's my next chapter, but it's only chapter two. For the last 18 years of my life, I've had two staples: my family and Parker. One of those staples is going away. It is my first big change, and it's hard to grasp. I can't imagine not going to Parker. It's so strange. I'm happy and sad at the same time. I feel like I could laugh and jump around or curl up in a ball and cry. While I am very excited to go to college next year, I'm leaving the only thing I truly know behind. And, my whole life I've been waiting for this moment, but when that moment comes, I don't think I'll be ready.
The main part of this article is about 12 Days. For those who don't know, I was almost voted to be a commencement speaker at the 2023 graduation ceremony. While our two commencement speakers are terrific and will do an amazing job, I feel like I want my last article for the 14 Year Experience to be a "What if I was voted. What would my speech have been." Before I dive into that, I want to say some proper goodbyes.
First, I would like to thank "The Weekly": the writers, the editors, and the advisors. I know that I've been a pain throughout the majority of the year, and I've never been subtle about my grudges with "The Weekly," but thank you all. Thank you for reading and editing my articles (even when it's eight pages long). Thank you for always being supportive of my creativity and for reeling me back to reality when my rhetoric became too strong. And of course, thank you for giving me this column. I bet you had your regrets throughout the year, but I hope I've made you proud. 
Second, I would like to thank my family who actually reads all of my articles. While their continual opinions on my latest article are nice, they are the ones who made this column possible. One, they enrolled me in Parker. So. That's a big one. But they also told me to keep writing even when I didn't want to. For those who didn't realize, I haven't missed an issue yet. My family is to thank for that. I would tell them I don't want to write for the next issue for a multitude of reasons ranging from emotional to senioritis, but they would always tell me to just do it. They realized that writing is a haven for me and continued to persuade me to let my creativity flow from my brain to a Google Doc. For that, thank you Mom, Dad, and sister. Your persistent persuasion and support are truly appreciated. I wouldn't be who I am today without you all (literally). 
Lastly, I would like to thank the readers. In the halls, some of you would stop me and tell me how you read my latest article and how much you enjoyed it. My awkward "Aww that's so sweet. Thank you," may not have expressed my emotions sufficiently: it was heartwarming. I never thought that people would read something I wrote. Even at the earliest stages, I didn't think anyone read The 14 Year Experience. Surprisingly, there are people who enjoy my constant ramblings. To you, my devoted readers, I thank you. Though I don't know all of you, this column wouldn't be possible without you all. That may seem cheesy, but even while I write this at my desk, I know at least one person will read this. And at the end of the day, as long as one person laughs, cries, or has a life-changing epiphany, this column will have been worth it. To all of you readers, thank you. Hopefully, you have gotten something from this column. Thank you. Truly. It's been quite a journey. 
Now, I'll dive into what my commencement speech would have been. As I said, the two commencement speakers are going to do an amazing job, and I can't be more excited to listen to them. I just want to end my column with this because it feels like a graduation. I'm never going to write for "The Weekly" ever again. Every graduation needs a speech, and I'm the only one attending this graduation. So here it is, my last speech to you all:
"Hello everyone! My name is Ben Rachel and, obviously, I am a senior here at Francis W Parker. The last time I was up on this stage speaking to my whole grade along with an audience was six months ago during an event called the 12 Days MX. For those of you who, unfortunately, couldn't attend, the 12 Days MX is practically a student-led production… sorry; the 12 Days MX is practically a production of the 12 Days of Christmas Song in which the seniors partake in. 
I – along with three of my classmates – was lucky enough to be appointed Creative Directors of the production. While the experience of being a Creative Director was unforgettable, it was definitely tenuous and arduous. As a Creative Director, we oversaw everything from the live aspect of the show to each individual day/group. That was probably pretty unfortunate for the majority of the days. Throughout the two-month process, we were bugging and antagonizing each group. Once, we had to threaten a group, writing in an email and I quote, "We won't hesitate to make this the first 11 Days MX." We got our own share of comments as well. Some of them were not compliments. 
The process wasn't all just screaming and yelling at one another. We actually did some work. One of the days we worked closely with was the twelfth day, also known as the Twelve Drummers Drumming. We helped them brainstorm their idea, directed their skit, filmed it, produced it, and edited it. Their skit was a parody of a popular drumming movie called "Whiplash." For those of you who haven't seen it, the best way I can describe it is 'an aggressive and intense movie.' 
I'm not one to toot my own horn, but their skit was amazing. Definitely the best one out of all 12 Days. It had beautiful cinematography and Oscar-worthy acting. It was funny, sad, emotional, and scary all at the same time. A true cinematic masterpiece. We – the creative directors – and the Twelve Drummers Drumming were very proud of the skit and couldn't wait to show it on performance day. 
It was the day before our performance, 20 hours before we had to be up on stage presenting when all mayhem broke loose. The administration sent out an email to the seniors that practically laid out exactly what needed to be cut from the show. Almost every single day was hit with a non-negotiable cut. It was truly chaotic. With only 20 hours before the show and only a few hours to submit new final drafts, almost everyone in our grade was panicking. Some of the non-negotiable cuts were songs while others were full-on scenes. We – the Creative Directors – didn't know what hit us. I for one almost had a full mental breakdown in Chemistry class. 
The group that got it the worst though was the 12 Drummers Drumming Day. Their entire skit was cut. All eight hours of work were gone. Not a single scene could be used. It was a huge blow to them. In just one email, their entire skit – something they were so proud of – was gone. It was devastating to them and me. 
Later that day, I received a text message in the 12 Drummers Drumming Group chat that practically said, "Hey everyone. This is ridiculous but we can't go out like this. We are the end of the show. We have to do something." So, after school, we gathered in the courtyard and restarted. It took two hours to complete the new skit, but we did it. We pushed past the demise of the old skit and made a whole new one. 
And though the new skit wasn't as good as the old one, it was still pretty damn good. The new one was a lip sync to the song "I Will Survive" by Gloria Gaynor. Without any context, the video was cute, funny, and entertaining which is exactly what it needed to be. However, for those who understood the backstory and how their old skit that took eight hours was cut, the video was so much more emotional. 
That "we will survive" mentality the 12 Drummers Drumming showed isn't just contained within those 12 Parker students. That same mentality is shared across the entire school, especially the class of 2023. 
It is no doubt that the class of 2023 has had one of – if not the most – unprecedented and unimaginable high school careers. Our high school tenure consists of a national pandemic, a whole year of social isolation and online school, a bomb threat, and some of the most polarizing political and societal times ever. Every year, every month, every day there was a new challenge either an individual or the entire grade had to face head-on. But we made it. We are on stage right now; cap and gown. And that is strength. It has not been easy to get where we are today. 
We can confidently say that we've beaten every single obstacle that has been in our way. And our obstacles don't just stop at the global level. Each of us has had dark moments in our lives: moments when we have just sat in our beds and stared at the dark ceiling. We had to worry and question our parents, our grandparents, school, and our own health: we were anxious about life. Scared. Lost. All of those moments, where you asked yourself why and wondered who you were. Those moments were hard. Some may say they were harder than being isolated for months. All of us had those moments when the future seemed bleak. Impossible even. But we made it. We are standing here today, saying that we have beaten those moments. We can all look back at the past four years and say that we made it. We persevered . We survived. We are here today even though we, at times, didn't think we were going to make it. That is true strength. That is who we are as a class. As a school. Strong. Motivated. Inspirational. 
So, in the end, if there is one thing I learned from my 14 Years here at Parker, it is that not matter what, no matter what obstacle or challenge stands in our way, whether it's the next pandemic, or just another dark moment in our lives, no matter what it is, we will survive."
We Will Survive. 
About the Writer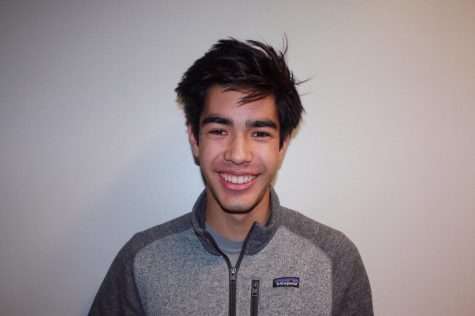 Ben Rachel, Columnist
Ben Rachel is a senior going in his third year writing for "The Weekly." After coming off a stint as a brief writer, he plans to expand his writing portfolio with his column, "The 14 Year Experience." Outside of "The Weekly," Ben is the captain of Parker's Cross Country and Baseball teams and is an engaged academic. He is excited for another year writing for "The Weekly!"