Cookies Trips to New Orleans and Alabama
Students Participate in St. Bernard Project and Civil Rights Experiences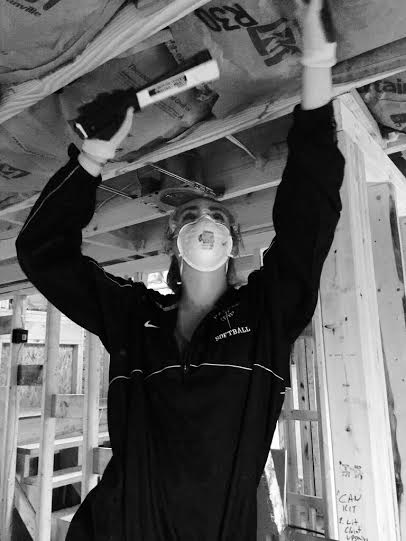 Two school trips outside of the city took place over the course of this year's Cookies week. One group of upper school students traveled to New Orleans, Louisiana, from April 27 to April 30 on a service trip focused on building homes and another group went to Alabama from April 28 to April 30 to learn about the Civil Rights Movement.
On April 27 a group of 24 students from all four grades flew to New Orleans to help rebuild homes damaged by hurricane Katrina. This trip, primarily for service, saw upper schoolers partnered with The St. Bernard Project, a non-profit organization that was established in March of 2006
The students traveled under the supervision of eighth grade English teacher David Fuder, Upper School learning resources teacher Bridget Walsh, and Intermediate and Middle School Dean of Student Life Siobhan Allen.
Fuder has been to New Orleans post Hurricane Katrina multiple times doing disaster relief work, and he organized a trip like this one last year during Cookies. "What I hope for students to gain from this trip is to see that their actions have positive impact on the lives of others," Fuder said. "That seeing another part of the country different than their own is crucial to understanding their own place, and to have a lot of fun alongside peers they might not usually hang out with while working together to accomplish something big that will have a lasting impact.  It's a great blend of service learning and taking in all that a fabulous city in the south and its people has to offer."
The St. Bernard Project facilitates the reconstructions of some of the 800,000 housing units destroyed and damaged by Katrina. St. Bernard Project's mission is to shorten the time between the disaster and the recovery.
Sophomore Zach Hirsch was one of the 10 students who went on the NOLA trip both this year and last. "I absolutely loved the trip," Hirsch said. "I thought it was a great educational and cultural experience. I loved how Saint Bernard Project took the time before we started to build to talk about the history of the Lower 9th Ward and Katrina. Also, I believe that we worked fantastically as a group."
Beyond building houses, the group visited a few sights as well. This included Cafe Du Monde, The Preservation Jazz Hall, and the Lower Ninth Ward Living History Museum/The Presbytére State Museum.
Students didn't need to be experienced to help. Katrina Holceker, a junior, said, "The volunteers in charge of demonstrating what we needed to do were very knowledgeable and were easy to work with."
Volunteers taught students drywalling and insulating. Students learned how to use a drill, a staple gun, and more.
If the NOLA trip offered students various experiences, so did the trip to Alabama. Seventeen girls in grades 11 and 12 traveled to Birmingham, Selma, and Montgomery. Every year for the last six years, a Civil Rights-themed trip to the South has been led during Cookies by upper school history chair Andrew Bigelow and upper school English chair Theresa Collins. According to Bigelow, this year was the first that only girls went on this trip. "Normally, it is about 50/50, Bigelow said. "When we go to Memphis, we tend to get more boys for some reason."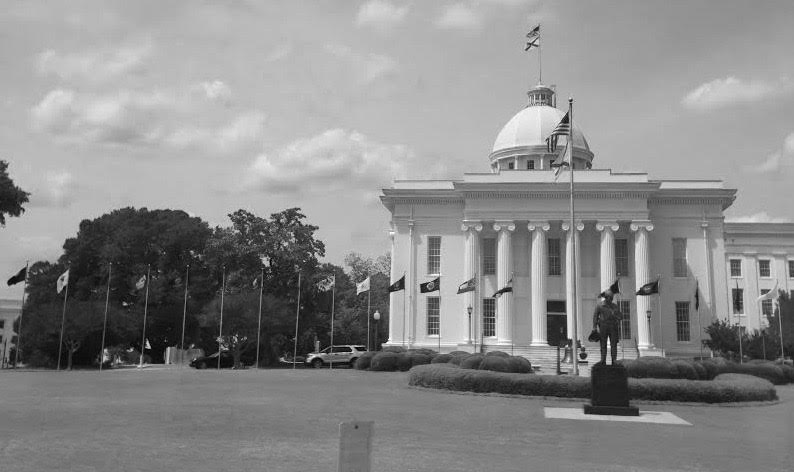 Bigelow takes part in this trip year after year because of how it relates to what he teaches. "It is an extension of our curriculum, and it helps make history and the humanities come alive," Bigelow said. He hopes the students "walk away with a better view of the history of social justice and civic engagement in America."
The primary focus of the trip is to see historic monuments, such as the Edmund Pettus Bridge, where the iconic walk and silent protest was led in 1965 by Martin Luther King Jr. The students who were fortunate enough to go on this trip had a tour guide who informed them in detail about the Civil Rights era.
Margot Hahn, a junior, loved the trip. "It was surreal to actually talk to people involved in the Civil Rights Movement, such as a Freedom Rider and SNCC member," Hahn said. "The day we walked over the Edmund Pettus bridge was especially powerful because we literally traced the steps of those marching for freedom in 1961. The museums were also incredible and had the ability to take us back into the fifties and sixties."