Not So Model Home
Committee Failed by White, Removed by SG
Interviews by Zach Joseph and Jack Laser
As students plopped down their backpacks and set to work on crosswords during Student Government on Friday, January 18, they prepared for a plenary session of Committee Grades and announcements. In the forty minutes of Student Government, students expected to scribble through the Student Voice and listen to Director of Committee Affairs Chad White. Many didn't expect, however, that one committee would fail semester grades.
According to White, Model Home Committee had planned two events during the first semester, though they were both canceled. "They ended up with no events, and they had all semester to put them on," White said. "A lot of other committees were able to, so Model Home didn't meet their requirements."
Parliamentarian Julia Auerbach agrees. "They had poor communication skills with Bielizna and Chad, and they didn't reply to any cabinet emails," Auerbach said. "Model Home has a lot of potential and in the past few years no elected committee has acted on that potential."
The impeachment process creates a special election in which another group of students can run for heads of Model Home Committee. Usually, Student Government holds the election in the two weeks following committee grades, but because Cabinet announced the grades the week before finals, this year there will be three weeks for students to organize themselves before the election. The impeached committee heads can run again for the same committee.
According to Upper School History Teacher and Student Government Faculty Advisor Jeanne Barr, the role of Model Home is to benefit the students. "The classroom was a domain for the teachers, and the conference rooms were a domain for administrators," Barr said. "The hallways were a domain of the students, and
the possibilities are really broad when they focus on the space and the atmosphere."
Previously known as Lounge Committee, Model Home's goal is to improve the hallways and areas to which
student congregate while making the school feel cohesive and friendly.
"They have a responsibility to make it fun, cool, comfortable, and engaging to be in our high school," Barr said. "They highlight an issue and organize students around that."
According to current Model Home Head and sophomore Gabe Wrubel, the heads met with Dean of Student Life Christian Bielizna when they were struggling to put on events for the student body. The heads and Bielizna worked together to form ideas, though their event before December break was canceled at the last minute and the others were scheduled for the second semester.
Wrubel approached Auerbach to discuss Model Home's Committee Bylaws. After learning that Model Home only requires one event per semester, Bielizna suggested that the heads email Head of the Upper School Justin Brandon. Brandon responded that he'd like the heads to be his 'elves' when he passed out candy. It wasn't until the day before committee grades, Wrubel said, that the heads learned it didn't count.
"We assumed that counted as an event, so it was impossible for us to pass this semester," Wrubel said. "If we had known it didn't count as an event, we would have planned something else."
To White, the miscommunication and disorganization only counted against them. "They had all semester to put on events, and they didn't do any," White said. "They just jumped out and said they'd pass out candy
too, but they didn't initiate it."
According to Wrubel, various problems among the heads resulted in a lack of communications. "The work and planning hasn't been evenly distributed, and I found myself doing almost all of the work while some of the people didn't even know they were heads," Wrubel said. "It was frustrating to know that you have a group
that's supposed to help and support you, and they're making you and a few other people do all the work."
Junior Marcelo Pereira-Webber is contemplating a solo campaign for Model Home Head in lieu of the current committee's failure to meet their requirements. "Not only did this group fail their committee grades,
but they failed the needs of the student body," Periera-Webber said. "It's my priority to create a safe environment where we can all thrive together."
Though he'd only thought about becoming head in the moments after their impeachment was announced, he already has bold ideas for his platform, including utilizing conference more and additional food opportunities for snacks throughout the day.
Pereira-Webber has competition from the current heads, however, who are open to
running again with the same group. "I want to make sure they have the same mission and goals as me, and we're definitely going to talk about that if anyone doesn't want to put in the effort," Wrubel said. "But I do want to run with the same people because we had ideas that were going to work if it wasn't for the timing."
"It's interesting that a lot of the same people are choosing to run again, and I wonder if they'll follow through on their promises," Auerbach said. "I hope that whatever group wins will be committed."
About the Writer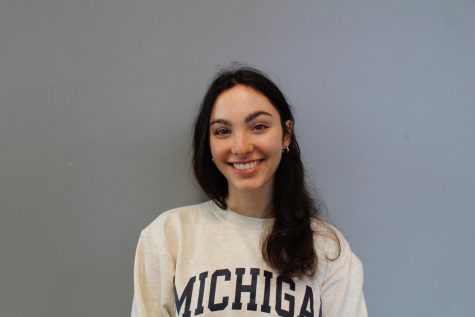 Paige Shayne, Managing Editor
Paige Shayne is a senior in her fourth year on "The Weekly." She is Editor of the "Student Voice", Head of SIRB, and Managing Editor for "The Weekly." Paige also plays Varsity Soccer and the trombone and is head of Tampon Tuesdays. In her free time, she loves to do Soul Cycle, read, and go running.