A Dual Feature
Parker Hosts Spring Showcase and Spring Harmonies Concert
The auditorium is silent. Three rows of Upper School students on risers stand, bathed in a purplish light, while two sophomores and a senior hold microphones at the front of the stage. A cue is given, and sophomore Carter Wagner holds up his microphone, and begins to sing the familiar opening to the famous Queen song: "Somebody To Love." After Wagner hits the first note, the rest of the choir chimes in to beg the question to the audience: "Can anybody find me somebody to love?"
While the Spring Concert usually presents Middle and Upper School students and their various musical talents, this year Parker decided to hold two concerts: the Spring Music Showcase, which took place on Thursday, May 16, and the Spring Harmonies Music Concert, which took place on Tuesday, May 21, with each concert lasting an hour and a half.
On Thursday, the Middle School band performed a variety of pieces, such as "Stand By Me," by Ben E. King, and gathered together for the hit song, "Glory," by John Legend and Common, written for the movie "Selma." Not to be outdone, the Upper School Orchestra and Concert Band performed classic pieces like "Orchestral Suite #3," and modern pieces like select songs from the Disney movie "Moana."
The organization of the Spring Harmonies Concert was by no means simple, with lots of effort and thought going into each and every song. "Mr. Denien and I, we always start with what will our students like to sing, what will they enjoy, what will be challenging, but also really rewarding to perform," Upper School Choir Director Emma Castaldi said. "We started of thinking of a bunch of different songs and finally came up with the theme of the show, which is stage to screen."
Accompanying Castaldi in the creation of the "Spring Harmonies" concert was Middle School Music Teacher Rob Denien who was with Castaldi every step of the process. According to Denien, he wanted "to have a balance between what we did in Vespers, which is traditionally a more serious, contemplative, and traditional choral production" and "songs that the audience knew, that we'd think the kids would get into."
This year, the Spring Harmonies Concert was advertised with the theme of "Stage to Screen," which incorporated an array of songs, from musicals to movies. Unlike previous concerts, the theme was instrumental in the creation and choosing of the songs for presentation. "Generally, what has happened in the past is, maybe, we think of the different choirs separately," Castaldi said, "and because Mr. Denien and I work really well together, and we kind of are on the same wavelength in terms of our creativity and enthusiasm for choral music, we are able to intertwine our groups a little bit better."
In past years, the showcase has been without a theme, but junior Jared Saef feels that this change was a beneficial one. "It made the show much more entertaining and fun to watch," Saef said, "and it also gave people new music to movies they may not have heard before, and it also gave them an opportunity to hear covers of movie songs they may have heard in the past."
The main criteria for Castaldi's and Denien's choices of music was to create a presentation of the music while interweaving a theme and message and connect the two.
Unlike past concerts, Castaldi has advocated since last year for two concerts to be held, rather than one, each showing equal talent from both Band and Choir. "With the amount of students that participate in music, it is crazy just figuring out logistics on, 'who's going to get on stage, when, and how, without interrupting the other group performing," Castaldi said. "I think having it separate has been really fun for both programs to thrive, and kind of do it their own way."
As a member of Special Chorus, Saef felt that he was in favor of the addition of two concerts this year. "I was a fan of it, partly because I thought in past years it was kind of disruptive how the show would transition from band to choir from band to choir," Saef said, "and I liked that this year it was only one type of musical art so the audience could get a better grasp of what was going on."
No change is without some hesitation, but Castaldi is confident that the dual concerts each worked out for the best. "We were a little hesitant about this change because it's just so powerful to show all musicians on stage," Castaldi said, "but everyone is in agreement that this is just better for our programs, and then we're finding creative ways to continue to perform together."
The chorus had their own separate spring concert this year as performance length was becoming an issue with a combined choral and band Spring Concerts. In previous years, "the concert got very long, and long for the wrong reasons because we had to wait to get chairs removed, people moved, or instruments put back," Denien said. "Splitting the concerts this year," he continued, "allows for creativity, a clearer sense of purpose for what each group wants to do, and a better overall use of the stage."
Students may recall that the Vespers concert of 2018 was full of only Choir performances, with Band not appearing once on stage. However, Castaldi thinks that this experience prompted the students to adapt to the new styles of concerts. "I think at first, at Vespers, they were like, 'alright Ms. Castaldi, you're new and you're weird, and what are these things, like this is not how it's done,'" Castaldi said. "I kept saying, 'trust me, trust me, trust me, it's gonna be such a rewarding experience, and I did sense that after Vespers they just felt really proud of themselves."
According to Denien, the new process was much more energizing for students who were performing in the "Harmonies" concert. "I think this is one of the first years where they were excited going into it, which is not always the case," Denien said. "Every step of the way, I think there was more buy-in because it wasn't just the traditional, 'sixth grade sings, then seventh grade sings, then eighth grade sings, then the
upper school goes.' It was more artful. If you were in sixth grade you might be in the beginning, you might sing again in the middle, and then come back again at the end."
When all was said and done, Saef reflected on his opinion of the Spring Harmonies Concert. "I thought the showcase was so entertaining and so lively, and it was actually really fun to watch," Saef said. "In Spring Showcases in the past, all the music that was chosen was good, but there was no overarching theme, no connection between the pieces, and this year I really liked how Ms. Castaldi and Mr. Denien collaborated and worked hard to create an overall theme for the show, which was movies and T.V music, and I thought it was really cool."
About the Writer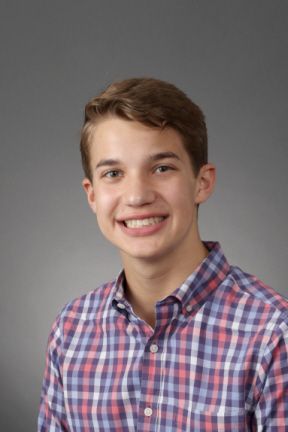 Zach Joseph, Editor-in-Chief
Zach Joseph is a senior in his fourth year on the staff of "The Weekly," and is ecstatic to be serving as an Editor-in-Chief for the 110th year of "The...