Just Say No… to Single-Use
"Green Team" Holds Recycling MX
In the spring of last year, every blue bin vanished from the school hallways. It was a mystery that baffled many, with some students even starting their own makeshift recycling bins out of their lockers. But before the memories of tossing discarded paper and cardboard into those blue bins disappeared, a new committee at Parker proved to the school why we should care about recycling.
On Wednesday, September 18, a group named the "Green Team" presented to the entire Parker school about their goals to "bring home recycling" and to educate the school on how to reduce their daily waste. Seniors Raven Rothkopf, Claire Levin, Molly Taylor, and junior Camille Freedman, all of whom currently serve as Environmental Committee heads, took to the stage to make others aware of the lack of recycling, both in Parker and the world. 
The students were not alone. The Green Team is also composed of a variety of faculty members, including Upper School Science Teachers Xiao Zhang and George Austin, Lower and Intermediate School Science Teacher Heather Sheahan, Upper School History Teacher and Environmental Committee sponsor Susan Elliott, and Food Service Director Zac Maness. Nearly every teacher went up to the podium to share how each student can make an impact by changing their daily routine at Parker. With these changes, including decreasing their usage of single-use plastic and increasing their practice of composting, students can produce less waste.
According to Senior and Environmental Committee head Claire Levin, the Green Team came together as a result of similar views on recycling from both students and faculty. "Environmental committee had a bunch of passionate heads," Levin said. "and then basically, we were informed that there was also a bunch of passionate administration, especially led by Nurse Jessi, so she really began this initiative for students and faculty to kind of unite over issues of sustainability at Parker." 
From there, the group immediately began to come together. "We started meeting with some of the teachers and the faculty, and eventually, we got some members of the administration and Mr. Dusing to take care of physical changes in the school together," Levin said.
The creator of the Green Team in question, school nurse Jessi Mather, felt that the sudden disappearance of recycling was actually a benefit for the Parker community. "In a strange way, I think the recycling being suspended was a positive thing for Parker, because I think otherwise we would have been blindly contaminating our recycling, no one would have even thought about it," Mather said. "So this team was formed because of it, and we have a whole slew of other goals that we want to make the school more sustainable beyond recycling."
The MX opened with a sky blue title card covered in flowers and plants with the words "Homecoming of Recycling to FWP" typed on it. Zhang opened by first introducing himself and the Green Team, and then proceeded to pull out a reusable handkerchief out of the pocket of his black flannel pullover while describing how he uses it to replace the single-use paper towels in the bathrooms.
Zhang then began to get to the details of how big the school's waste level really was. According to the Tech Department, the entire amount of paper printed or photocopied over the course of the 2018-2019 school year totaled to exactly 1,333,556 sheets of paper, and on average, each member of the Parker community prints over 3,000 pieces of paper each year. In addition, the amount of to-go containers used by Parker students in the cafeteria would be enough to completely fill the field and playground within nine months.
While the push for using reusable plates and silverware is picking up, Mather recognizes that some Upper Schoolers already are in the process of using them. "I think we have the ability to be using plates and silverware. We have a dishwasher, we don't need to be creating all that waste," Mather said. "I notice when I'm just walking around during the day that there are high schoolers who are using the plates and silverware because I see it on top of the garbage cans."
The single-use paper towels contributed heavily to the amount of waste that Parker produced last year, and Levin has some ideas for how to manage the school's paper towel consumption. "We are going to try and get hand-dryers in the bathrooms because the amount of paper towels that the school goes through is insane," Levin said. "Even though I highly doubt it was intended for environmental purposes, the new printing system is actually super helpful, just because it's so obnoxious and time-consuming that it actually makes students consider whether they really need that document or that piece of paper."
Near the end of the MX, Maness decided to show the school how Quest and the cafeteria utilize the composting process on a daily basis. Maness then had assorted members of the Quest staff come onto the stage with buckets of eggshells, coffee grounds, and other compostable items to show how easy it is to sort and compost a majority of the products used on a daily basis at Parker. 
The general idea of the MX, according to Green Team members, came after the recycling program was taken out of Parker due to fines for improper sorting of recyclables. "It was a general Green Team consensus, and also, we heard a lot of rumors and mumbling throughout the school that was, like, "why'd they get rid of recycling, why isn't it working,'" Levin said, "so we thought that the school really needed information."
Several members of the Parker community agree with Levin, including junior Veronica Rodriguez, who felt that the removal of the recycling bins was sudden but warranted. "Well, honestly I understood, just because a lot of them were being contaminated and they weren't being used properly," Rodriguez said. "I was upset, but I feel like we have to start slowly before we can fully start the process of recycling everything. I really want to try to recycle and be more sustainable, but I guess it's kind of hard sometimes."
Aside from holding the MX, the Green Team has some more ideas on how to reduce Parker's daily consumption. "Right now, the physical changes are going to be the return of recycling, at least the step by step version to return it to school, slowly as possible, so it can be properly integrated back into a functional system," Levin said. As a result of the Green Team, the cafeteria has even begun to reduce their daily intake of plastic, from packaged goods to containers throughout the kitchen.
In addition to reducing plastic, Mather has more goals for environmental changes in Parker. "We want our school to be as sustainable as it can be," Mather said. "We want to compost, we want to get plastic out of the school, I think we want to just bring to light, for even individuals, how they can make sustainable switches in their life."
For some, it can be as easy as cutting out meat or plastic in their daily routine for just one day a week. "If you see yourself as someone who just wants to do something easy, you don't even have to do those things every day," Mather said. "Just doing a plastic-free day, that's one goal I have at Parker for this year, that we do a plastic-free week, we've done a couple of different weeks in terms of bringing to light different subjects, like they did Gender Week last year, I'd love for them to do a Plastic Week."
As Levin reflects on the MX, she has some more ideas for Parker to reduce their amount of waste produced. "It would be ideal if we could get plastic gone from the cafeteria, but I don't think that's going to happen this year," Levin said. "Especially those plastic water bottles, because I know you all have those water bottles that you were given on every childhood sports team ever in your kitchen cabinet, use one of those."
After the MX, Rodriguez also has some other ideas for students to reduce their waste in a simple way. "I guess not using as much plastic, because it's really not good for our environment, and always bringing a water bottle to fill up instead of just buying a water bottle that's provided in the cafeteria," Rodriguez said. "I do feel like they should set up something on the trash cans, or something because I know it's hard for a lot of people to go downstairs and being all their utensils and forks with them."
But, overall, the Green Team has one main goal for all students and teachers to take away from the MX, as well as their projects they are completing around the school. "I think we really want people to realize how life has become about convenience and single-use plastics," Mather said, "and how everyone can make small changes, and those do matter in the long run."
About the Writer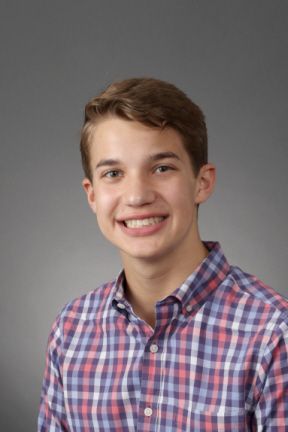 Zach Joseph, Editor-in-Chief
Zach Joseph is a senior in his fourth year on the staff of "The Weekly," and is ecstatic to be serving as an Editor-in-Chief for the 110th year of "The...