Philz Coffee Review
What to Order at Philz Coffee and How To Do It
The comforting smell of brewed coffee with cinnamon undertones hangs in the air inside Philz Coffee, a San Francisco based coffee chain that recently opened at 2323 N. Lincoln Ave. 
I decided to meet a friend to study at the café on a Sunday afternoon. I walked down Lincoln avenue, shielding my face from the crisp October wind, and noticed the mustard-yellow outdoor furniture of Philz Coffee from a couple of blocks away. The exterior of the store is modern, to go along with the design of the rest of the Lincoln Common complex. Upon entering "Philz Coffee," I noticed that it was packed with a variety of coffee go-ers. There were some people who looked like they had just finished running the Chicago Marathon, and others who were there studying. The space is very inviting, as the large windows on all three sides allow outside light to illuminate the inside space. The interior design is industrial with a singular cement pillar in the middle of the space and an exposed ceiling. Across from the doorway is a large, neon light sign that reads "cup of love" in bright blue letters. In terms of seating, Philz offers high top tables with stools, counters, booths, and couches. Nearly all the tables were filled when I first walked in, but luckily, my friend was able to find a spot for us. 
 I made my way over to the middle of the room to wait in line to order coffee. I decided to order four of Philz's iced specialty drinks off of their menu. The benefit of Philz coffee is that they offer classic dark, medium, and light roast drinks that are customizable, along with their own creations. Painted on the wall next to the menu of drinks is the phrase "made with love," which alludes to the attention the Philz baristas give you when making your drink. The baristas brew the coffee directly in front of the customer and ask them questions about the amount of sugar or milk they would like in their drink. Walking into Philz, I expected it to be like any other coffee chain that functions more like a coffee-producing factory rather than a place for personal interactions between the customers and the drink-crafters. I was delighted by the friendliness of the Philz baristas and the care they put into assuring that I would have the best coffee experience. 
The Lincoln Park location has only been open since September 28th, yet I have already noticed the influx of the brown to-go cups with their logo on it scattered around the third and fourth floor hallways. I figured it would be a good idea to review a couple of their drinks and give advice on the best way to order at Philz. 
The first drink I tried was the Iced Coffee Rosé, an iced coffee topped with a foamy rose cream. I am not a big fan of sweet coffee, but I have a soft spot for this drink. First, the drink is normally made with regular milk, but they offer an alternative non-dairy version made with oat milk, which I greatly appreciate. Secondly, I have always loved rose-flavored desserts, so this drink offers a great balance of traditional coffee and the sweet flower flavors. 
The second drink I tried was the Gingersnap, an iced coffee infused with cinnamon, nutmeg, and cloves. This is an amazing fall weather drink that incorporates many of the spices used in a chai latte with an extra boost of caffeine. In many ways, I prefer the Gingersnap drink over the famous Pumpkin Spice Latte from Starbucks because it packs in the same flavor without a post sugar-rush headache. 
My third drink was the Mint Mojito coffee, a recommendation from one of the Philz baristas. I was slightly apprehensive to take her suggestion because the combination of mint and iced coffee did not seem that appealing. I expected it to taste artificial and sweet but was pleasantly surprised by my first sip. Philz only includes fresh mint in the drink, which makes it taste natural and gives off a cooling effect in your mouth. My only complaint is that the fresh mint taste is not super prevalent and is somewhat overpowered by the bold iced coffee flavor. 
The last drink I tried was the iced mocha. I am a huge supporter of putting chocolate in as many items as possible, and this drink certainly did not disappoint. However, it was very sweet which made it difficult to drink in its entirety. In the future, I would ask the baristas if there is a way to reduce the sugar level.
For those who prefer non-coffee beverages, Philz offers a variety of hot teas, a specialty chai latte, hot cocoa, and iced tea. I have yet to try these drinks, but I have heard from other students that they are refreshing and flavorful. Another thing to note about Philz is that they sell baked goods and quick bites such as avocado toast along with their coffee. As someone who drinks roughly three cups of coffee a day, I find Philz Coffee to be on the stronger side in terms of taste and the amount of caffeine packed into one drink. I would suggest not drinking their coffee on an empty stomach and opt for one of the delicious muffins to nibble at on the side. 
Overall, the quality of Philz coffee in comparison to other popular coffee chains is remarkable. The message "one cup at a time" that is printed on the brown to-go cups refers to Philz's motto of crafting each cup of coffee by hand instead of serving pre-brewed or espresso machine drinks. For that reason, the wait for a drink takes a couple minutes longer than rivaling coffee shops. If you are under a time limit to get a coffee, I would recommend using the "Philz Coffee" app to pre-order your drink, and minimize the wait. The app allows users to customize their drink with settings such as sweetness level, milk choice, and temperature. I believe it is a great tool to utilize if you decide to visit Philz during a twenty-minute conference break.
I was initially drawn to Philz Coffee after having watched many Emma Chamberlain YouTube vlogs raving about how good the coffee is. Though I believe some of the chains popularity stems from Emma's overwhelmingly positive reviews of their coffee on social media, Philz Coffee has the quality to stand on its own. The careful attention the chain gives to their coffee blends and specialty drink recipes radiates through their handcrafted beverages. I can confidently say that a combination of the lively atmosphere and delicious drinks has placed Philz Coffee onto my long-running list of best coffee shops in the city. 
About the Writer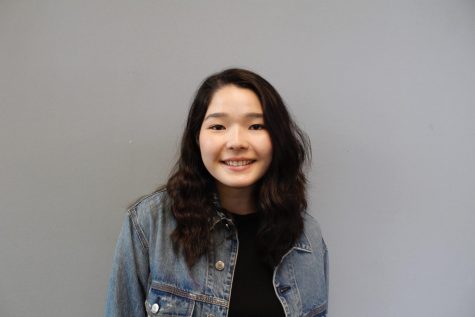 Abri Berg, Culture Critic
Abri Berg is a senior and is returning to "The Weekly" for her fourth year on 
staff
 as the Culture Critic. Previously, she has served as a 
staff
 writer. In her free time, Abri enjoys performing in musicals, traveling, skiing, and cheering on the Green Bay Packers.