Out on Zoom
Fries and Aymar Retire After Decades at Parker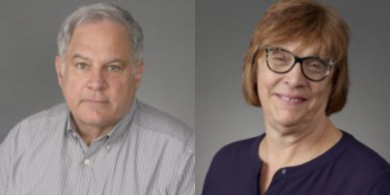 After a combined 74 years of teaching, Middle School science teacher Anne Marie Fries and Upper School Latin teacher Mark Aymar expected a spring to bid adieu to the school that has served as their second home for the past few decades. The two instead spent their final Parker classes teaching from their living rooms. 
For Fries, it's not the perfect ending, but it's indicative of what she's learned from Parker. "Parker's pushed me to be curious. To try new things. To be a department head. To teach eighth grade. To have fun learning new technology. I never thought I'd be able to teach over Zoom, but I'm doing a lab with 74 kids this week," Fries said. 
She arrived at Parker 44 years ago, just after graduating from the National College of Education in Evanston, IL. A professor recommended she go to the city and interview at Parker for the Lower School science teacher position, and she was immediately enamored with the school.
"I loved it. It felt like a country school in a big city because it was so intimate. I interviewed for many teaching positions, and it's the only one where I felt like I really connected with people."
Fries was on her honeymoon when Parker called to offer her the job. She said she told the school she was on her honeymoon, and they waited a full week to re-contact her. 
Aymar, on the other hand, landed his first job at Parker as a sixth grade language arts and social studies teacher entirely accidentally. Aymar was looking to transition to administrative work and become a Head of School when he met his wife, Carol Aymar. Love quite literally brought Aymar to Parker's Middle School.
"I was giving serious consideration to a school in Louisiana and one in Pennsylvania, but it became more and more important to me to get to Chicago to marry Carol."
Aymar says he's always been a teacher. Growing up, he loved teaching his younger brother everything he could: how to tie his shoes, how to chew gum, how to get around… "I learned I'm a natural problem solver and I love explaining things," he said. 
As he grew older, he found himself more and more inclined to pursue teaching. His choice was made for him when he first watched "Goodbye, Mr. Chips," a 1939 romantic drama film about Mr. Chipping, a Latin teacher and former headmaster at a boarding school who recalls his life through the decades. 
"I don't know why but after that movie all I really ever wanted to do was teach Latin," Aymar said. "And I got to do it for 40 years."
Fries agrees. "There's nothing else in the world I ever thought I would do," she said. 
When Fries was a little girl, she used to set up 'school' with her dolls to play teacher. "It's a running joke in my family. I had a chalkboard and tables and chairs and desks and I'd have imaginary friends on the playground. From day one, I've only ever wanted to be a teacher. It's what I was innately born to do."
Fries says a lifetime spent in the classroom has taught her the wonder of discovery. She grew up quiet and insecure, but teaching at Parker pushed her out of her comfort zone and forced her to be adventurous. 
"If you just stick to one place you're never going to be satisfied," she said. "I've discovered things about myself and really become a lifelong learner," Fries laughed.
Fries said her first day at Parker was "terrifying." Fries was hired to teach the Lower School science curriculum, and came into the school demanding her own classroom. Fries said it had a fireplace and a rooftop balcony, but no sinks and no running water. 
"My first memory is walking into that room and thinking: Wow, this is real. I'm going to be a teacher," Fries said. 
Both Aymar and Fries agree that the biggest difference between the Parker they started teaching at and the Parker they're leaving is the size. "It was much smaller on my first day," Aymar said. "There were two sixth grade sections of 24 students, and I remember I had an unusually energetic class. They were not able to sit still or focus for more than a few minutes." Aymar recalls his second and third years of teaching were much calmer than his first.
Aymar transitioned to his current position in 1998, after spending two years as an English teacher in the Middle School and a seventh grade basketball coach.
"I thought, Latin jobs don't open up that often, and it could be another 20 years before I could do what I love most," Aymar said. 
Aymar says bringing Mandarin to the Upper School 12 years ago numbers one of his biggest accomplishments as a Latin teacher and Language Department Chair. "We only taught Western languages up until that time," he said. "Bringing in Mandarin was a big step towards globalism. Towards international thinking."
The first Lorado Taft trip was of Fries' greatest achievements. Fries had been to the camp as a teaching student, and in her capacity as a Lower School Science Teacher suggested the trip to the administration. She wrote and developed a proposal along with a team of teachers.
"It was a hit. It's only ever gotten better. It was a wonderful experience and it has been since," Fries said.
Fries says that if she could leave her students with one piece of advice, it would be not to take life too seriously. "Just make sure you laugh. Take a deep breath. To go back to the quote I sign in all my students' yearbooks, just spend your life living, loving, and laughing. And don't forget: Oh mylanta! That's my mantra." 
About the Writer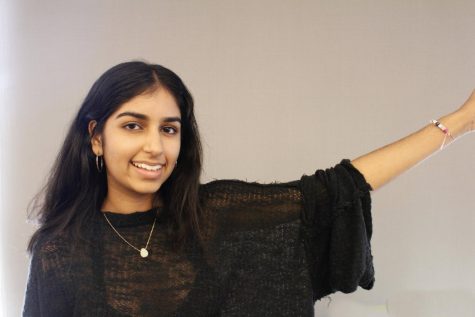 Avani Kalra, Editor-in-Chief
Avani Kalra is a senior and is ecstatic to be serving as an Editor-in-Chief of "The Weekly" this year. Previously, Avani has served as Editor-in-Chief...