Carlin's Conventions, Issue 11
In the past two-and-a-half months of distance learning, a fair number of my online classes and meetings have begun with some form of emotional check-in. One such check-in is called "Rose and Thorn," wherein each person shares the best and worst part of the time period since the group last convened.
As cheesy as it sounds, I've been thinking about the roses and thorns of my time at Parker as my career there comes to a close. 
Parker students are blessed with immense opportunities and resources. Over the past fourteen years, I've been incredibly fortunate to travel, to hear and engage with well-renowned speakers in their fields, to read and keep dozens of new books, to use high-quality technology, and so much more. I am beyond grateful for these resources that have undoubtedly enhanced the quality of my education.
But any institution is an empty shell without the people who keep it operating. And in particular, a school building is not a school building without teachers.
Without a doubt, the faculty have been the linchpin of my Parker education. So much of what makes Parker's physical space feel like a second home wouldn't exist if it weren't for the amazing teachers who work there. The constantly-open doors. The classroom decorations, from the minimalist to the absolutely stuffed-to-the-gills. The random conversations in the hallway or the stairwell or after class.
More important than physical contributions to the space, though, Parker's faculty members possess a kind of contagious enthusiasm that has helped me fall in love with learning. From reading Hans Christian Andersen's fairy tales to heatedly debating the ethics of CRISPR on a tangent that lasts an entire class period, my teachers' genuine excitement about their subjects of choice has fueled my own. Outside of class, too, I appreciate the time I've been able to spend asking questions of and continuing conversations with faculty members, not because they're required to engage with students, but because they want us to be as passionate about their subjects as they are.
Perhaps the most impactful characteristic of Parker's faculty is its ability to support students. Education is impossible without mistakes––inside and outside the classroom––and I've experienced nothing but patience and encouragement from teachers helping me correct mine. And in situations where I've perceived the administration to be acting antithetically to the school's mission, the faculty have modeled the values Parker seeks to instill in its students, opening their spaces for students to react and providing unwavering guidance in the process.
I can't adequately express in words just how grateful I am to have spent fourteen years with such a dynamic, thoughtful, and talented group of teachers. But I believe saying something is better than saying nothing.
So to my teachers: thank you. Not just for teaching me an academic subject. For treating me like a human. For asking if I'm okay. For coming to my soccer games. For giving me your classroom for impromptu meetings. For letting me stay until 6:00 PM watching CNN. For sending me podcast recommendations. 
Parker wouldn't be the same without you. And neither would I.
About the Writer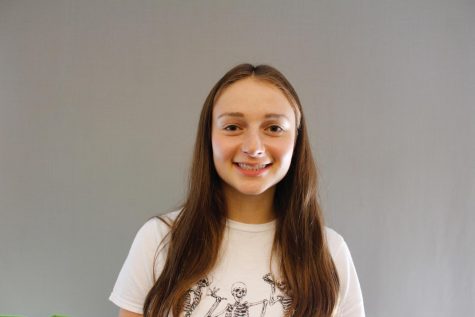 Lindsay Carlin, Columnist
Lindsay Carlin is a senior in her second year as a Columnist and her fourth on the staff of "The Parker Weekly." Having spent her underclassman years...