Parker's Next Door Neighbor
Green City Market Implements New Protocols During Pandemic
 Freshly picked fruits and vegetables, baked goods, and delicately cut flowers are a small portion of what one may find in Green City Market (GCM) on their usual Wednesday and Saturday schedule. Since the spread of COVID-19, the popular market, also Parker's next-door neighbor, shifted its schedule and added new guidelines to minimize the risk of the coronavirus exposure for market go-ers.
The coronavirus has impacted farmers markets immensely. In regard to farmers markets during the pandemic, Hanna Love and Nate Storring (authors for the website "Brookings") state, "Despite serving as gathering places in ordinary times, open-air markets allow for greater social distancing, and temporary booths grant flexibility and enhanced cleaning capabilities." 
According to the GCM website, the market has been open from 7 a.m. to 1 p.m. at their Lincoln Park location since its reopening on June 13, and 8 a.m. to 1 p.m. at their West Loop location since June 20. GCM now has a set of different methods with the goal to keep the shoppers safe. A new page on the GCM website titled "Safe Shopper Guidelines" has been created in order to inform shoppers about the new restrictions placed on its range of markets located in the Chicagoland area, including the venues in Lincoln Park and the West Loop. 
Headlines from the Safe Shopper Guidelines include instructions like "Keep your distance" and "Be Patient." GCM has also added some new methods for purchasing local produce as stated in the "Prepare Your Shopping List" headline in the "Safe Shopper Guidelines." These new precautions include pre-ordering, thorough and precise suggestions as to what to do upon arriving at the market, and how to reduce one's "browsing time." All of these newly established precautions strive to ensure the health and safety of market shoppers. 
Outside of the physical market shopping, GCM has accommodated the need to buy fresh produce by using the "Whatsgood" app platform. Through the app, shoppers can pre-order their food and pick it up upon arrival or receive GCM deliveries. 
Parent-emeritus Elizabeth Posner is a frequent Green City Market shopper who recently visited under the new protocol. Posner arrived at 9:30 a.m. and waited in line for about fifteen minutes before she was able to enter. Posner mentioned that the market has made accommodations for more vulnerable patrons. "From 7 a.m.  to 8 a.m., they open for elderly people which is very nice that they do," Posner said. "They don't make elderly people wait in line." 
Posner also noted that the market "used to be a place for community and getting together, and you'd grab a smoothie or a crepe, or the grilled cheese." Before the pandemic, people ate together at the market making it more social. "We like buying at the farmers market because we want to support local farmers and it's fresher, and of course that still applies, but it also was a fun experience and a building of community, and it can't be those things now," Posner said. "I actually used to go for a run, and I might end up there and buy a few things at the market and go home." 
Now, Posner said she needs to have a different mindset: figuring out her "game plan" before entering the market, while also considering the different precautions. "All of them only work if everyone complies, and everyone does it, you have to trust that people are doing that," Posner said.
Former Parker parent Tim Friedman, another Green City Market regular, has not explored the GCM this season. Like Posner, he misses the community element of GCM from before the pandemic. "I like talking to the farmers and the people who are coming because I just like to see how they're doing and to see how their world is," Friedman said. "So I used to spend some time chatting with people about what they have going on, and the other thing is just having a really good idea of where the food I am cooking comes from." According to Love and Storring, "the produce itself is the product of a shortened supply chain, meaning food passes through far fewer hands than in retail outlets." 
Though Friedman hasn't been to the market in person since the re-opening, he tried to use the new GCM app. "Right when they launched it, I tried to use it and it was so busy that it crashed," Friedman said. 
Karen Silva provides assistance to "The Flower Garden," a vendor at Green City Market. "My friend owns a flower business, a flower farm," Silva said. "I help any customers that come to our stand choose their flowers for their bouquets." 
With the pandemic, several elements of the market were altered and Silva noted the challenges from the changes. "When people come to the farmers market, I feel like they want to experience things with their eyes, with their hands, and socially as well. Things have changed in a way that you can no longer have contact with the flowers. You cannot touch any of the flowers but the ones that you're taking," Silva said. "No flower is the same as another flower, and you want the flower that you like, and it's challenging not to be able to say 'no not that one, that one, the one next to it' when you have a bucket of dozens of flowers."
 Like Posner and Friedman, Silva noted the shift in social interaction at the market. "Socially, people like to stay and talk and get to know each other, or meet up with friends and that is no longer a possibility." 
 Addressing changes at "The Flower Garden," the vendor Silva assists, "Another thing that I think has changed a lot for our business is relying on technology because we didn't do a lot of that. Now everything is coming through an app or through Instagram. Those are our main points of contact with clients," Silva said. 
The U.S. Department of Agriculture website states, "Farmers markets have become a critical ingredient to our nation's economy, food systems, and communities. Connecting rural to urban, farmer to consumer, and fresh ingredients to our diets, farmers markets are becoming economic and community centerpieces in cities and towns across the U.S."
During the pandemic, "We are going to the customers, the customers are not coming to us," Silva said. Both Posner and Friedman highlight the experience and miss the simple joys that the Green City Market offered in person. "I miss the corn that really you can tell they picked it yesterday, and it came today, or they picked it early this morning," Friedman said. Even with the adjusted protocols, the market still matters to Posner. "It's better for the environment, it's better for your health and it's better all around," Posner said.
About the Writer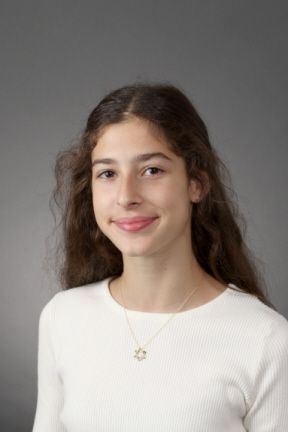 Sophia Rosenkranz, Brief Writer
Sophia Rosenkranz is a sophomore entering her first year on the staff of "The Weekly" as a brief writer. Sophia also participates in Model U.N. and...