Let's Get Real, Issue 1
An Extrovert in Quarantine
As I sit in front of my laptop watching countless Netflix shows, I think about the days lost in my calendar. My Spotify playlist plays songs about loneliness non-stop. It's been five months since I've had any in-person social interactions with teachers, administration, faculty, or peers. People feel more distant through Facetime and Zoom calls than in-person. An extrovert like me finds comfort and happiness in the company of others. We seek social interaction because our happiness depends on it. 
When we left campus on March 13, I thought that I'd be back in school after a month. It didn't cross my mind that my junior year was going to finish through a Zoom call. As the months passed, I found myself drowned in homework. Schoolwork was progressively getting harder to complete because I was unmotivated and felt lonely. Despite having the company of my family, I started to miss social interactions. I missed the in-person Socratic Seminars (class discussions), debates, Meeting of the Minds (a debate between historical figures), and presentations. All these aspects of my Parker education motivated me to do well in school because I enjoyed talking about my ideas with my peers and teachers. Interacting with my peers and teachers also fueled my creativity, something that I lost during online school. Whenever I had to write an essay, I'd doze off and think about how lonely I felt (one of my biggest fears). Without any social interactions, I completely shut off and lost interest in school. If it weren't for the constant support of my friends and family, I wouldn't have been able to finish my junior year on a good note. 
Once summer break rolled in, I thought that my social life was going to get better because we would soon be out of quarantine. The idea of hanging out with my friends filled me with excitement. The first month of summer break felt very similar to the past months that I had experienced in quarantine. We were no longer in quarantine, but restaurants, malls, and other recreational establishments weren't open. There was no place to have fun or hangout with friends, besides the park, so my friends and I decided to have a picnic in Oz Park. Catching up with my friends about what hobbies they had picked up during quarantine, their final projects, and the shows they had watched, felt refreshing. It felt natural to hangout with friends again, despite the social distancing and mask rules that we followed. Chicago had entered phase four, meaning that outdoor dining and recreational establishments would be open. Although we were in phase four of re-opening, my friends and I limited the amount of time we hung out. My loneliness and feeling of isolation had decreased significantly. If it meant wearing a mask and staying six feet apart from people to have in-person conversations, I'd do it a million times. 
Looking back at the past months, I can't help but acknowledge that I learned how to enjoy my own company. Yes, sometimes I felt lonely, but I learned to accept that sometimes I needed to be alone to learn how to be alone. Before the pandemic, I always felt the need to surround myself with people. My thoughts, ideas and feelings were constantly being influenced by other people. I didn't bother thinking about what I truly wanted. It was difficult to know that my happiness wasn't dependent on my in-person interactions anymore. I found ways to relieve my loneliness by writing poetry, listening to music, and running every morning. These activities helped me realize the importance of finding peace and happiness within myself before seeking it from other people. I learned how to be more in-touch with my emotions which helped clarify the goals I wanted to accomplish without the influence of people around me. I found myself feeling more inspired and creative whenever I wrote poetry. I discovered that I enjoyed morning runs and working out. Indeed, there were many positive outcomes that came from enjoying my company. I'm thankful for being able to realize how important it is to be alone. If it weren't for this pandemic, I don't think that I'd be able to realize this sooner. 
Some days are better than others during this pandemic, but I have hope that we will be able to go back to our "normality" soon. More than anything, I hope that we will be able to visit our loved ones, hang out with our friends more, be completely back in-school, travel, and do every activity that's considered high-risk today! Remember, if you're feeling lonely don't hesitate to reach out to the people around you. Also, realize that it's important to enjoy your company because it might make a difference in your happiness as an extrovert. If you're feeling hopeless and uncertain about the future because of this pandemic, think positively and know that you're not alone!
About the Writer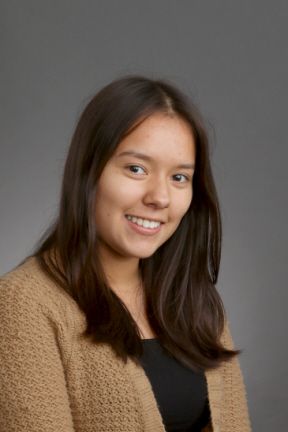 Denise Román, Columnist
Denise Román is a senior, and this is her first year on "The Weekly" as a columnist. During her free time, she watches Vox Media videos, runs, writes...